Visit my shopping blog, Shopping Finds.
The last week of May and the first week of June are major shopping sprees because of school opening. Some of my shopping turned into useless expenses or "things that could have waited".
Let me start with shopping bargains:
1. Shopping at 168 Mall at Sta. Elena, Divisoria
The last time I was in 168 Mall was last December 29, 2005 where I saw the former first Lady, Imelda Marcos with her bodyguards. I took a cellphone photo of her surrounded by avid onlookers. Hmm, she used to close down Tiffany's in New York during her reigning days. She didn't close 168 Mall just for her this time. Apparently, she toured the place, waved her hands as admirers called out her name . Charming as ever.

It seems most of the shoppers moved to SM Mall of Asia. 168 Mall is not as crowded as it used to be. The girls wanted to shop there because of trendy outfits only found in that mall. They didn't want to spend money at the brand name boutiques if the style is too trendy. Fashionable tops from Korea or Hongkong used to cost 200 pesos ($3.80) or less and are now 300 pesos ($5.76). Still a bargain and the tops are unique, says the girls. Sure, one can also buy the same value at the [tag]SM Mall of Asia[/tag] department store but you might bump into someone wearing the same item. The dotted shoes cost around $4.00 only. Workmanship is not of high quality but it served as an accent to the all white suit that my daughter would be wearing to a friend's debut.
2. A customized desktop from PC Express Katipunan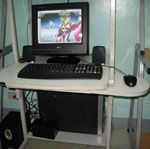 My daughter wanted a laptop but I explained that since she commutes by jeepney to the UP Campus, her laptop could easily be stolen or worse she could be held up. She settled for a brand new desktop. I bought the whole caboodle for 48,000 pesos ($923) which includes a Pentium D 820, 1 gigabyte memory, the usual accessories , Epson Printer/scanner/copier and a licensed copy of Windows XP Pro pack 2. The latter cost 8,400 pesos ($161). Without the licensed Windows, the desktop is just 40,000 pesos. I don't understand why the windows platform is expensive. If it were more affordable, I bet pirated copies at flea markets will be a thing of the past. My girls are so used to their techie-mom fixing computers but this time I stayed firm. I will just guide you but you will have to set it up at your dorm. Wow, that machine is super fast. I feel my Pentium 4 is now a dinosaur.
Now the shopping disaster for the week:
1. Preparing for Boracay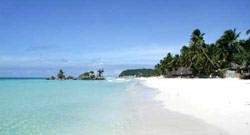 My dear hubby booked at the best hotel accomodations in the Boracay. It's been 6 years since we last vacationed at the beach. Lovely, I thought. The last memory I have of my son at the beach front was " Mom I wish you could swim with me here". Since I was such an overweight blob of human flesh, I was too ashamed to wear a swimsuit. In honor of my son, I wanted to appear at the beach in full resort wear galore. Fitting resort outfits was such an ego boost. I loved how I looked so divinely sexy in backless tops and shorts. I ended up buying 5 outfits for our planned Boracay vacation. I will surprise my husband. I thought!
That night, Butch broke the news that he wasn't able to get plane tickets. Oh yeah, how could the tickets have not been booked weeks ahead? ARGH! What happens to the 5 resort wear I just bought? I tried not to be disappointed so I ended up saying "don't be surprised if I convert our house to beach resort". Oh yes, I plan to wear my resort outfits as my house dress for the next few weeks.
2. My new Canon Powershot A530

Thinking we were going to the beach, I bought a Canon Powershot A530 Digital Camera. The Canon Ixus 430 which I shared with my lovely daughter, Lauren drowned at the San Francisco Aquarium as she leaned over to watch the fishes. Haaay. Such a nice camera. Oh well, she's paying the price now of not owning a digital camera. I got attracted to the affordable price of the Canon Powershot A530. Looking at the bright side of my purchase, maybe I can take more photos and convert it to income. The google adsense income of a shared photo gallery hit a spike due to the SM Mall of Asia photo gallery. The income might even pay for this camera.
These may seem as shopping disasters at first but it's not totally wasted. Even if the Boracay trip is not pushing through this long weekend, we've rebooked it for a later date. I was just too eager to commune with the beach once again.