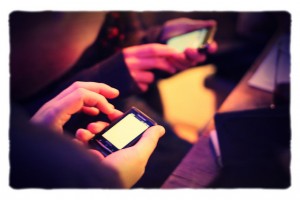 Everything should be taken in moderation. So should be the use of smartphones especially for children, a studysuggested.
A survey conducted by Japan's education ministry revealed that schoolchildren who spend more than four hours a day on their mobile phone perform significantly worse on school tests.
A report by Japanese local media said that nearly half of third graders at junior high schools in the country spend one hour or more per day using smartphones, with over 10-percent spending four hours or more.
The survey also found that over half of sixth graders at elementary schools have mobile phones.
Students who spend more time on mobile phone use, such as e-mailing and browsing Internet sites, tend to have poorer results in terms of academic performance, according to the survey.
Meanwhile according to a report by an Asia-based cable news agency, among the nearly one-in-nine 14 and 15-year-olds who use their handheld device for at least four hours daily, grade scores suffer an average of 14 percentage points across all subjects. The deficit rises to more than 18 points in mathematics, figures from the study showed.
The report also noted nearly half of all third-year junior high school students questioned spend more than an hour a day on their phones, browsing websites, sending e-mails and playing games. Less than a quarter of those in the age group do not have a mobile. Smartphone use is also prevalent among 11-year-olds, the survey found, with 54 per cent of those in their final year of elementary school having a phone of their own. Fifteen per cent of them spend at least one hour on their device every day.
On the other hand, students who spent more hours playing videogames also scored lower on a national academic test in Japan.
A blog post by the Wall Street Journal disclosed elementary school students who answered that they never played video games on weekdays answered 77% of the questions correctly on a test of basic language skills, compared to a 70.5% score recorded by those who said they played two to three hours. Elementary students who said they spent more than four hours a day playing games scored the lowest, getting only 64% of the answers correct.
Similar patterns were observed on the math tests, the report added quoting the study.
Among the test-takers, 54% of elementary school students and 56% of junior high school students said they spent at least an hour on weekdays playing games on television screens, portable handsets or smartphones. Nearly 11% of junior-high students and 9% of elementary-school students said they spent more than four hours a day playing games, the survey found.
The exam was conducted in April this year with more than two million elementary and junior high school students across Japan tested on their language and math skills. They were also given a survey with questions about their daily activities, including how much time they spend playing videogames.
The results of the survey, which is the first of its kind by Japan's education ministry, have sparked fears that schoolchildren are "neglecting their books for the allure of the small screen." Kazuo Takeuchi, who has studied the way youngsters use mobiles, told local media that children with the devices tend to lack confidence in their academic ability, and urged parents to set limits on their usage.
Meanwhile in the Philippines, the Department of Education reiterated the ban on the use of cellphones during class hours through its three orders, namely: Order No. 83, series of 2003; Order No. 26, series of 2000; and Order No. 70, series of 1999.
Also, in a recent interview by GMA News TV, child development specialist Clarissa Reyes stressed that more time spent by children in using their smartphones could lessen the time allotted supposedly for their studies and daily interactions.
She suggested the following for parents to guide their children on smartphone use and studies:
1.       Teach them that the time spent on smartphone use on one day should be added to their study time on another.
2.       Teach them to set their goals so they have the ability to plan what to do to achieve them.
3.       Discipline, according to Reyes, "is according to the management of time and the priorities of the children."
Image by Phil Campbell from Flickr.com. Pixabay image. Used under CC license. Some rights reserved.
Written by John Michael Cancio as originally posted at the Philippine Online Chronicles