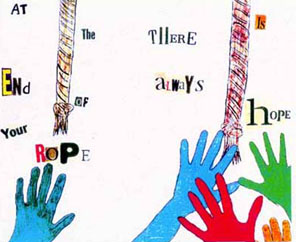 I am disappointed in the lack of balance on how media (and some blogs) are treating [tag]Mariannet Amper[/tag]'s death. Even the Catholic Church, for goodness sake. Today is Mariannet's burial but our beloved [tag]Catholic Church[/tag] in St. Francis of Assisi Parish Church in Barangay Ma-a is in a dilemma. She might not be given funeral rites despite being a devout Catholic because of some old-fashioned priest.
Is it because he or some of us are still living in the dark ages where [tag]suicide[/tag] is taboo? Or are we in denial, uncomfortable or just limited in our knowledge that some young kids like Mariannet may suffer from [tag]depression[/tag] or chemical imbalance which may have pushed her to die by suicide?
Much of this stigma is is a carryover from the Middle Ages. Victims were forbidden traditional funerals and burials, and suicide was considered both illegal and sinful by the laws and religions of the time.
Today, we understand that most suicides are the result of biochemical illnesses such as clinical depression. Yet, the stigma associated with suicide often forces family members to choose between secrecy about the death and social isolation. Even media avoids talking about it except for a few radio stations that invited a doctor to speak on depression and suicide.
I will emphasize my points below:
1. Focus on poverty situation is one-sided. Almost all the news and blogs talk on poverty or blaming the government (except for news reported here and here). What about the suicide awareness and prevention? We do not know for sure what caused Mariannet to die of suicide. For all we know, Mariannet may have suffered severe depression, which is not the same as merely sad or something that you can snap out of it in a second. Depression affects both the wealthy and economically disadvantaged individuals.
Media needs to address a balance of both the poverty and Suicide Prevention and Awareness as well.
2. Suicide is an illness, not a sin.. Fr. Zenon Ampong, their parish priest in Davao is uncertain about the request of the family of Mariannet for her to be brought to the church for funeral rites citing the policy of the Catholic Church on suicide. Not all Catholic priests are like Fr. Ampong. I bet he is the same type of priest who refuses to bless the dead if the death is caused by suicide but bless cars, pigs, houses…what hypocrisy! May Mariannet rest in peace even without that priest' blessing.
(Update: November 11, 2007: Fr. Ampong's gives funeral rites but his sermon shows his ignorance on depression and suicide.. How simplistic his reasons are! But then understanding suicide is not an easy matter either.)
He said that the Mariannet's death was the result of the sins of other people….The world has been overwhelmed by the sins of the people against others, and this has been paid by Mariannet's own life, he added.
3. Cluster Suicides or copy-cat suicides. Television, newspaper or radio coverage of suicide (or exposure to a recent suicide or suicide attempt in the community) can serve as a trigger for vulnerable adolescents to act on suicidal thoughts and plans. This is what is termed as ""cluster suicides." Media reports that concentrate solely on the method used and ignore the emotional backdrop behind it can tend to encourage copy-cat suicides.
"Wish Ko Lang" hosted by Vicky Morales is coming out with a segment on granting Mariannet's wishes as a final tribute. (View video of "Wish Ko Lang" (Part 1) and Part 2) Vicky Morales said that "Mariannet had put so much hope in us. We don't want to let her down". I cannot imagine how this is helping someone in Mariannet's situation out there. Let's give hope to other young kids through suicide awareness and prevention.
… studies have shown that ""some forms of non-fictional newspaper and television coverage of suicide are associated with a statistically significant excess of suicide," with the impact appearing to be strongest among young people.
(Source :Reporting Suicide)
4. Suicide is not an individual problem. . . it is a community problem and requires a community response.. You save another life, if you are able to better identify causes and symptoms of suicide. Most suicide victims are crying for our help. We need to know how to listen.
That's why I have to emphasize on the need for parents, teachers, educators and government to be aware on Suicide Prevention. Educate our community that suicide is a preventable public health problem.
5. Spiritual Faith and Desperation What if you know someone who is feeling down and out for days on end? As parents, we should know when to detect if it is just temporary sadness or depression. Most importantly, feeling gloomy, and desperate is not a sign of weak spiritual faith. It might help to have God in our lives but remember, a chemically imbalanced brain isn't wired well. ""You will get over it . Don't lose faith. Keep praying." are often the words given to the desperate person. But God asks us to help ourselves and seek medical help.
6. Approve the Student Suicide Prevention Act of 2005 (Senate Bill No. 1946) filed on March 3, 2005 by Miriam Defensor Santiago. The act to empower the Department of Education , Commission on Higher Education and the Technical Education and Skills Development to require school heads to report all the incidents of student suicide in their respective schools…and to provide a program for Student Early Intervention ad Prevention. Bill is still pending. WHY?
We honor Mariannet's death by tackling both the poverty and suicide issues. Sure, there is a positive side on this. More focus on poverty alleviation and providing help to Mariannet's family but the media attention is quite high and it might send the wrong signals to the public that suicide is a way out. This isn't leaving her memory any sense of dignity at all.
Let's save more lives by educating ourselves not only on anti-poverty measures but on suicide prevention. Suicide should no longer be considered a hidden or taboo topic, and that through raising awareness and educating the public, we can SAVE lives. (Read more on Suicide – Frequently Asked Questions.)
News Reports/blogs that show balanced reporting as of November 14, 2007
1. From gmanews.tv- The tragic life of Mariannet Amper, or why children commit suicide
2. Rina Jimenez-David wrote column on how Media Reporting Suicide
3. Tess Termulo Her Choice Killed Her
4. Michael Tan on Suicide has no Heroes
6. Michael Tan on Lifelines
For Suicide Prevention Hotline in the Philippines
Call Crisis Line of In Touch Community Services! (free and confidential)
+632-8937606 or +632-8937603 (Monday to Friday 9am to 9pm)
Mobile Text messaging: type hello crisisline and send to 2333 (Globe) or 211 (Smart)
Photo Credit: Youth Suicide Prevention Poster Contest Winner Artwork courtesy of Attorney General's Office