When I received the invite for the Justice Reform Initiatives Support (JURIS) project press briefing, I raised my eyebrows upon seeing the venue was at the Mandarin Hotel. Hmm, so the Supreme Court has money to splurge on projects? That alone piqued my curiosity. I discovered that JURIS was funded by the Canadian International Development Agency at Cdn $6.5 million since it's inception in 2003 where the implementing agencies are the Supreme Court of the Philippines, Alternative Law Groups, Inc, Office of the Court Administrator and the Philippines Judicial Academy.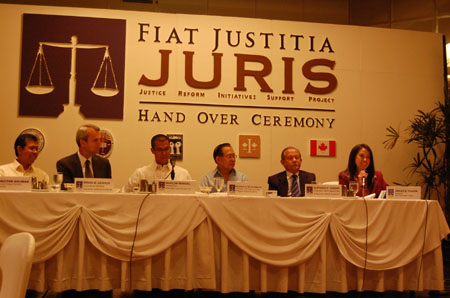 Left to Right: Hector Soliman (Local Project Director), Brian W. Lennox (Executive Director, National Judicial Institute), Marlon Manuel (Alternative Law Groups Inc.), Eduardo D. De Los Angeles (Philippine Judicial Academy), Alfredo F. Tadiar (Philippine Judicial Academy), Imelda Tuazon (IBP Pampanga)
JURIS has three project components such as the Alternative Dispute Resolution , Judicial Education and Reform Advocacy Support. I won't bore you with all the facts so just download and read more on the JURIS project and JURIS Fact Sheet.
What struck me on a personal level are two things:
Read More »JURIS Project: Promote Alternative Dispute Resolution in Philippine Court Cases