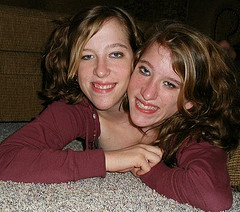 A footage from "Joined for Life: Abby and Brittany Turn 16" via The Learning Channel can truly inspire us during our deepest darkest despair. "Abigail and Brittany Hensel (born 7 March 1990, United States), are dicephalic [tag]conjoined twins[/tag]. Brittany is the left twin, and Abigail is the right twin. They have two spines which join at the pelvis. They have two stomachs, three lungs, and two arms. " They are intelligent, energetic, fun-loving girls who just happen to share one set of legs and one set of arms – each girl controlling one half of their conjoined body.
Abigail and Brittany narrate their top ten list of interests since they turned 11. Despite the obstacles , they are able to drive, shop, attend high school which any "normal" teenager would love to do. After watching their video, I am amazed to see their wonderful positive attitude and their ability to live a normal life. Of course, they are probably adapted to their bodies.

Their lives truly reminds us not to take our bodies and health for granted. It reminds us that others are going through hard times and that they are able to manage it. Just like Abigail and Brittany, I am sure they have their share of stressful times.
Hard times are part of our lives, growth and moving forward.
What we do with hard times is our choice. Looking at the twins, they continue to enjoy an active teen life. We can use the energy of [tag]hard times[/tag] to work out, and work through our issues. We find ways to fine-tune our skills and our spirituality. Another choice is to be riddled with bitterness and refusing to change. I often hear unhealthy people say "Nothing good ever happens to me… Life isn't worth living".
Hard times can motivate us to bring out our best. That choice is ours. We don't need to have stress or hard times to change ourselves but if it happens, we can learn to channel it into achieving what's good in our life.
So what are the top 10 ways to getting through hard times? The answers lies in you.
More links here:

Abigail and Brittany Hensel: an extraordinary bond
View their recent photo album