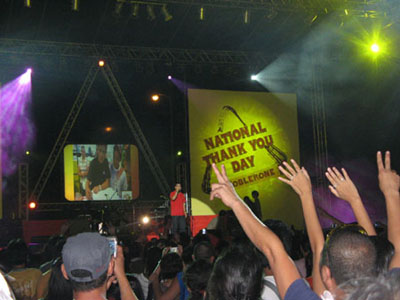 I had no plans to attend the Thank You Day concert not because I feared a repeat of the Glorietta 2 Explosion but because I felt too old for a live "rock" concert. The last time I attended a concert, my heartbeat was racing like crazy but I've been supporting the National Thank You Day since day 1 so I just had to be there. I told  my daughters to go ahead to the concert as I was still busy with a grief support meeting. My meeting ended earlier than usual and fortunately, I was still able to catch up with the Toblerone Press Conference with my two daughters at the Highlands Restaurant together with JM Tuazon, Karla, Anton with Rach and Aidan and Juned, Annalyn with her adorable twins.
Unlike Annalyn, I wasn't starstruck. I barely knew the bands, celebrities and even the hosts. Sure I knew who Lucky Manzano, Mo Twister, Francis M and Jay-R but the rest? I had to tap on Juned's shoulder and ask "Who is he/she?". haha.
I thought the concert would end by 9:00 PM but I was so wrong. I thought of going to the backstage where bloggers had access too but it's not my kind of thing to mingle with celebrities. So I ended up sitting on the ground with my daughter. As the night wore on, it occurred to me that a terrorist bomb could easily explode in front of me. I was consoled by the thought that security was tight. Dozens of security personnel and bomb sniffing dogs were all around the place. Paranoia started to invade my thoughts and imagined my husband who would be alone in life if all three of us got killed there. I brushed it aside If it's my time to die, it's my time but of course I knew security was taken cared off by Alma Buenviaje of Geiser Maclang, the PR firm behind the [tag]National Thank You Day Concert[/tag].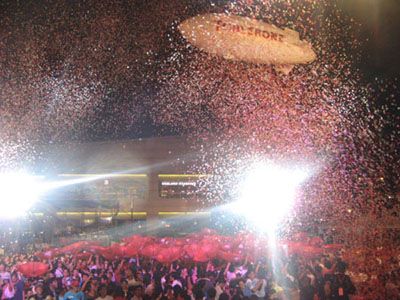 Speaking of Geiser Maclang, it was thoughtful of them to acknowledge the bloggers and even called us on stage to stand beside the hosts for a countdown of the Sweet Shower. I guess it was their way of saying "Thank You" for the online viral campaign of the [tag]National Thank You Day[/tag]. Anton was too ""shy" to go onstage while Annalyn and Karla were not around. Much to the disappointment of the crowd, there was no release of Toblerone chocolates, rather a rain of colorful confetti showered upon them while amazing fireworks display lit the skies. (watch video of the Confetti Shower)
I am grateful nothing untoward happened in the concert. Life has to go on. Fear cannot rule my life. I am glad I went to the concert despite my misgivings. It feels strange wearing a "media" badge for events like this but the "[tag]Thank You[/tag]" advocacy is worth supporting for, whether it was promoted by Toblerone or a PR agency. Looking at my media kit, allow me to share with you that Gratitude is the Best Medicine.
Most will swear by their multivitamins. Others will say that laughter is the best medicine. But has anyone ever thought a dose of [tag]gratitude[/tag] was one good antibiotic?
The mere act of saying thank you or simply letting someone know they are appreciated can do more for the immune system than you think.
Yes—gratitude can be beneficial to your health. According to published research findings by Dr. Robert Emmons (University of California in Davis) and Dr. Michael McCullough (University of Miami), gratitude is a virtue conducive to good health, wellbeing, happiness, and psychological stability.
The positive effects of being grateful are stretched through several aspects of life. An immune system supported by a sunny disposition is one more resistant to diseases and disorders that exploit a grouch. Psychological wellbeing is maintained, your social life is and people's perception of you improves and your outlook on life is more optimistic and positive.
That is primarily why people who are more polite and courteous will likely end up being more socially accepted and, therefore, be more persuasive and trustworthy of other people. These revelations are not only based on decades of scientific research but on years of common social sense.
Expressing gratitude is still given a great value in the Filipino culture and National Thank You Day aimed to foster a habit of saying thank you among Filipinos as well as to reminding everyone of the people they might be forgetting to thank.
View the other photos of the Toblerone National Thank You Day Concert
Salindiwa, Stonefree, Mozzie, Reggae Mistress, Cynthia Alexander PLUS Hale and The Dawn celebrated [tag]Toblerone National Thank You Day[/tag]!
Favorite celebrities such as Jay-R, Angelica Panganiban, Cindy Kurleto, Nancy Castiglione, Maxene Magalona, Francis M., Maricel Laxa-Pangilinan and Anthony Pangilinan showed us how rewarding saying thank you can be!
The National Thank You Day Concert was hosted by Luis Manzano, Bianca Gonzalez, and Mo Twister at the IMAX Parking Lot, SM Mall of Asia on October 20, 6 pm.