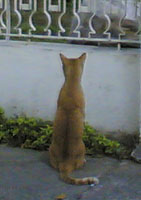 A few days ago, as I pulled to the driveway I noticed a cat sitting on its hind legs near the gate. How cute!, Lauren yelled "A rabbit!". I said No , "it's a cat" I grabbed my camera phone and took a picture. Lauren wasn't satisfied . She snatched my cellphone , got off the car and quietly tiptoped towards the kitty. This orange bundle of fur seemed to be staring at the bushes in our garden. I caught sight of Lady, one of our [tag]pet cats[/tag] looking at the same direction as the orange kitty. Hmm, no wonder.
Lauren clicked away.
Still not contented, she inched closer…
And finally the cat noticed Lauren taking a picture and scampered away. Aww, we wanted a frontal view of this kitty.
My daughters and I are die-hard cat lovers and enjoy taking snapshots of these lovable feline creatures. We show off our cat photos whenever we get the chance. My poor asthmatic hubby patiently listens to our cat stories. So, when I showed him the picture, he laughed:
That's Kylee's (Lauren's Siamese pet) friend
I asked, "How do you know?"
"Kylee and this cat hang out by the gate whenever I arrive at night."
Ah, Kylee has a kitty barkada (gang) in the neighborhood. What a friendly kitty neighborhood we have.
Now, how can our village ever implement the "2 pets only" policy especially on cats? Kylee will protest!