""Mental illness is nothing to be ashamed of, but stigma and bias shame us all." Bill Clinton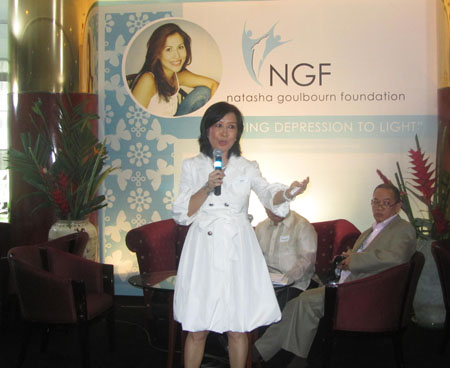 Did you know that the Philippines has the highest incidence of depression in Southeast Asia? In 2004, there were over 4.5 million cases of depression reported in the Philippines.
Jeanne Goulbourn shares her wisdom on depression.
""Depression is a condition that knows no social class; it could strike anyone regardless of intelligence, educational attainment and financial standing."
This wisdom she has learned in the midst of pain brought about by the sudden and untimely demise of her well-loved daughter, Natasha, who suffered from depression. As she grieved over her daughter's passing, Jeanne said she asked God what losing her daughter meant, and prayed for a sign. The sight of over 100 dolphins convinced her she had a higher calling to help people with depression.
"I prayed that if I see five dolphins, Natasha might be in hell. If I see 10 dolphins, could she be in purgatory? But God, if you show me a lot of dolphins, more than 10, I know my daughter is with you. We saw about 108 in Puerto Galera," she recalled, saying the sight was so rare it even brought the boatman to tears.
Like Jeanne, we know our grief will always be a part of our life and we eventually find ways to resolve it. She and a group of friends from various sectors formed the Natasha Goulbourn Foundation (NGF) five years after the death of Natasha. Its primary advocacy is to promote awareness on depression.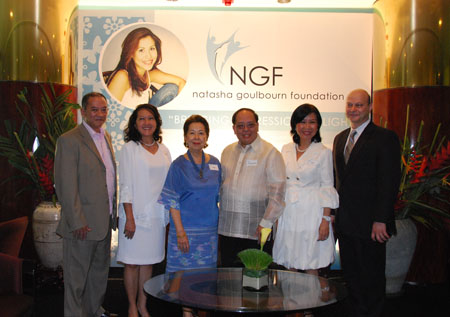 Not many know what depression is. I have written about suicide prevention and mental health before just to raise awareness. I don't claim to be an expert on mental health. It's just that in the course of my grief work at the Compassionate Friends Philippines, I've come across a few observations of these mental health issues.
1. Shame often prevents a person from seeking medical help because of this stigma towards mental illness. And even if they ask for help, the gravity of their problem is minimized as mere despair. Oh yes, I know of one death by suicide from a friend because of this reason alone.
2. The Philippines lack truly qualified psychiatrists. Sure, they all passed the medical board and all that. The psychiatrists that I've met or had some experience with are supposedly one of the best in the country. Sad to say, they just dispense medicines with a few token counseling sessions during the consult. Ho-hum. Our psychiatrists should recommend other modes of therapy other than medicines . Fortunately, I found an excellent psychiatrist for a family member who provides consistent cognitive therapy alongside the medications but he is NOT cheap. You get what you pay for, I guess.
2. Depression is not mere sadness, dear folks. Prayers alone cannot totally eliminate depression because it's a chemical imbalance in the brain. Also, our pediatricians should try to diagnose childhood depression early on. Mental disorders in children are just as real. Left untreated, children's mental health disorders can lead to problems at home, trouble in school and in the community, substance abuse and even suicide.
The goal of NGP will surely help the undiagnosed or misdiagnosed. Their objective is to address the personal issues of symptoms recognition through proper clinical interviews and diagnosis and to debunk the stigma brought about by myths and misinformation. These personal issues, particularly stigma, have cloaked depression in myths and mystery which drive those suffering from depression in darkness and prolonged suffering and in extreme cases to commit suicide.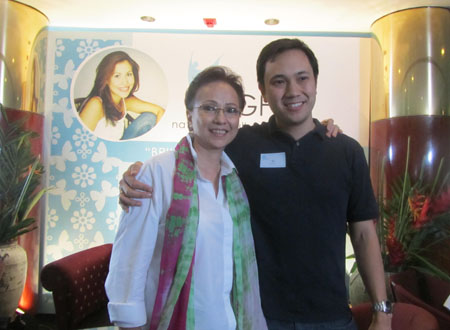 In today's press launch, media was presented with the sordid facts from medical authorities that 1/3 persons suffer some sort of mental health problem. Aurora Pijuan and TJ Manotoc shared their non-western methods on dealing with depression. Aurora said the healing power of the hug is powerful. I believe in the power of hugs.
There is something about the closeness or the human contact that heals.
There's something very healing about hugs, especially when we are lonely, depressed or stressed. And even though most of us can attest to that fact, without proof from the scientific community, there have been research studies that do indeed prove that touch can substantially increase physical, emotional and spiritual well being.
Jeannie's initiative with the NGP's "Bringing depression to light" is commendable. I cannot help admire Natasha's lovely photo in the background and somehow I feel like the beautiful Natasha lives in every action Jeanne takes to save a life.
Check out Natasha Goulbourn Foundation and their literature and brochure on depression. On September 10, 2010 (Friday) at 5:00 PM, NGB will hold the WALK AND LIGHT FOR HOPE at the Liwasang Aurora of Quezon Memorial Circle, Elliptical Road, Diliman, Quezon City. This event is in support of the World Suicide Prevention Day.
Contact Natasaha Goulbourn Foundation
NATASHA GOULBOURN FOUNDATION
Suite 209 LRI Business Plaza,
210 N. Garcia St., Makati City
+632-8972217 / [email protected]
Here are also crisis Hot lines:
In Touch
Evelyn Mendoza, Chairperson
Crisis Lines: (632) 893-7603; (632)893-7606
""Dial a Friend"
Cecile Villa, Executive Director
Hotlines: (632) 734-9663 – (632) 734-9664
(632) 734-8902 – (632) 734-8903
Download these BROCHURES on Depression
Some of the photos are from Tess Halili.
Dealing with Depression
TJ Manotoc interviews Jean Goulbourn, President of the Natasha Goulbourn Foundation.