How time flies. It's been four years since Blog Watch interviewed then Presidential Candidate Noynoy Aquino for his platforms. It was an intimate tête-à-tête and I thought we would have more of these talks if elected as President.
These days, I am often asked this question "so what happened to the social media plan of our President?"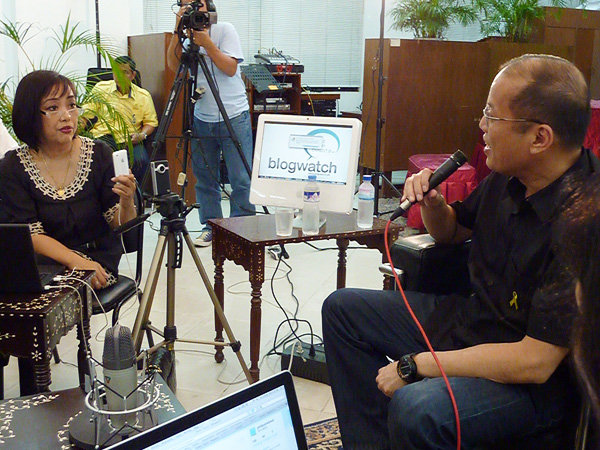 Since the June 30 inaugural and our interview with then Presidential candidate Noynoy Aquino in February 2010, attempts to communicate and engage directly with the President was often met with silence. I got a reply once but I was told the President was busy. This came shortly after he was accused of "noynoying". Proposals to initiate a twitter town hall meeting and a yearly coffee chat never got a reply. The President or his communication staff do not look too kindly on criticisms, whether they are constructive or not.
Maybe the President will engage with social media users once his communication team gets it. Secretary Coloma seems so old school. I once approached him in the Palace in late 2010 and told me it will take time.
While Jane, (my friend and partner in crime), and I are busy with Blog Watch and our individual advocacies, we remember that we also need to be sustainable. Tonight was a business meeting with the Vibal Group. While waiting for Tin and Sally , we ordered our Pumpkin soup and Cesar's salad. To my surprise, Jane gasped "Pnoy is here". I glanced to my left and saw the President walking towards the table next to us which was separated by a divider.
I kidded Jane, "maybe we can have a photo op. I have seen Carlos Celdran do it in Facebook. I also see him with photos ops from ordinary citizens". Ever since that 2010 Blog Watch interview, Jane and I never had another photo op. Sure, we were invited to the Palace on Inaugural day and other media events but we never had a chance to even go near him and have another photo. Maybe this time. Of course , I did not want to just approach their table . There was also a chance that he will refuse but I will take that risk. The opportunity soon came when he looked like he was leaving the restaurant.
Looking at his direction, I meekly asked "Can we have a photo with you?", motioning my hand towards Tin, Sally and Jane.
He seemed to be in a good mood because he readily agreed without any hint of hesitation. He motioned his hand towards someone in the room to take our photo. Oh , a camera man with his large DSLR. (I guess he does not want a repeat incident after that Napoles fiasco where he will claim that he did not know us) I handed my iPhone to the camera man while Jane handed her Samsung to another PSG ( or assistant).
SNAP!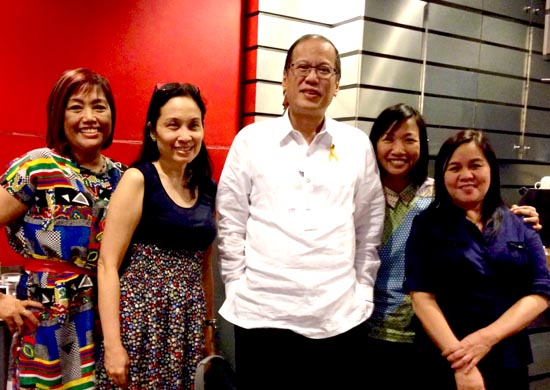 I then told him "We interviewed you when you were just a presidential candidate in 2010".
To jog his memory, I said "Blog Watch". (see photos)
He smiled and looked pleasantly surprised "in Vibal!" That probably sounded like music to Tin and Sally.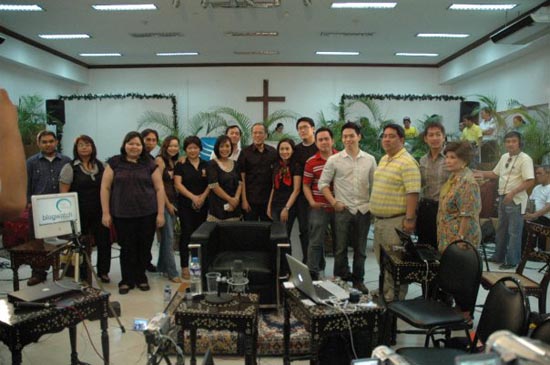 He remembered. Maybe he thinks we, in Blog Watch are too critical . All I can say is that is democracy at work. We want him to succeed as President and we call out on the promises and platforms he told us before he was President. I hope to engage with the President's communication team and sit down with them on what construes as "constructive engagement". I want to remind our government to focus on how to be social, not on how to do social.
It is also my hope the President remembers the social contract we discussed four years ago so he can deliver all of these before his term ends in 2016 .