In a few hours, Lauren will be on board the plane for Singapore with 2 guys (both brothers) *gasp* . One of the guys is Lauren's band manager. I didn't know she was travelling with 2 guys. The mother of the guys called me up and assured me that Lauren will be in safe hands. That was sweet of her to call me but I trust Lauren knew she would be in good company. At the last minute, the female companion backed out.
She loves the excitement and the adventure of travel. The travel itch started at the age of 10 years old when I "forced" them to join a cultural exchange program (choir tour) in the USA and Canada every summer. Those were my stage mother years where the girls were caught in the hustle and bustle of stage performances. During those travels, I taught the girls every immigration , travel and plane procedures because I knew they'd be travelling almost every year and I wasn't sure if I'd always accompany them. I didn't know it then but today, they tell me that their travel experience is something that they will always treasure.
While at Singapore , Lauren will meet up with a few Singaporean bloggers who have been her readers for the past decade. Imagine that!? During the early days of the internet, I was often questioned why I allowed my children to get online.
Questions often asked were:
Am I not afraid of pedophiles? Am I not wary of the pornography ? What if the online friend is really some serial killer?
Relatives and even teachers frowned on the internet in the mid nineties. It seemed like I was a parent from some alien planet.
There were no hard and fast rules. There were also no clear answers at that time but I knew one thing. I am a parent first. I drafted my own Internet safety Guidelines for parents, teachers and children to read in World Kids Network. In the real world, one aspect of responsible parenting is never having to allow children to wander aimlessly and alone into unknown territories . So, too, in the vast cyberspace called the internet. Constant parental supervsion for young kids is all I needed to do. ( By the time they reached college, they gained enough judgement and confidence to tread the internet on their own.)
I also knew that I needed to strike a balance for our respect of the wonders of the internet with the responsibility for accountability, self-discipline, and safety. The best defense was for me to make exploring the online world a family affair. Online friendships were complemented by actual face-to-face interaction. While travelling to the USA, Lauren's online friends from her defunct Keypals Club wanted to meet up with her. These were easily arranged with the cooperation of their parents. So while the girls and their friends were frolicking at the amusement park, we, the parents exchanged our notes on motherhood or parenting tips.
And are they still friends today?
You bet they are. Amazing.
I created a balance of internet and travel activities because I wanted my kids to have a global perspective. I know not everyone can afford to travel but I didn't have to pay much in meeting these goals. I looked for exchange programs that sponsored or defrayed travel . The Manila Children's Choir activities fitted perfectly in honing my kid's musical talents and at the same time provide them the opportunity to foster friendships locally and internationally.
I often wonder how the internet molded my children's perspective in life. Did they gain knowledge not found in classrooms? I still affirm that the internet is a tool that gives our kids the advantage of being exposed to global thinking, varied ethnicities, cultures and religion which they might not have learned in the classroom. And so long as parents take on a hands-on role, set time limits and create a balance of healthy activities for their children, our children will do just fine.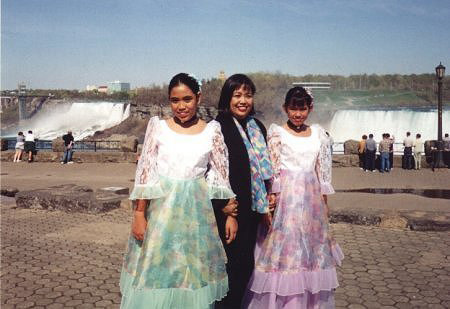 At the Niagara Falls, May 1999