In celebration of [tag]One Web Day[/tag] on September 22, , I am going to list down "about the ways the web has changed your world." Having been online since 1995, a lot of changes has happened in my life. Janet Toral started with her entry, How the Internet changed my world
Here is my list:
1. The [tag]internet[/tag] brought me business opportunties , such as e-commerce and problogging.
2. With my affordable webhosting packages for the Philippine market, I am able to help small and medium businesses promote their products or services 24/7 . This gives me such a rewarding feeling.
3. Because of reason no. 1, my online business brings flexible working hours. In fact I don't need a physical office since a virtual office will do. I can bring my work through my macbook in any part of the world as long as there is internet connection.
4. Initiated a grief support group , The Compassionate Friends Philippines to help bereaved families cope with the death of their child or sibling. When grief support was unavailable in the Philippines in the yar 2000, I found grief resources which provided me with great comfort.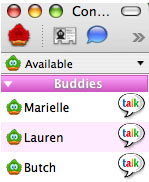 5. Instant messaging keeps me in touch with loved ones. Even if my kids are in their dorm, I can still chat with them through Google Talk or Yahoo Instant messenger. I can also give advice in homework or relationship problem. "MOOOOOOOOOMMMMM" is the most frequent word in my chat box, followed by "You there, mom?" Sometimes, I also "poke" my husband when I see him online, checking if he's stressed or not from work or just exchanging love notes.
6. Paying bills online via BPI Express Online is very convenient. It beats going to the bank and filling up a deposit slip then falling in line which can reach up to one hour if the bank is full of depositors. When the kids need money, I just transfer funds online. No waiting time.
7. I can still see and chat with my siblings in the states using the webcam or skype. Of course, email and instant messaging forms part of our daily chitchat. My siblings often get jealous when I show myself on the cam eating ube ice cream or some other Filipino food not available in their grocery. My bad!
8. Through the magical powers of google, the internet reconnected me with old friends who I haven't seen in years. Hi Betty. Hi Bing.
9. It paved the way for new hobbies: amateur photography and web development . These hobbies kept my sanity intact during my grief journey.
10. Lastly, a memorial site for my son, angel-luijoe.net was one way to unleash my grief into something creative. Through this memorial site, it brought some comfort to other griveing parents with similar situation as mine. The only help a parent can find when they are grieving the loss of a child, is in the company of another who fully understands that loss.
What about you? How has the internet changed your world? How do you intend to celebrate One Web Day?
Here's what you can do to celebrate One Web Day
What you can do to celebrate

On OneWebDay, take one web-related action that helps someone else. Suggestions:

-teach someone to use an application (blog, wiki, Flickr) that is new to them
-start a group blog about an issue you care about
-help a grandparent get in touch with a grandchild online
-help a young student find a new educational resource online
-start a story online that other people add to
-go to a local senior center and volunteer to help people get online
-go to a local school and volunteer to help get better equipment in place
-talk to your town about getting free wireless access in place
-post a tribute to a friend online – interview him/her about his/her life
-have a contest with a friend to collect and display the five most amazing things you can find online
-go to a public wireless place and strike up a conversation about the web with someone near you
-send a recipe to a friend and then make dinner together
I will let you know how I celebrated One Web Day on September 22,2006.