"VR combined with music improves exercise retention, study shows" was first published on Sunday Business &; IT, June 28, 2020
I wouldn't have been a member of Fitness First for the last 15 years if not for my daughter who insisted on attending yoga classes. Too bad the gym closed temporarily since the coronavirus pandemic. Fitness gyms would probably open soon, but with a lot of limitations such as the number of members allowed inside. Booking a class through the app would be required. Sauna and steam rooms would be closed. I would say goodbye to my membership and continue with alternative workouts I have been doing at home since the pandemic.
Some of my friends watch YouTube videos to dance along with the group instructor. Others attend online classes on Pilates and yoga. Home gyms will be the future of fitness. There are pros and cons. I waste less time in getting to and from the gym, not to mention the additional expense of parking fees. Savings in membership fees are significant. A home gym would take some investment to get it built. Not everyone has space for a gym at his or her house. The only equipment I own is a stationary bike, and some weights and a yoga mat. Walking outdoors is an ideal exercise if only I didn't have to wear a mask.
READ: A virtual workout on my stationary bike, using VZfit with the Oculus GO.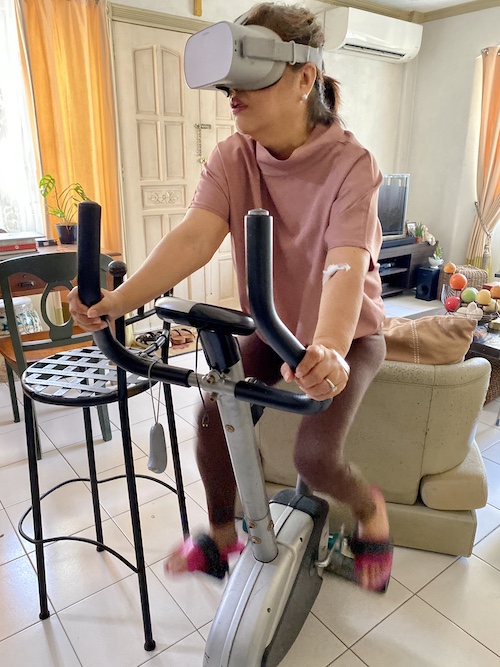 In the past, I watched TV, or videos while biking so I would not get too bored. Discovering VZfit means goodbye to my boring workout. Developed by Virzoom, VZfit allows any stationary bike to be connected to an Oculus Quest or Oculus Go Virtual Reality (VR) headset when paired with a compatible BlueTooth 4.0 cadence or speed sensor. MageneS3+ Speed/cadence Dual sensor was one of the compatible devices, which I attached to the crank arm on my stationary bike. Since I am not paying for a gym membership, I subscribed to the VZfit Premium membership for $9.95 a month or about P500 a month after the free 7-day trial. The upgrade of my stationary bike to Virtual Reality has made my workout so much fun and exciting. Oh, the places I've been. Every day, I ride for 30 to 60 minutes anywhere I fancy in the world, like in the Yosemite National Park, Westfjords, Iceland or the Magallanes y la Antartica, Chile. With real-world scenery using Google street view imaging, this app takes the monotony out of using my stationary bike. The drawback is Google street view imaging could be glitchy and distorted. Time flies by so fast that I don't realize I am getting a cardio workout as I ride my bike and listen to the music in my headset.
LOOK: VZFit album of snapshots taken during my virtual rides
Findings in a recent study published in the British Journal of Health Psychology on the "Ready Exerciser One: Effects of music and virtual reality on cycle ergometer exercise" validates my experience. Yes, VR makes exercise more enjoyable and less tiring. Professor Costas Karageorghis from Brunel University said their findings show the abundant potential for the use of virtual reality combined with music to get people more physically active in their own homes. "The exerciser's mental bandwidth to process fatigue is reduced by the virtual world and soundscape provided by the immersive technology," explains Dr. Jonathan Bird from the University of Exeter Business School. "Participants appeared to thoroughly enjoy the virtual reality exercise, and enjoyment makes people more likely to stick to a routine." In the past, I could never ride the bike, even for 10 minutes. I usually take breaks, but for the past weeks, I could even go over 30 minutes.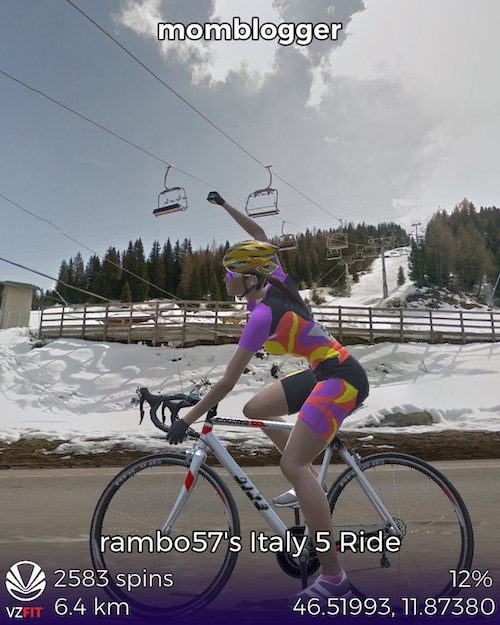 A range of VR fitness apps and games is available for other VR headsets that are not available in the Oculus Go. The rhythm VR game Beat Saber is one of the most popular VR apps. BoxVR is another virtual reality app that provides players with a high-impact workout. Then, there is Sprint Vector, Holodance, Dance Central, Thrill of the Night, Sprint Vector and Creed: Rise to Glory. With the coronavirus pandemic keeping me at home, my virtual reality exercise would go on. If you haven't tried the VR fitness revolution, perhaps now is the time to get started.