Carlos Celdran is flamboyant to the extreme, a one man show of history, criticism, and trivia, the most entertaining ticket in town. ~ Lonely Planet ~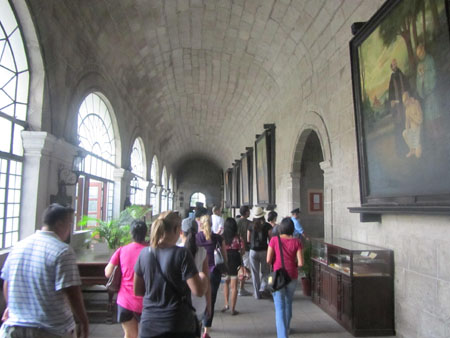 IF THESE WALLS COULD TALK!
Indeed, I never knew these walls could talk so much by the way Carlos Celdran brought these walls to life in his most popular tour, "If these walls could talk". I was never that interested in History but today changed all that. It is my daughter's 23rd birthday today and she wanted to celebrate it by learning more of Old Manila by way of a walking tour. I sent an SMS to Carlos that M will be joining this tour and he told me to join. I have joined one of his walking tours in Escolta, Quiapo and just Old Manila and enjoyed his unique historical perspective. I was not prepared for this tour though because we were having a lunch celebration nearby and I was dressed in sun dress with heels. Good thing I always bring my hat.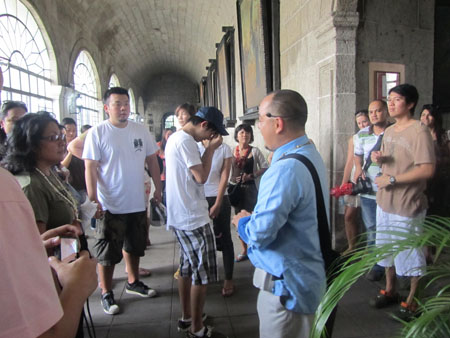 I thought the walking tour might be a good time to revisit Old Manila and its past glory and reflect upon its state. This is not your ordinary walking tour, mind you. Carlos makes you crave for more stories as he delivers a hilarious, irreverent educational historical walking tour of the walled city of Intramuros. My ex-boyfriend (now husband) and I were fascinated with Manila that we often dated here back in the early 80's and admire the Renaissance-inspired architecture.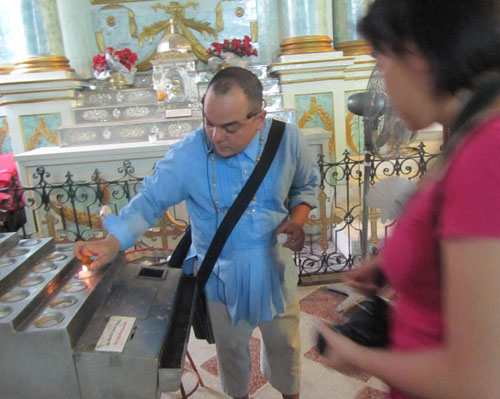 I feel sad that Manila never regained its old glory after it got bombed during World War 2. Through pictures and narrative description from Carlos, I imagined Intramuros from within its walls, from pre-hispanic Manila to the present time. Makati may the Philippines the way it wants to be but Quiapo shows the Philippines the way it really is. I won't spoil you with details because I strongly advise all of you to experience this tour from a man who is trying to change the way you look at Manila one step at a time. You can read a review of his walking tour. True, Manila may not change the way it looks today but why not change the way we look at Manila first?
Looking at how Carlos Celdran narrated Philippine history was like watching a theatrical act. He made the tour extra interesting with all the music and props. Be ready to set your mind to journey in the past with his exceptional way of story telling. This is where he'll hit you. He will make you ponder on how promising Manila was before. How everything started beautifully, and how times and people changed the way it looks. Honestly, it was nothing in comparison to how we learn and study all these in school. Carlos, as how most of us felt him, was deeply passionate about his purpose for this city. And it was too embarrassing not to feel the same way. Manila is all about being a Filipino. The history said it all, and I should always be proud to be a Manileño.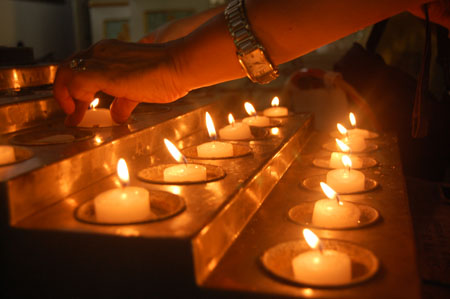 Carlos believes "that Manila can be a reflection of your state of mind. Being a city of extreme contrasts it can easily become an intense personal experience. Manila can be chaotic and spiritual, dirty and divine, gritty and gorgeous all at once. If you don't find beauty and poetry here, you will never find it anywhere".
If the walls could hear my thoughts as I lit a candle…one of my 3 prayers was that the Aquino administration would truly work hard towards the recovery of our country. I know, too that God only helps those that help themselves.
Walking Tour of Historic Intramuros
Almost four years running now, its the most popular tour in the selection and a definite must for beginners in Philippine History. Take a leisurely afternoon walk around a selection of Intramuros' most stunning structures and take in a humorous analysis of Philippine art, culture, and society from Pre-Hispanic Manila until the present. A small snack is provided of course…Ironically irreverent yet informative.
Itinerary:
Fort Santiago (Deluxe Tour Only)
San Agustin Church and Museum
Intramuros Wall Tour
Plaza San Luis
Casa Manila (optional)
Contact Carlos via his blog Celdran Tours or www.carlosceldran.com or [email protected]