I have a confession to make. In 2016, Ayoko Kay leni Robredo because Dilawan siya. But I got to interview her with my fellow bloggers for almost 2 hours . In our interview she said she had plans for anti poverty program.
At ginawa talaga niya. Angat Buhay started in October 2016. Mas lalo ako bilib sa kanya.
Angat Buhay is her anti poverty program under the Office of the Vice President.
As of December 2021, the OVP, through Angat Buhay, has partnered with 372 organizations mobilizing a total of P520 million worth of resources to assist 321,001 families and 305,223 individuals in 223 communities nationwide.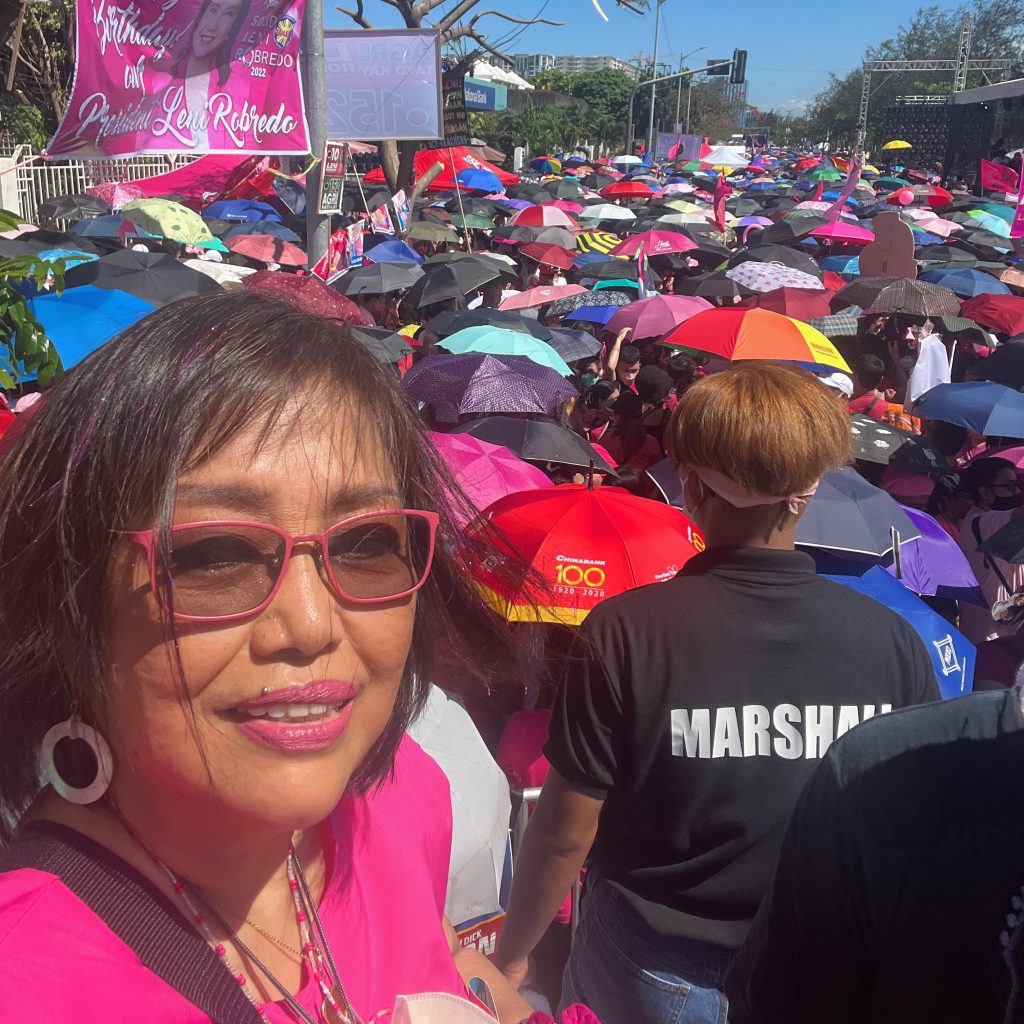 Some of the projects under the program are the Angat Buhay villages in Bicol and Marawi, medical assistance, and the construction of health centers and classrooms, among others. Imagine if she is president. She will make ANGAT Buhay lahat even bigger.
Two out of many reasons "Why Leni". If president , she will push for a bill for a P100 billion stimulus package for MSMEs to help rebuild our economy while also making sure people don't lose their jobs. Meron din balak ng Unemployment Insurance Program where you will get 80% of 3 months worth of their previous salary . This is what I will campaign when asked about her concrete plans.
Marami nag sabi wala siyang ginawa. I only knew of her achievements last year. Hindi siya epal. Her weakness and strength is she didn't want to publicize her achievements. At that time, she had no intentions to run for President. She just kept on working.
These are her achievements
COVID -19 RESPONSE
1. P503 Million COVID-19 Response.
2. P58.84 Million Testing Kits.
3. P64.70 Million PPES.
4. P43.98 Million Dormitories for Frontliners.
5. P35.60 Million Disaster Relief Operations.
6. P20.43 Million Gadgets for students.
7. P17.28 Million locally funded projects.
8. P14 Million Hot meals for Health workers.
9. P2.5 Million support towards employees exposed to COVID-10.
10. P1.4 Million Hazard Pay for regular employees.
11. P817,000 Hazard Pay for the contract of service employees.
12. P249,500 Hazard Pay for contractual employees.
13. 23,345 Frontliners served through Vaccine Express, Cab Swab, Free Shuttle.
14. Community Mart sa Quezon City at Pasig para sa mga small-time market vendors
at tricycle drivers na naapektuhan ng pandemya.
15. Vaccine Express initiative that inoculated 500 Aetas in Barangay Sta. Juliana.
16. Leni backed the passage into law of the Unemployment Insurance Bill that will create an unemployment insurance system to protect Filipinos who have lost their jobs due to the COVID-19 pandemic.
DISASTER RELIEF/HOUSING
17. P12.3 Billion total value of given help to families.
18. P42.17 Million worth of help given to communities.
19. P12.80 Million contribution towards transitory shelters and shelter kits for Marawi
20. P207,244 or 1,022 individuals given relief ops.
21. P23.86 Million from the VP fund was shelled out for the victims of the Taal
Volcano, Typhoon Quinta, Super Typhoon Rolly, and Typhoon Ulysses.
22. P8.841 Million donations were collected for the Taal eruption.
23. P2.360 Million donations were collected for Typhoons.
24. 12,489 families' homes were repaired due to disaster-related damages.
25. 92,600 Light Bulbs given to homes in Metro Manila.
26. 3,776+ Households have been given electricity through the OVP's Angat Buhay.
27. Assistance to at least 11 towns in Batangas, 1 in Cavite after the volcanic eruption, reaching at least 22.047 families in the two provinces.
28. 87 municipalities across 11 provinces were given aid that reached at least 56,148 families after the typhoons.
29. The OVP turned over pet supplies donated by different organizations to the
Philippine Animal Rescue Team. This is to help in taking care of around 600 animals.
30. Leni has proposed the construction of stronger evacuation centers that not only
will withstand natural calamities but will also accommodate pets and livestock.
31. Leni wants to strengthen the rescue capabilities of barangay officials.
32. In 2020, Leni together with the OVP's partner-agencies provided boats for Aurora fisherfolk affected by typhoons.
33. After the Typhoon Ulysses calamity, Leni says that climate change should be taken seriously.
34. Leni recognizes that there is a "global climate emergency," and values conversations on the issue. She supports instructional changes towards fossil fuel
independence.
POVERTY REDUCTION
35. Leni was a practicing lawyer who focused on cases involving the marginalized sector.
36. P441.14 Million worth of resources mobilized through the OVP's Angat Buhay with 330 partnered organizations.
37.341,779 families helped or 221,122 individuals in 381 communities nationwide
through the OVP's Angat Buhay.
38. P8.93 Million worth of projects, farm inputs, livestock, development and training
wherein 127 individuals and 18 accredited Civil Society Organizations were assisted.
EDUKASYON
39. P122.96 Million worth of Educational infrastructure built.
40. P8.27 Million worth of School kits.
41. P4.49 Million worth of Scholarships and technical training.
42. P19.75 Million appraised value of gadgets and items raised via Kaya Natin donation drive for Bayanihan E-skwela, Community learning hubs, instructional videos for
teachers and parents.
43. Leni wants SPED centers in all public schools.
44. Noong siya ay Housing Chief, she pushed to build communities that are friendly to persons with disabilities.
45. The OVP partnered with USAID and PBEd to provide free technical-vocational skills and employability training for over 1,000 unemployed and out-of-school Filipino youth.
BILLS AUTHORED
46. Principal Author of HB 19 or the Full Disclosure Bill.
47. Principal Author of HB 3905 or the Participatory Budget Process Bill.
48. Principal Author of HB 4911 or the People Empowerment Bill.
49. Co-author of HB 3432 or the Comprehensive Anti-Discrimination Bill.
50. Co-author of HB 3587 or the Anti-Political Dynasty Bill.