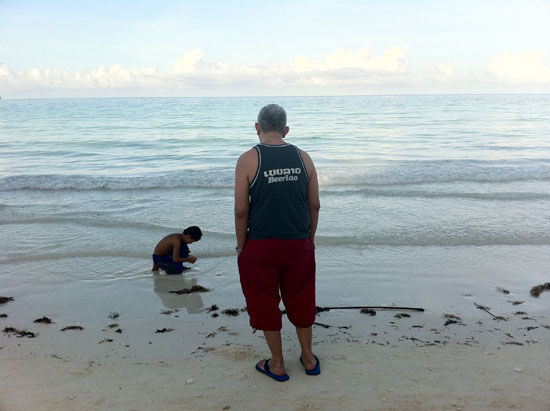 My husband watching a boy picking sea shells by the beach front in Boracay. I knew he was thinking of Luijoe.
A few days before our trip to Boracay, I wrote a A letter to my son in heaven on his Angel date, May 27. This recent vacation to Boracay affirms that our son is closer to us than ever before. He has been beside us all these years.
Let me share one of the first grief poems a few weeks after we buried Luijoe. After all the friends have condoled with you, one is left alone to grieve. Now reading this "A letter from heaven" poem eleven years after his death, I see the words that inspired me to move on with my new life. I forgot all about this poem. These words may have been subliminal but it played a big role in my healing journey. If you have lost a child, this poem may give you some measure of comfort. The words didn't really strike a chord at first. I remember wailing "but I want my Luijoe here beside me, bugging me with his toys."
Just keep reading this "A letter from heaven" until it becomes part of your process.
And so, as I contemplate the western horizon of my life, I think of my son with exquisite sadness and profound gratitude. He evoked in me a capacity for love I did not know I had. Those feelings did not die with him, nor will they, I pray, die with me. – Gordon Livingston
A Letter from Heaven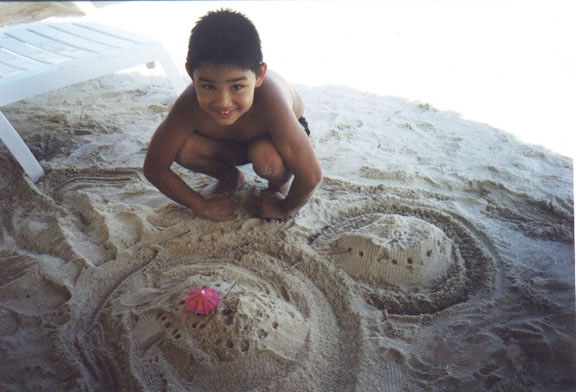 Playing with sand, an hour before Luijoe went to heaven
To my dearest family
Some things I'd like to say,
But first of all to let you know
That I arrived okay.
I'm writing you from Heaven
Where I dwell with God above,
Where there's no more tears or sadness
There is just eternal love.
Please do not be unhappy
Just because I'm out of sight,
Remember that I'm with you
Every morning, noon, and night.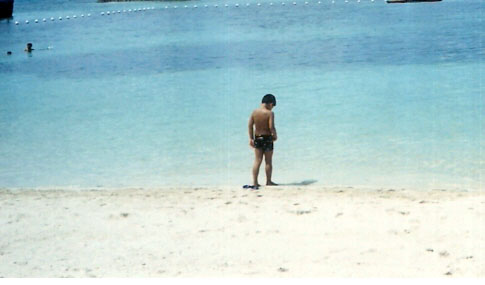 Luijoe staring at the small fishes by the shore.
That day I had to leave you
When my life on earth was through,
God picked me up and hugged me
And He said, "I welcome you".
"It's good to have you back again
You were missed while you were gone,
As for your dearest family
They'll be here later on."
"I need you here so badly
As part of My big plan,
There's so much that we have to do
To help our mortal man."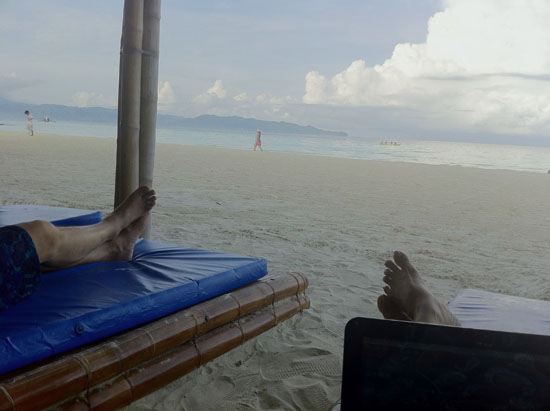 The task we face is to create with our new selves something that, in some measure redeems our suffering.
Then God gave me a list of things
He wished for me to do,
And foremost on that list of mine
Is to watch and care for you.
And I will be beside you
Every day and week and year,
And when you're sad I'm standing there
To wipe away that tear.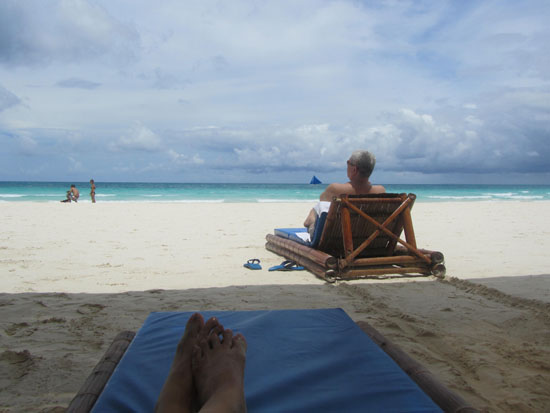 And when you lie in bed at night
The days chores put to flight,
God and I are closest to you
In the middle of the night.
When you think of my life on earth
And all those loving years,
Because you're only human
They are bound to bring you tears.
But do not be afraid to cry
It does relieve the pain,
Remember there would be no flowers
Unless there was some rain.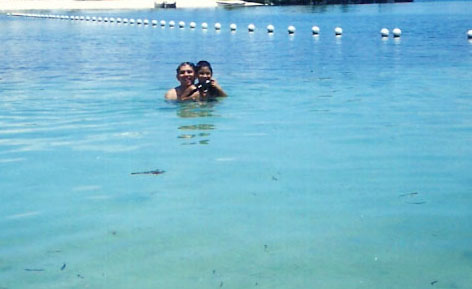 My husband and Luijoe by the sea just a few hours before Luijoe went to heaven.
I wish that I could tell you
Of all that God has planned,
But if I were to tell you
You wouldn't understand.
But one thing is for certain
Though my life on earth is o'er,
I am closer to you now
Than I ever was before.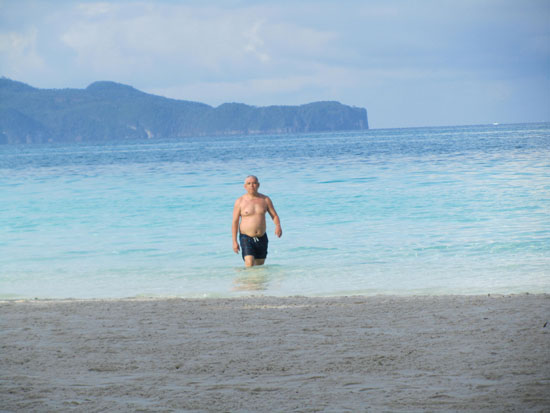 And to my very dearest friends
Trust God for He knows best,
I'm still not far away from you
I'm just beyond the crest.
There are many rocky roads ahead of you
And many hills to climb,
But together we can do it
Taking one day at a time.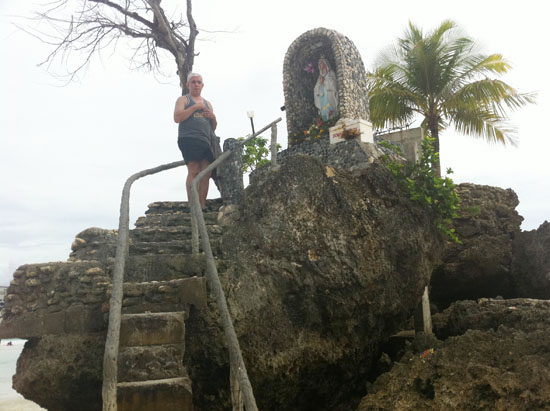 It was always my philosophy
And I'd like it for you too,
That as you give unto the world
So the world will give to you.
If you can help somebody
Who's in sorrow or in pain,
Then you can say to God at night
My day was not in vain.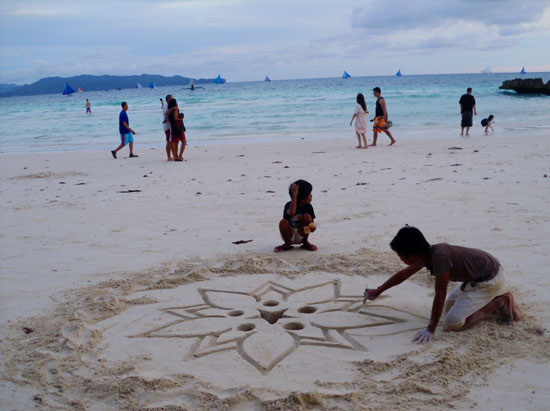 And now I am contented
That my life… it was worthwhile,
Knowing as I passed along the way
I made somebody smile.
So if you meet somebody
Who is down and feeling low,
Just lend a hand to pick him up
As on your way you go.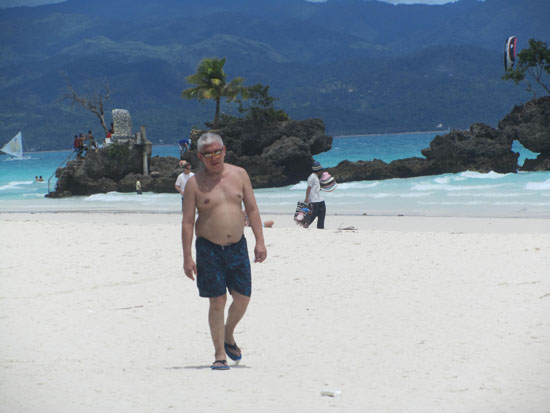 We have been humbled but not broken.
When you are walking down the street
And you've got me on your mind,
I'm walking in your footsteps
Only half a step behind.
And when you feel that gentle breeze
Or the wind upon your face,
That's me giving you a great big hug
Or just a soft embrace.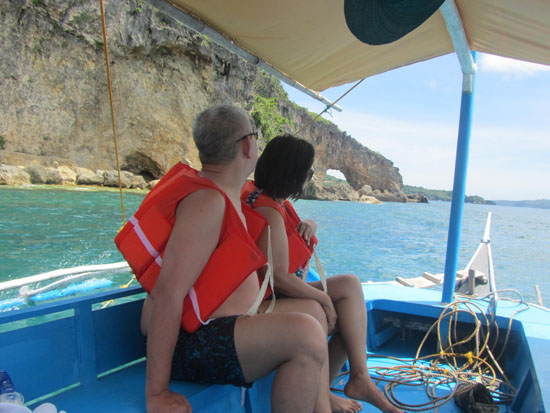 And when it's time for you to go
From that body to be free,
Remember you're not going…
You are coming here to me!
And I will always love you
From that land way up above,
I'll be in touch again soon
P.S….God sends His love.
I am so sorry….but, remember….God knows best!
My prayers and thoughts are with you always.
I love you more than you will ever know
(Unknown author)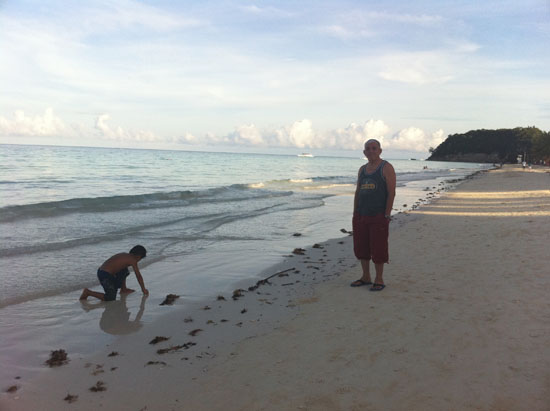 We see, always with longing, children who remind us of what our child was or would be now.