AJ often takes a photo of his mascot, Ernie whenever we are in new media events. Ernie even has his own travel blog (which at this time is on temporary hiatus due to technical issues) since he tagged along with AJ in all his adventures in and around the country. Looking at AJ with Ernie, an inspiration hit me. Why not have a mascot myself?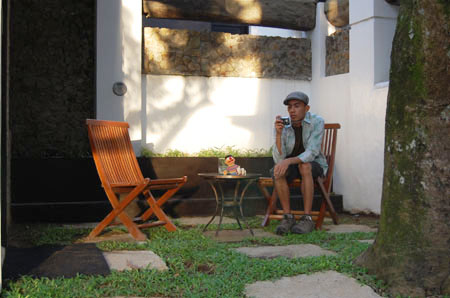 See, I often take photos of people, places and events but I rarely get the chance to be in the photo. The mascot takes my place. Now what mascot?
The mascot I choose must be memorable. Another inspiration struck me.
I then recall "Kippy Cat", Luijoe's favorite stuffed animal in 1996. Mother's Day 1996 was soon approaching but my US trip would make it impossible for me to be with my children. Luijoe, being the youngest at three years old was still so attached to me. I know that Butch is a wonderful parent and will make an excellent mother to Luijoe. Yet, I felt guilty leaving Luijoe. I got this freebie Kitty from I-forgot-the-place and handed it to Luijoe.
Lui, this is kitty cat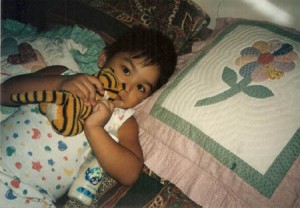 Lui rubbed the kitty to his nose Kippy Cat!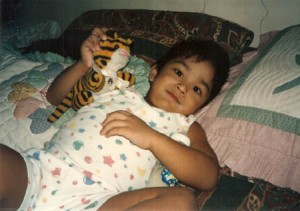 Kippy Cat remained Luijoe's comfort while I was in the USA. Kippy Cat never left his side while I was away from him. When I returned after a month, he rubbed Kippy Cat's nose on to my nose.
Kippy Cat!
I forgot all about Kippy Cat when Luijoe died. I kept his favorite toys tucked away in his room as I always do for my children's old toys and books and I just left it at that. During the taping of Proudly Filipina, the production staff asked for Luijoe's favorite toy when I opened his cabinet. I got the Kippy cat and held it lovingly in my hands as I stared at its torn whiskers and worn pink nose. Luijoe must have chewed on Kippy Cat
I told the crew, This is Luijoe's favorite toy because it gave comfort to him while I was away.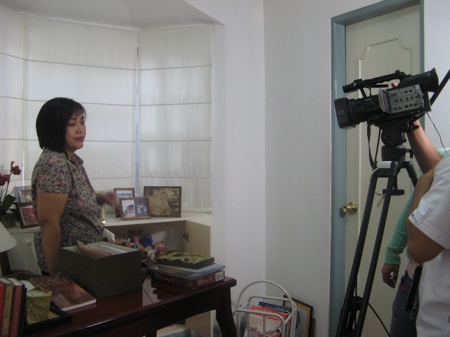 Today as I hold Kippy Cat close to my chest, a flood of happy and poignant memories lift me to high spirits and I feel the comfort of his love. Kippy Cat will now be my mascot.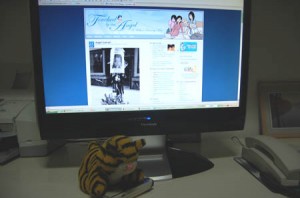 Just as Kippy Cat gave comfort to Luijoe once, it is mine to hold and remember how love never dies.
Mother's Day is especially created for mothers. For those who have lost a child, try to get through them the best that you can, in whatever way feels right for you. Truly, only you know what that is. Whether it is alone those first few years or with people that you love and who understand, do something that you find comforting. It is your day, for you were the giver of a precious life – you held a miracle in your arms. Even as powerfully destructive as death is, even that cannot take those memories away from you– they are your child's gift to you.
To all the mothers, have a blessed Mother's day. Read Motherhood Means Self Care by my friend, Cathy Babao-Guballa.
Happy Mother's Day
Past Mother's Day Entries:
1. My Three Babies and their Mama– 2007
2. My Mom on Mother's Day– 2006