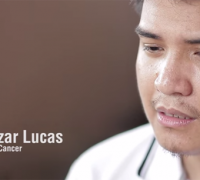 I once got Hepatitis B while I was pregnant with my second daughter. It turned out to be Acute Hepatitis . Fortunately, my daughter got protected from the infection but still she was immunized with immunoglobulin right after delivery.
Hepatitis infection can lead to liver cancer. As of 2010, there are about 1.4 million deaths from Hepatitis B and C infection, including acute infections and those that result in liver cancer.
Here is the story of Baltazar Lucas who I hope gets the help he needs.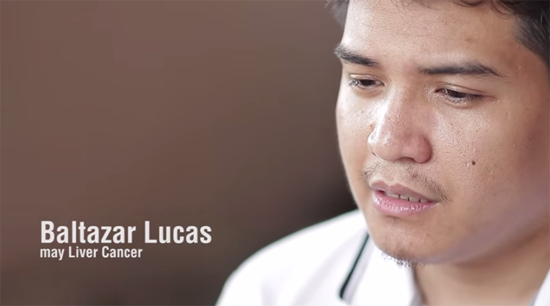 Dr. Janus Ong, a transplant hepatologist and a Master of Public Health from the Johns Hopkins University said that an estimated 7.3 million Filipinos, or 16.7% of the adult population, are chronically infected with the hepatitis B virus. This alarming rate is much higher than in other countries in the Western Pacific Region.
Out of this number of hepatitis infections, between 1.1 and 1.9 million are expected to die prematurely of cirrhosis or liver cancer. 
"I have a 31 year-old patient with liver cancer caused by hepatitis B. He was diagnosed in November 2013 and had immediate surgery. Unfortunately the cancer came back shortly after. At this time, he urgently needs a liver transplant or his disease will progress. And – his wife is pregnant with their second child," says Dr. Ong.
Dr. Ong added, "but the story doesn't end there. This man's youngest brother died of liver failure. A few months later, another of his brothers died of liver cancer. Then, another brother died of liver cancer. How can I not try to help him? His mother, who is herself infected with chronic hepatitis B, had four sons. Now she only has one. If there is a way to potentially cure her remaining son, I have to do it." 
"The main concern of this young man is fighting disease," he said. 
Helping a brave soul
Dr. Ong's patient is 31-year old Baltazar 'Vhal' Lucas. He is the eldest and the only living survivor in a brood of four. In a fateful twist of luck, Vhal's younger brothers all succumbed to liver cancer.
His youngest brother, Mark, contracted tuberculosis in 2008. During medication, Mark's condition worsened and their family learned that he has Hepatitis B. Mark died of liver failure that same year. The doctor advised the family to take tests for Hepatitis B. It was then that Vhal and his brothers discovered that they also have chronic Hepatitis B like their mother.
In the summer of 2013, the second eldest, Aristotle, felt pain in his stomach that was accompanied with constant fatigue. He thought that his condition was only due to the very hot weather. After a series of medical tests, Aristotle was diagnosed with late stage liver cancer. He died in September 2013.
During the wake, Joseph, felt pain in his right stomach. His family had him checked after Aristotle's funeral. It was discovered that Joseph already had stage 3 liver cancer and that it had spread to his lungs. He died after two months of battling with the disease. The unfortunate turn of events severely saddened the Lucas family.
At the time of Joseph's wake, Vhal had himself tested. He is afflicted with liver cancer, now on third stage. In December 2013, Vhal underwent surgery to have a 10-centimeter tumor removed from his liver. But his cancer came back shortly after.
While the cancer cells have not spread to his other organs, he was advised by doctors to undergo liver transplant because his liver is no longer healthy due to scarring caused by cirrhosis.
Despite his illness, Vhal still goes to work as a computer programmer to support his medication and his family's needs. He is now raising funds for his liver transplant operation that could cost more than P4.5-million. He has already approached various medical and government institutions for assistance. He needs to have the operation as soon as possible. Vhal has a young daughter and his wife is now pregnant with their second child.
He wants to continue living and he is appealing for help — financial assistance and prayers. He is fighting hard to reclaim his life from the fatal disease that took the life of his brothers.
To know more about Vhal's brave battle against liver cancer, watch the video below:
To donate for Vhal's liver transplant operation, go to his GoFund site.
It is not always possible to prevent liver cancer but maintaining a healthy lifestyle and self-care measures can help. Vaccines for hepatitis B are commonly available for children and adults. If you are at risk for hepatitis B or C infection, consider undergoing a screening test.
Images: Screengrabbed from Youtube.com. With permission from Baltazar Lucas. Some rights reserved.
Parts of this post was originally posted at the Philippine Online Chronicles.