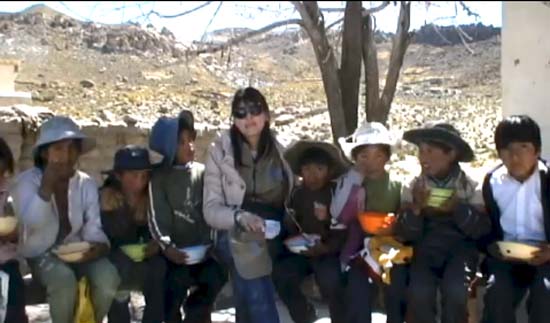 Bolivia is one of the poorest countries in Latin America. Out of its 9.5 million population, two thirds overall or 80 percent in rural areas live below the poverty line. The World Food Programme (WFP) provides meals to around 80,000 children in Bolivia, one of the poorest countries in Latin America, where around 40 per cent of children under five in communities like Huarimarca suffer from stunting as a result of chronic malnutrition.
Providing meals in schools such as Huarimarca School is one of the easiest and most cost-effective ways WFP can make a difference in the life of a child. The children in Huarimarca face a long walk to their school and by the time they reach their school, they lack the energy to focus in their lessons. Nutritious meals provided by WFP not only help to keep kids in class, but give them the nutrition they need to grow and learn.
Watch Ximena, WFP Communications Officer in Bolivia deliver this simple request from you, dear readers.
No, Ximena is not asking you to donate. She wants to invite you to get to know some of the kids WFP is supporting at the Huarimarca School in Bolivia. Visit this link and introduce yourself and submit some questions for the students. Ximena will return to the Huarimarca School to share your messages in a few weeks. Be sure to leave your name and email, and you might be one of the lucky ones to get a personal response.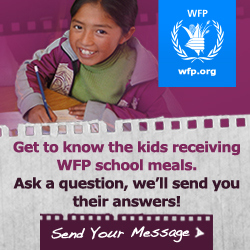 Send your message here
It's important that children in Bolivia get the nutrition they need so that they can stay focused in school and pursue their dreams.
Disclosure: I wrote this post as part of the causes of the Global Team of 200, a highly specialized group of members of Mom Bloggers for Social Good that concentrates on issues involving women and girls, children, world hunger and maternal health.