Oh the irony of Enfakid A+ Milk Formula with Nourishing the Brain and the Pursuit of Excellence!
Milk Formula Manufacturers are quite aggressive in their marketing campaign that they are not checking their "trying to be smart" ads. Blooey first pointed out the Enfakid Milk Ad as shown in the Inquirer (Page D3, October 22) and I want to re-post the photos and explanation below.

Flipping through PDI today, an ad reads… (page D3)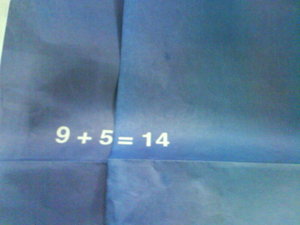 Flap opens to…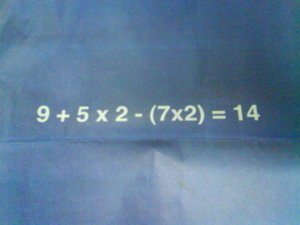 And then the milk formula in the corner.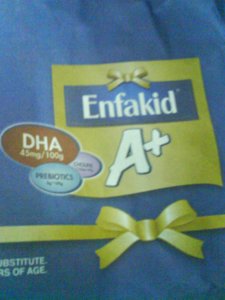 Their ad further shows that
Your child can learn, discover and imagine far richer with Enfakid A+. Now with enhanced DHA levels that help brain cells communicate well to support your kid's rapid mental development. Nourish the brain. Pursue Excellence".

You can drink all the Enfakid A+ you want, but the order of operations should be PEMDAS or ""Please Excuse My Dear Aunt Sally" , better known as Parenthesis Exponent Multiplication Division Addition Subtraction , as follows:
9+5 · 2 – (7 · 2)=14 (as proclaimed by the ad) is wrong!
Multiply 7 x 2 to get 14.
9+5 · 2-(14)=14
Multiply 5 by 2 to get 10.
9+10-(14)=14
Multiply -1 by the 14 inside the parenthesis.
9+10-14=14
Add 10 to 9 to get 19.
19-14=14
Subtract 14 from 19 = 5.
Basic pre-algebra shows that the above mathematical equation in the ad is false. Both the ad agency and the Mead Johnson (manufacturers of Enfakid) are at fault here. What a shame to promote and pursue excellence through their milk when they can't even solve basic math equations. They wanted to appear witty with their cute math formula that Enfakid milk drinkers can easily solve…but failed miserably. Mead Johnson and other Milk formula companies should STOP touting that their milk can help produce intelligent children. They can't even check their ads if it is right or wrong. Okay, even assuming they meant to put parenthesis in 9+5, Mead Johnson and the Ad agency were still not smart enough to check for typo errors.
Update from Blooey– Update: We heard from the PDI account executive for the ad… It is apparently a marketing ploy and part of a series of ads until Sunday. Not sure if this is just a turnaround move on their part.
Edit October 24, page A24 of the Philippine Daily Inquirer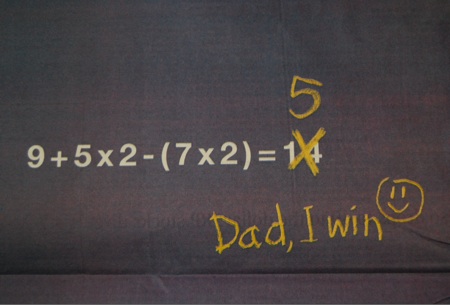 Oh, come on! The penmanship looks like that of a five to six year old child who I assume is a genius because kids their age aren't taught PEMDAS in school until they reach Grade 5. If there was a contest between the child and the dad, no indication is shown in the first ad. Geesh, Mead Johnson will indeed look stupid to admit an error in their first ad so it is now trying to redeem itself. The public is smart enough to know that this is all part of disaster management.
Right below the ad , further excuses are written down: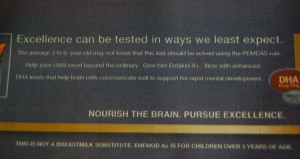 Excellence can be tested in ways we least expect.

The average 3 to 6 year old may not know that this test should be solved using the PEMDAS rule. Help your child excel beyond the ordinary. Give him Enfakid A+. Now with enhanced DHA levels that help brain cells communicate well to support his rapid mental development.
So what is Mead Johnson trying to tell parents? That Enfakid A+ can make their child a math genius? With or without Enfakid A+, parents will find the means to give their children the best they can possibly give. Not every Filipino parent can afford Enfakid A+ but filipino mothers can choose to have extended breastfeeding beyond 3 years of age to supplement their child's nutritional needs. But not many mothers know that because milk ads with Lea Salonga in it boasts that drinking their milk can produce very smart kids.
I continue to reiterate my stand that Mead Johnson and other Milk formula companies should STOP advertisements proclaiming that their milk can help produce intelligent children.
—-
If indeed a series of ads are already in place, why didn't another ad appear a day after? FAIL! The ad agency and Mead Johnson Nurtitionals should nourish their brains first before spewing out misleading and deceptive ad claims.
Marketing ploy or not, breastmilk is still best for babies and even beyond 12 months old. Mead Johnson is the same milk formula company that convinces mothers to Ask their doctor about the Hoffman study and how you can give your child +7IQ points which is very misleading. Mead Johnson maybe in Possible Violation of Philippine Code of Marketing of Breastmilk Substitutes (E.O. 51) that was signed in 1986 because the respondents in that study were newly born infants.
World Health Organization (WHO) has estimated that 16,000 children die every year from illnesses and complications caused by improper feeding practices, including the use of infant formula.
Help us save 16,000 Filipino children's lives every year and 1.5 million babies dying every year throughout the world, because they were not breastfed. This is a public emergency, but nobody seems to be noticing because babies cannot speak for themselves.
Read more on Breastfeeding in the Philippines: Hoffman Study Promoted by Doctors on +7IQ points is Misleading & Inaccurate
PR Companies and New Media Publishing (Part 1)
PR Companies and the Milk Formula Manufacturers (Part 2)
Related Blog Entries
It's obviously not in the milk.
Enfakid A+ Does Not Nourish Your Kid's Brain lolz
Enfakid A+ Milk Newspaper Ad = FAIL
Philippine Milk Makes You Dumb
Join Online Contests in my Shopping and Food Blogs
1. Win a Jansport, Hedgren or Timbuktu bag from Bratpack