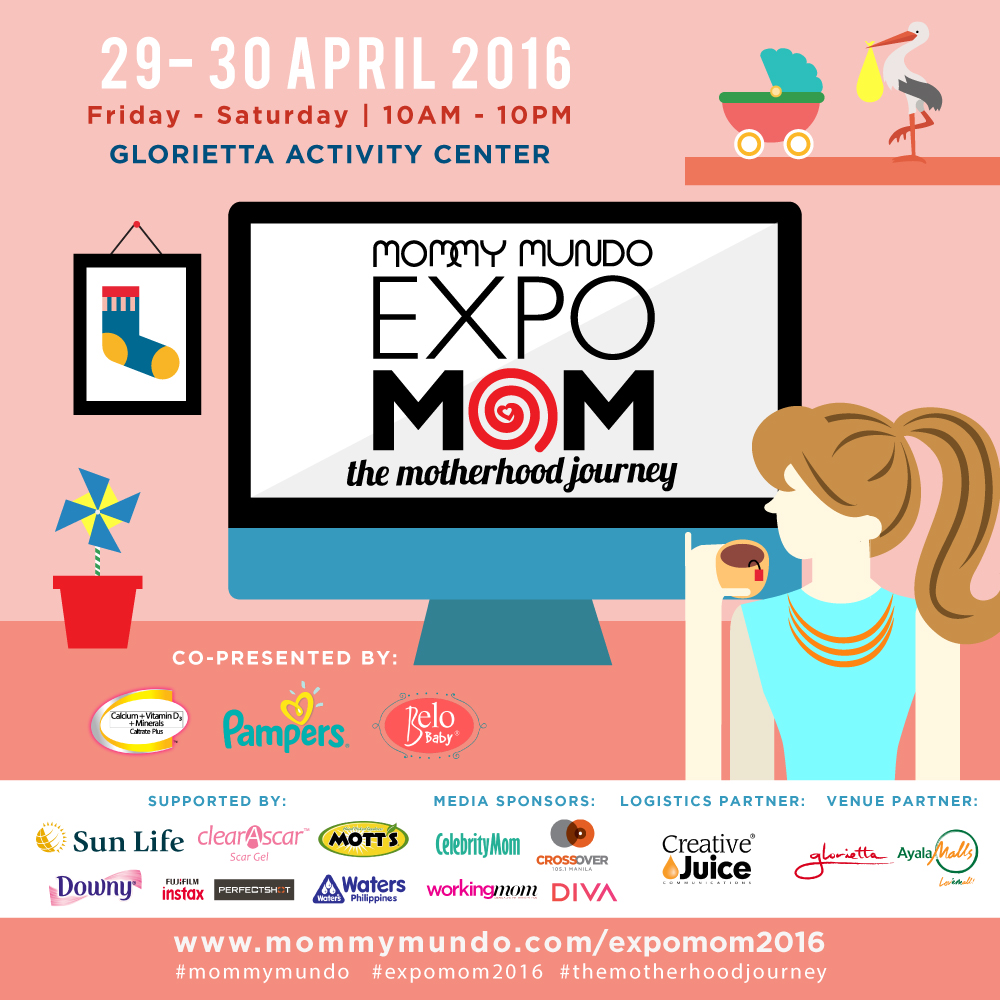 Now on its ninth year, Mommy Mundo brings you Expo Mom 2016, on April 29 and 30, Friday and Saturday, at the Glorietta Activity Center, Makati. Expo Mom 2016 is a celebration, not of motherhood but the journey of motherhood and the unique experience we go through on every stage. With this year's theme, The Motherhood Journey, you'll find both enlightenment and encouragement whether you're an expectant mom or a new mom, a mom taking care of a toddler or a mom raising a child at Expo Mom.
Expo Mom: The Motherhood Journey is co-presented by Caltrate Plus, Pampers, and Belo Baby and supported by Sun Life, Clearascar, Mott's 100% Apple Juice, Downy Baby Gentle, Fuji/Instax, Waters Philippines, and Stanley Ong Photography with Celebrity Mom, Working Mom, Diva Universal and Crossover as media sponsors, Glorietta and Ayala Malls as venue sponsor, and Creative Juice Communications as logistics partner.
Expo Mom is also the most mom and baby friendly event with a mom lounge for breastfeeding and diaper changing area sponsored by Pampers and a play area for kids sponsored by Mott's 100% Apple Juice. Entrance at Expo Mom is free of charge but a donation of any amount will be accepted for the Mommy Mundo MOMSHARE fund. Proceeds of the fund goes to literacy projects for the street children of Childhope Asia and public School kids under the Alpabasa programs. MomShare also supports needs of underprivileged moms and kids. Mommy Mundo Passport holders get an Expo Mom tote bag.
Expo Mom, running since 2008, is the banner event of Mommy Mundo, an organization dedicated to educating, inspiring, and empowering moms with useful, relevant, and up-to- date information.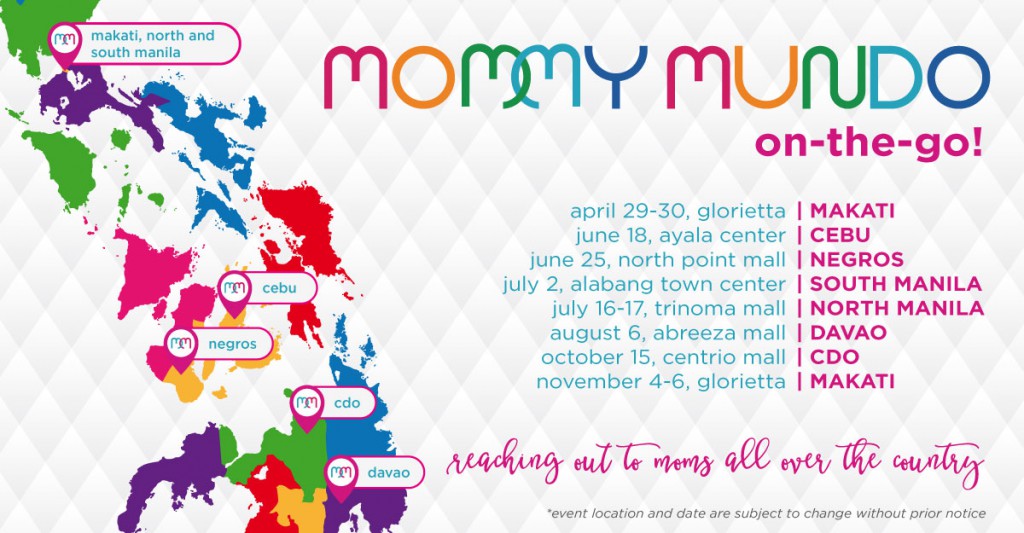 At Expo Mom 2016, moms will find answers and solutions to challenges and concerns of her particular stage of motherhood as we feature mom groups and influencers who will share their experiences and learning's during the onstage talks. Expert resource persons will also be present to impart tips and tools that moms and dads can use to be better in their parenting. Finally, Expo Mom 2016 will also showcase practical and effective products and services for every stage of motherhood. The event hopes to be a sharing of stories, a coming together of moms and dads who strive to be active in their babies and children's lives.
Expo Mom The Journey: We are reaching out to moms all over the Philippines!
June 18 Expo Mom Cebu
June 25 Expo Mom Negros
July 2 Expo Mom South (Alabang)
July 16-17 Expo Mom North Quezon City
August 27 Expo Mom Davao
October 15 Expo Mom CDO
November 4-6 Expo Mom Holiday (Glorietta Makati)