Remember my article Discovering Tranquility in Luijoe Meadow? I felt something good was going to happen. Positive developments on the resolution of the Willing Willie incident looked promising. During the Holy Week, I received news that a child advocacy group would file a complaint of child abuse against Willie Revillame. I kept the good news to myself.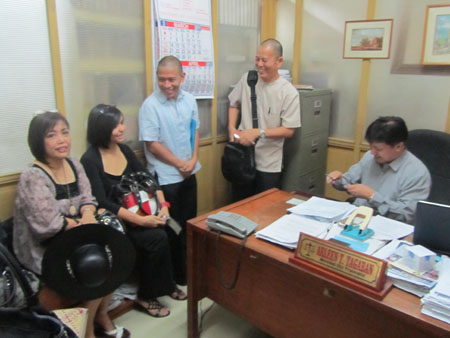 What I did not expect is I would actually be a co-complainant in a suit filed by DSWD Secretary Dinky Soliman. Together with ""running priest" Fr. Robert Reyes, environmentalist Froilan G. Grate, advertising executive Frances Irene Bretana, and myself, we filed separate but joint complaint-affidavits before the Quezon City Prosecutor's Office, charging Willie Revillame for violation of the Special Protection of Children Against Abuse, Exploitation and Discrimination Act (Republic Act 7610).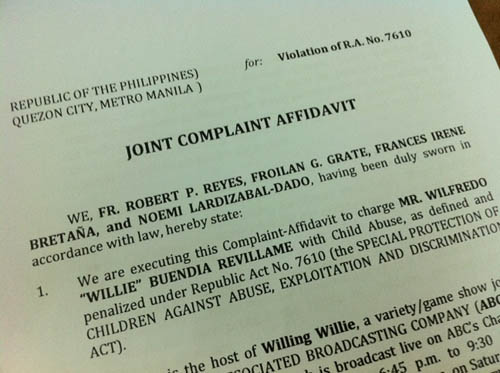 Sure I had plans to file a complaint against Willie Revillame but I was awaiting a formal report from the Commission of Human Rights.
Trying to keep the issue burning, I initiated a ""blog and twitter carnival" in which people online are invited to write articles and express their views about the controversial March 12 incident concerning the crying dancing boy. The blog carnival began on April 18 and ends tomorrow April 28. Not many seemed interested to blog and instead chose to tweet their views.
I was afraid the child abuse issue would die down after the holidays. As I said earlier, this Willing Willie episode erupted to such madness that it zapped so much energy from me. I got sick for two days with one day totally bed-ridden. My immune system must have gone haywire. I knew I just had to be tranquil for a day. I needed to let go when things are just beyond my control.
I prayed hard to Luijoe to show me the light. The image of the crying boy just could not leave my mind. I must do something. If filing the case was not meant to be, I will accept it. Even if Luijoe is not around, I still talk to him. I told him about the six year old boy. "What should I do Luijoe?" Is filing the complaint a good step? Then I lifted my prayer to God.
Truly, God is faithful. Yesterday, I got word from End Child Abuse Community Facebook administrators Froilan Grate and Frances Irene Bretaña that we could be co-complainants in a suit filed by DSWD Secretary Dinky Soliman.
I yelled "I am in."
Today we walked the talk . We filed this child abuse complaint so we could speak in behalf of the children who have no voices.
This is not about networks. This is not about Willie alone. This is about our children, the future citizens of our country.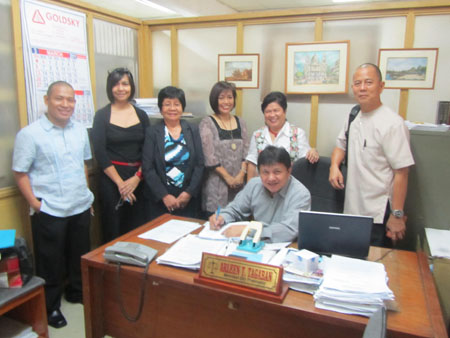 I will now let the Courts take care of this as I cannot make comments anymore on the complaint and Willie after today.
Every child deserves a nurturing family and a safe environment, free from fear, abuse, and neglect. Parents, guardians, relatives, and neighbors all share a responsibility to prevent these devastating crimes, and our government plays a critical role as well.