"When we are unable to find tranquillity within ourselves, it is useless to seek it elsewhere." Francois de La Rochefoucauld
Discovering a tranquil peace at Luijoe meadow leaves me energized and comforted. Luijoe's grandparents named this "Luijoe meadow", a playground to frolic at their mountain residence in Benguet. They had named this lovely meadow after their only grandson, Luijoe even before my son passed away in May 27, 2000.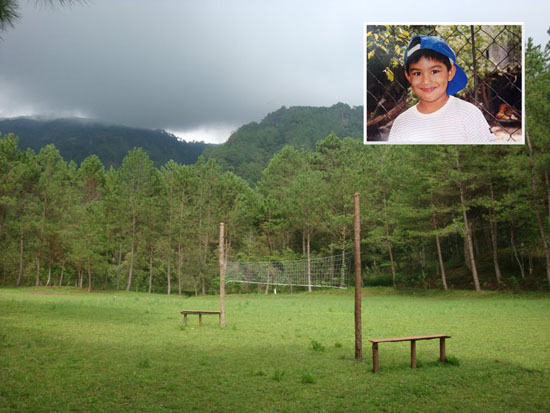 Luijoe meadow somewhere in Benguet
It was Holy Week in 2000 when we all vacationed in this picturesque pine valley hideaway. My energetic young man wasn't in the mood to have his photo taken by Luijoe meadow then but I insisted. He was in a hurry to run around and just be. That Holy Week was well spent talking about the death of Jesus on the Cross, the comfort of Mary by John the Apostle and more. I didn't know my son was preparing me for his death a few weeks later.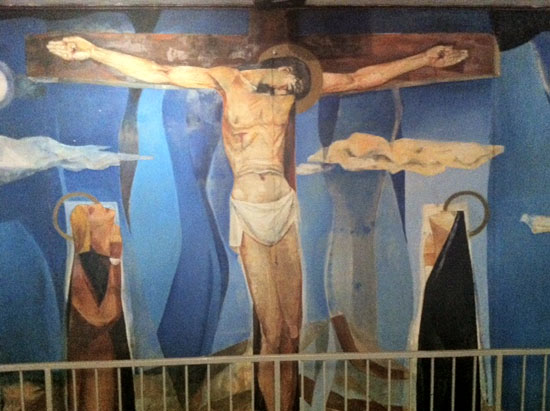 Painting on the wall of Church of Holy Sacrifice, UP Campus
My son's death reminds me that life on Earth is fleeting that there is far more meaningful tasks that need to be accomplished before the promise of eternal life. There are poignant memories that comfort me today. Luijoe often gave me a hug and reminded me before bedtime. "Mom you haven't prayed". I catch myself during chaotic situations, praying to God for serenity. I remember my son's gentle reminder and lift my problems in prayer.
These past few weeks, my mind drifts to this six year old dancing boy. I remember his pained look as he danced. This six year old boy will tell you as it is. The whole truth and nothing but the truth.
"There is something wrong here" is what he is trying to tell us.
I often wonder if Manny V. Pangilinan, the TV 5 network and Willie Revillame paused and pondered on what their show is all about over the past two weeks. Money comes and go. One can't bring money to the grave. Wealth and power do not last forever. I catch myself asking if Willie and MVP ever thought of "How do I want to be remembered? What legacy am I leaving behind? "
The reason is because I am bothered that "Willing Willie" is touted as the flagship show of TV 5 Manila. What does that reveal for the network and MVP himself? My hope is now on the advertisers. Will they support this show? Will they rather support programs that are uplifting, empowering, and good and still provide good ratings?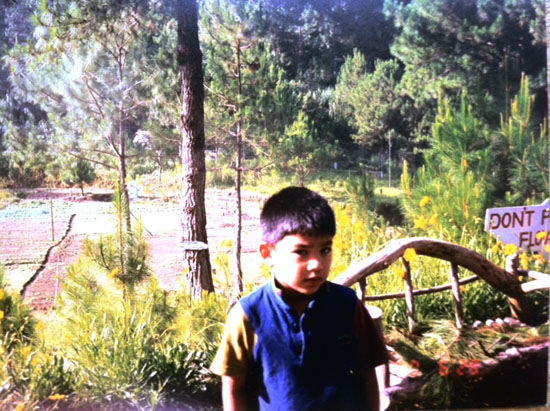 Luijoe photo taken at Luijoe meadow during Holy Week 2000
The controversial episode erupted to such madness that it zapped so much energy from me. I got sick for two days. I knew I just had to be tranquil for a day. In my quiet place, I discovered a tranquil peace just by staring at a photo of Luijoe meadow and recalling what it was like to be here with him right now. I know that I needed to let go when things are just beyond my control.
Today is Easter . Despite the bleak news of a Willie comeback, Easter gives me the hope and the promise of new beginnings.
Even in the darkest of nights and the doom and gloom of this controversial episode, there is always something to look forward .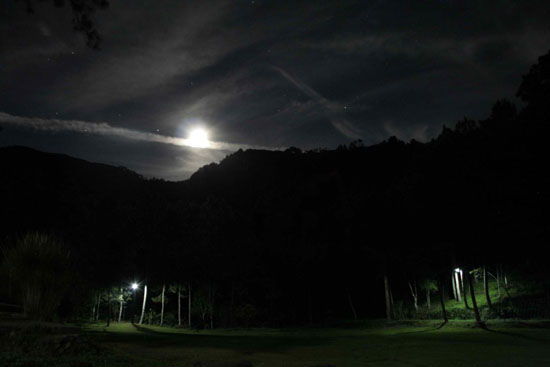 Luijoe meadow at night, taken by Sean, my brother-in-law last Christmas day
By letting go, the answer unfolded. I will let you know as soon as I get clearance to do so.
Tranquillity, for me, is an undercurrent of calm that means the truth is open and welcome in any given environment. I believe it is a quality to be sought above many others. Tranquillity in an environment means that those who are present feel free to be themselves.