Two years ago, Cartoons Network commissioned a survey on Filipino Kids and their lifestyle called "New Generations" because they believe that such study is an integral part of its on-going quest to learn about kids, their lifestyle , opinions and behavior. TV is the number one choice for kids among various forms of media consumption. Quite disappointing really. The 2009 survey does not differ much in TV consumption and preference.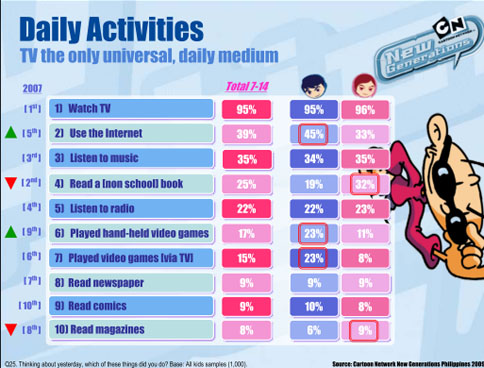 What are the relevant findings for 2009?
1. A new wave of pinoy tech-kids view technology as an integral part of their lives
-Philippine homes show a 12% increase in computer ownership from 42% to 47%.

– Internet access enjoys a healthy 39% growth with 32% if kids accessing the internet at home, as compared to 2007's 23%

– Mobile Phones are so much a part of a kids' daily lives as their personal ownership of mobile phones increased from 14% IN 2005 TO 26% in 2007 and then to the current ownership level of 38%
2. Kids are significantly more digitally savvy and embracing technology like never before and the proportion of kids using the internet has grown 37% in just 2 years.
– Compared with 20% in 2003, 26% in 2005 and 46% in 2007, over six in 10 (63%) kids are now classified as internet users (used within the past month).

-76 % of kids visit the internet at least once a week while 26% go online daily.

– Gaming remains the number one attraction for kids, with 78% of internet using kids playing online games within the past month.
3. Half (55%) of young Pinoy netizens use the internet to assist them with their homework and 45% visit social networking sites.
– Social networking is more popular among girls ( at 50% in past month) than boys (41%).

– Friendster emerged as the leading platform among kids,teens, followed by Facebook, Multiply and Myspace.

– Almost half (47%) of the kids agree that they act differently in some way when online as compared to how they are in real life.

– 77% still prefer real life friends to 23% who choose internet friends.
4. Television viewing remains the medium of choice for kids with 95% claiming to have viewed "yesterday" as compared to the internet in second place at 39%
– Cartoon Network maintains its leadership position as cable kids say it is their favorite television channel.
5. Kids haven't changed all that much from before.
When given the choice between two options:
57 % prefer watching TV versus 43% who choose to surf the internet
66% prefer talking to 34% who choose texting
62% choose to hang out at the mall versus 38% who prefer the beach
63% prefer eating versus 37% who prefer sleeping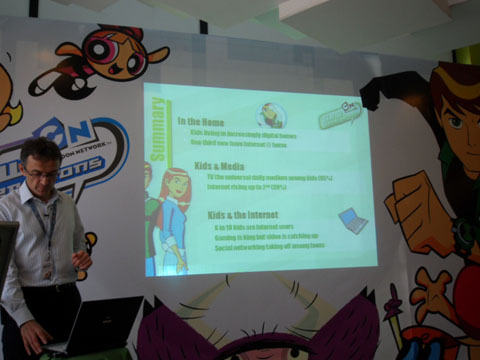 Duncan Morris , Vice President of Research & Development Turner International Asia Pacific
Aside from the media studies, the study also brought interesting findings about our Pinoy Kids.
1. Money Matters
– Vast majority (91%) of Pinoy kids receive pocket money. But take note, countries like Japan (just 49% receive pocket money), Australia (59%), and India (41%) receive much lesser.

– If you combine gift money and pocket money, and upon extrapolation this to the kids' population across the survey cities, Pinoy kids have PHP 42 billion spending money per year.

2. Secret Lives of kids
Parents remain trustworthy as 77% of kids indicate that they trust their moms " a lot", followed by dads at 69%, grandparents at 60% and religious leaders at 52%; tongue wagging friends were the leats trusted at 29%
3. Kids and the Wider world.
59% of kids nominated "the spread of the H1n1 (Swine flu) virus" as one of the top 3 world issues.

– Rounding up the list are current issues including "the impact of the global economic crisis: with 48% and "natural disasters such as floods, typhoons, landslies" with 39%.
4. If kids had to choose between the two, I found these quite interesting
55% preferred Nokia over Apple (45%)

79% preferred Facebook over Multiply (29%)

58% chose Marian Rivera over Angel Locsin (42%)
—-
Now that you have seen a preview of this latest study, I asked Duncan if TV viewing declined. Based on the Yahoo Nielsen study conducted late 2008, more Filipinos, especially the younger population, are favoring the Internet more than television and print. The Nielsen study was based on a sample population of 10 years old and above while the New Generations Study utilized 7 to 14 years old. If the latter study is accurate, it may be inferred that the high preference of TV viewing belongs to the 10 year old and below kids.
There is nothing wrong with kids watching TV but I believe a balance on all activities is necessary. Reading, Sports, social activities outside the Internet and social networking, and TV is an ideal combination of child's activities outside their study time. My sister noticed that her 6 year old son, Matthew often watched TV and used the internet often. One day, she asked him if she wanted to play the piano. They both sat together then my sister started striking the keys. Matthew was enthralled with the music. These days, he plays the piano like he is a 10 year old kid. Sure he still watches Cartoon Network, play online games, and play soccer with his dad but all these activities are well-balanced.
As a parent, I am not too comfortable knowing that 95% of kids watched TV "yesterday".. I am sure not all kids were surveyed on a saturday. It bothers me that TV viewing (as inferred in the two studies of Nielsen and the New Generations) is quite high among the 7-10 year old kids. I wonder if this is true. Most of my mommy friends don't allow their kids to watch TV that often.
In the A New View of TV, the position of the medical field is that…
To be sure, the position of many in the medical profession has been that television is bad for children. Many studies have shown television is correlated with slower cognitive development, as well as violence and other behavioral problems. The American Academy of Pediatrics recommends parents limit children's use of TV, movies, video and computer games to no more than two hours a day.
TV is not necessarily all that bad. Children's advocates are divided when it comes to solutions. Although many urge for more hours per week of educational programming, others assert that no TV is the best solution. And some say it's better for parents to control the use of TV and to teach kids that it's for occasional entertainment, not for constant escapism.
My daughters were nine or ten years old at the time Cartoon Networks was first shown in Philippine TV Cable. If I were to recall my kids at that age, TV was never their number 1 choice. Reading was their first choice. Even my four year old Luijoe balanced his TV, reading and other physical activities. I set the NO-TV rule on school days and they never complained. I wonder how many hours these kids stay tuned to TV.
You, parents know what is best for your children. I know many kids like Cartoon Network so let them have their time and other fun activities.
How do you manage their TV and internet time as well as other activities?
New Generations Survey 2009
Here are the findings
2009 Filipino Kids Lifestyle , Cartoons Network Survey
The approach in conducting the study was based on face-to-face interviews with 1,000 child and parent pairs, surveying Filipino kids aged 7-14 years and their parents from socio-economics classes A to D in three metropolitan areas of Cebu, Davao and Manila between August 25 and September 21, 2009. An even sample split by gender and age ranges (7-8, 9-10, 11-12, and 13-14) was ensured. Synovate Philippines was commissioned to conduct the survey.