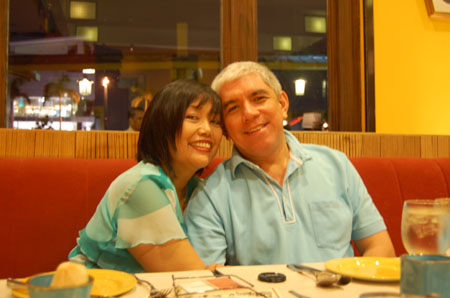 Our 23rd wedding anniversary is actually May 5 but Lauren will leave for a beach outing tomorrow so we celebrated our dinner at Portico tonight.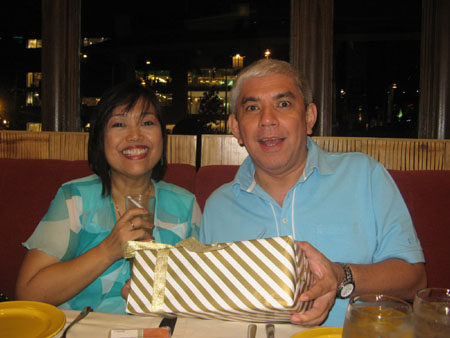 My husband is pretending to be shocked when I gave him my anniversary gift. Lauren seated across our table takes a video of us and a few photos.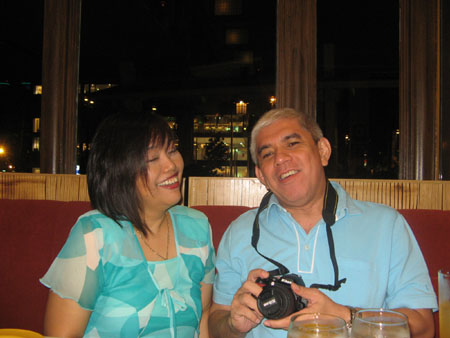 Butch unravels my gift. Ooh, a Nikon D40. Soon he tests it out.
uh-oh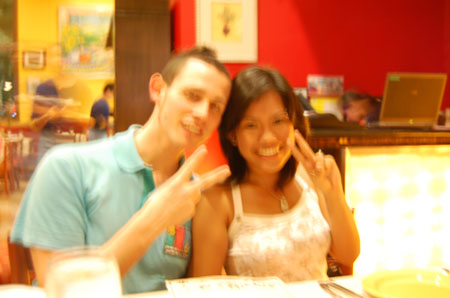 Alessandro and Lauren are a blur. I will have to teach him the basics of auto-focus. I know Butch always wanted a DSLR but he has never even used a point and shoot digital camera so let's give him a break.
Let me try it. I get the Nikon D40. There… much better but not quite. I still have to figure out how to use all those buttons.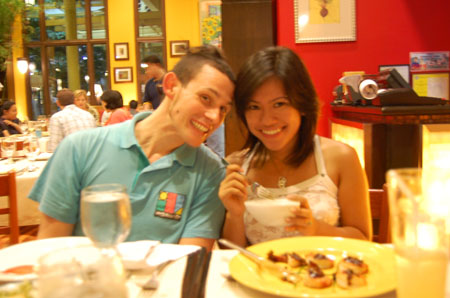 Maybe blogger friends and proud Nikon D40 owners like Jayvee, Phoebe, Eric, Marc, Sophie, Rhiz and I forgot the others will give me some tips. After all when I was shopping around for the best camera to fit my needs, the Nikon D40 was suggested for its excellent lens, vibrant color, affordability and light weight (and many other reasons). Yes, I wil share this DSLR too, you know.
It's the perfect gift for our 23rd wedding anniversary (we are actually 30 years together as a couple) as we plan to travel more this year. For some of you, 23 years married seems quite an accomplishment. You bet, it is. Like most marriages, we had our fair share of "ugh I wish I never married you" or "let's split up" or "I'm fed up". I've written about our near-breakup in our love story which sounds more like a sappy soap opera.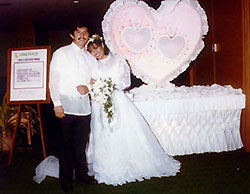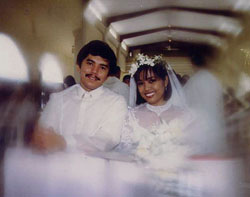 The thing is we learned along the way. We learned to compromise, to lower our pride, to be committed to our love and most importantly, to love ourselves first. Everyday we show love in words and in action. We continue to be romantic, and often whisper to each other "I love you". When we have our bad days, we just keep our distance.
Today, after 3 children, a death of our son, white hair, lines and creases and flabby tummies to boot, our love is stronger than it ever was …