It is not often I go to the Senate. When I do, it is for special hearings like the Corona Trial , RH Law, COMELEC or the Senate Blue Ribbon hearings. During the Corona trial , I got media accreditation when I used my media ID from the Philippine Online Chronicles.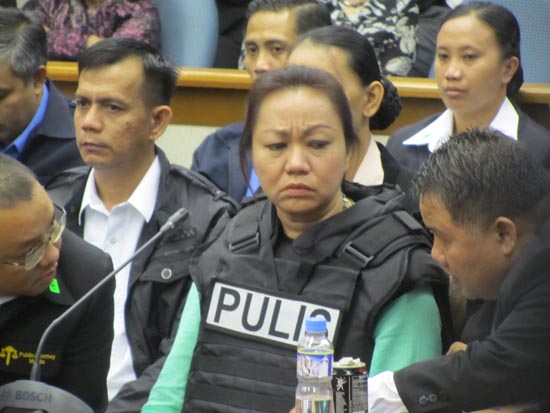 This time around, I requested for a one-day media accreditation when I spotted the tweet of Christine Herrera of the Manila Standard. She gave me the contact details of the Public Relations and Information Bureau of the Senate of the Philippines. And I got it!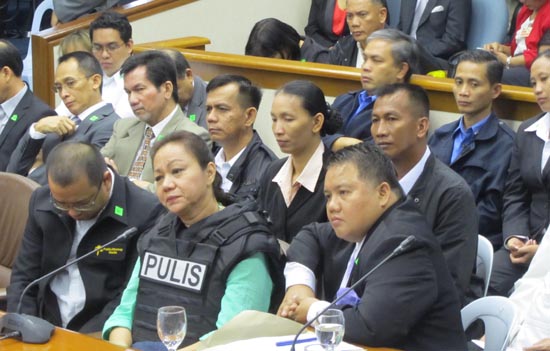 I have never seen so many cameras inside the Session Hall , not even during the Corona Trial. Janet Napoles arrived through the side door where the Senators always pass. She looked thinner than the last time I saw her photos at the detention cell. She looks angelic and eager to listen to the Senators. I wrote more about in my article at the Philippine Online Chronicles
Frustration and disappointment are the words to describe how I felt as I listened to Janet Lim Napoles to each question that Senator TG Guingona asked. Her response "di ko alam", "Hindi ko po alam sa kanila", "hindi po totoo yan". I don't know about everyone else felt but wouldn't you want to know how our money was spent by these legislators?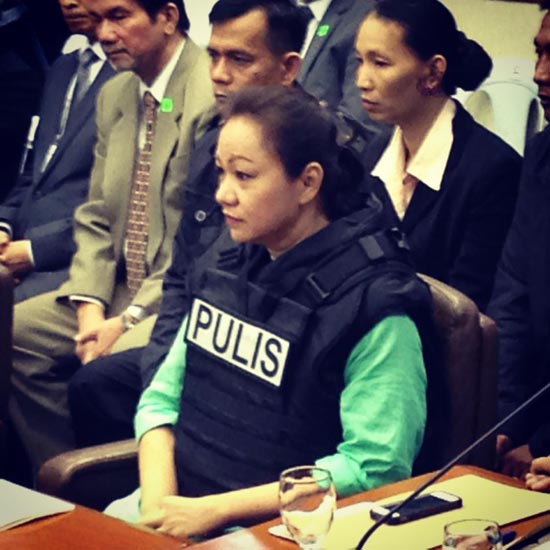 I didn't expect her to talk at all. Though evasive, you can read in between the lines. The whistleblowers talked with confidence about the intricate details of the alleged PDAF scam.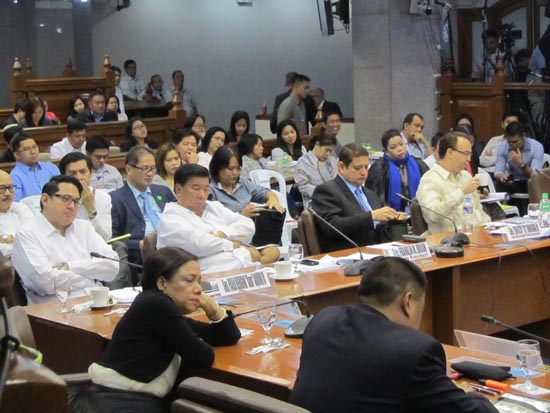 Not even Senator Miriam Defensor-Santiago could bring out any testimony from Napoles even if she rattled out the Ten Commandments. You can read between lines when it was the turn of Senator Miriam Defensor Santiago. How can someone with a High School education concoct such a complicated scam without the help of a mastermind? Who is this mastermind?
As always Senator Santiago had many interesting quotes:
"Sino pa bang matanda dito sa Senado kundi si Enrile? Sabi niya 89 siya pero baka 99 na siya kasi nagde-dementia siya lalo tungkol sa akin"
"Are you aware of the commandment, 'You shall not steal? You shall not tell a lie? What kind of a Catholic are you?"

"Ignorance can be treated but stupid is forever. Let's hope for the best. Let's hope this is a case of ignorance."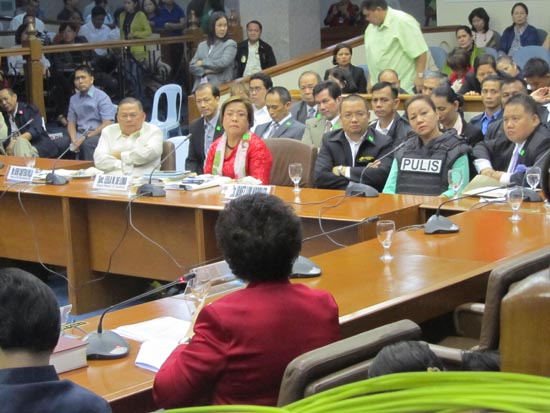 The Senators are probably exasperated. Senator Drilon and even Senator Villar are bored with hearing.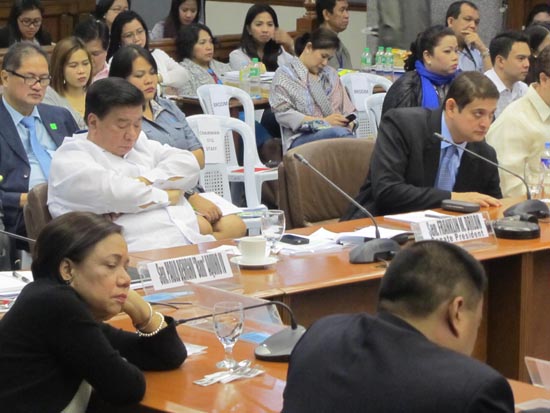 Well, I was bored as well hearing the same replies all over again. She must have rehearsed during the past weeks she was in detention.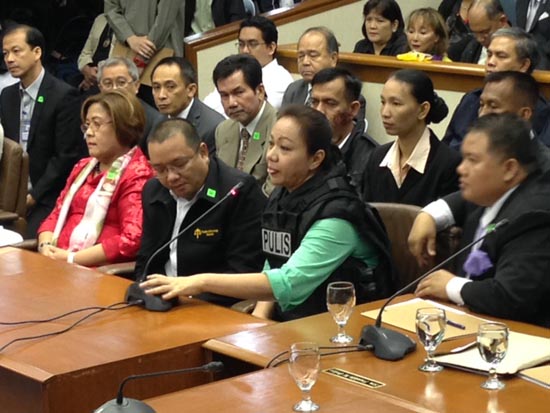 My friend tells me over facebook that "Napoles' demeanor reveals she's holding something vis-a-vis the witnesses who speak with eloquence and straightforward confidence."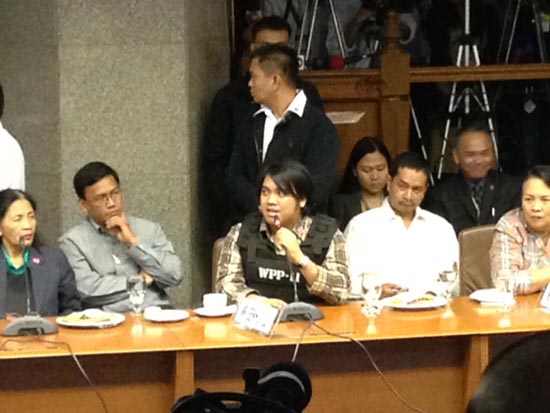 All of these recorded by dozen cameras inside the Session Hall. The camera men were nice to let me squeeze in just so I can take photos of Janet Napoles and the Senators.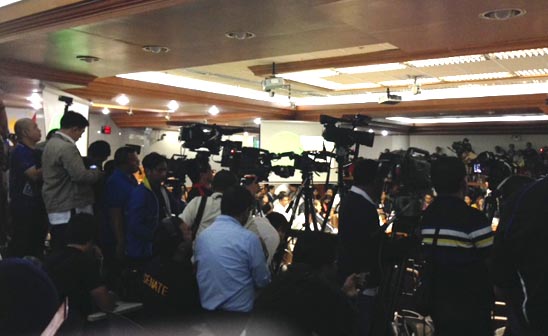 What probably was the highlight of my coverage was during the press conference with Senator Miriam Santiago. I introduced myself as @momblogger on twitter. Before I could ask my question… I was horrified, when she started to interview me instead:
"Ang blogger ba may hanapbuhay ba o wala? Does anyone pay you people? You have to have advertisers, right?"
I said that I write for the Philippine Online Chronicles. And that I don't have ads because I am "controversial". And if I discuss about bloggers, it will take time.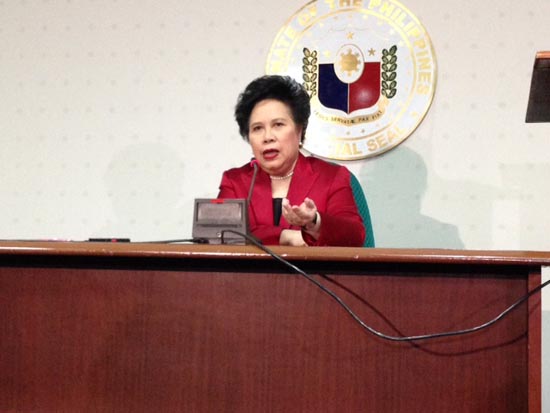 Then I proceeded to ask my question before she could ask more questions.
My question was taken from one of my twitter followers.."You have been telling the public about tanda, aren't you scared considering that tanda is a real EVIL?" (You can view this vide where Sen Miriam Santiago at the 6:06 mark on Enrile)
She seemed to hesitate for 5 seconds and replied "no I am not scared of him".
Then rattled off more than I could chew, that Enrile is the mastermind and the godfather (or grandfather) of all this scam. I was stunned. How brave of her to say this. I learned that Senators have immunity even if they call out another Senator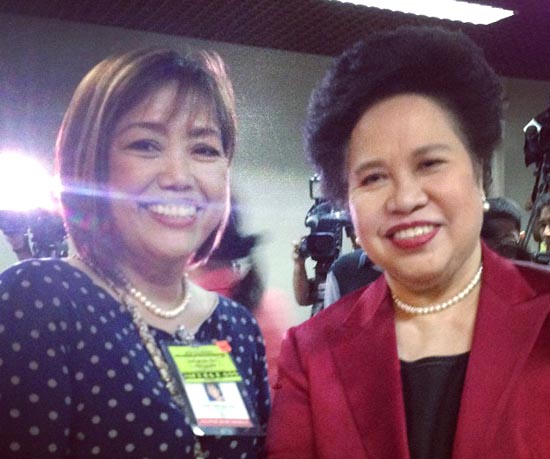 I hope to talk to her and explain more about bloggers. I love her no matter what other critics say about her. I am also thankful that Senator Santiago acknowledged bloggers and social media.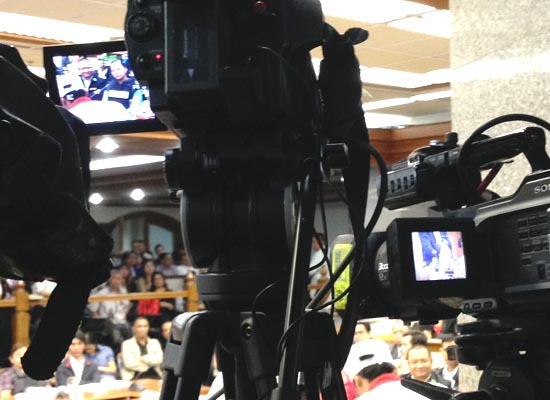 Senator TG Guingona says the hearing was a success. Patting themselves in the back is not enough. The Senate must start enacting a legislation for the abolition of its own PDAF, DAP and other insertions to the GAA 2014. It is time for the Sandiganbayan to file cases against the alleged scammer.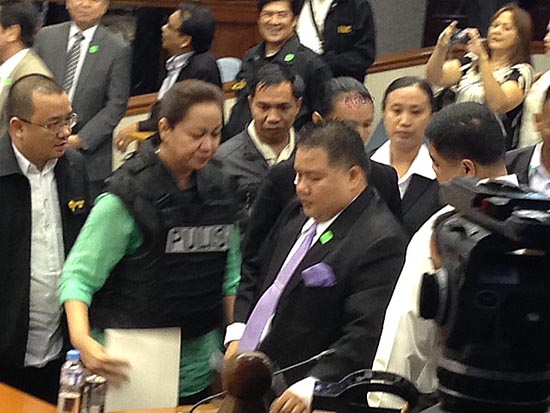 Citizens on their part, will continue to be vigilant against corruption and report misuse of funds.
We will continue to focus on three calls: the investigation and prosecution of all those who have misused pork, to account for all pork spent, and to scrap all forms of pork barrel.