A year ago, my daughter shared me an article "Self help: try positive action, not positive thinking"
The self-help industry is mired in ideas about positive thinking that are at best ineffective and at worst destructive. If you want to be more confident or successful, says Richard Wiseman, the best thing to do is act the part
I have always believed positive thoughts should not end there but placed into action.
"Acting as if" is one of my favorite recovery tool that worked for me. By acting as if you are a certain type of person, you become that person, what I call the "As If" principle. To practice the positive, I act as if. It's a positive form of pretending. It's a useful tool to use to get ourselves unstuck. For many years after my son died, I isolated from friends . During the rare social gatherings I attended, I forgot how to initiate small talk. I was catatonic who preferred to be invisible amidst the light banter. I bet my friends or relatives felt their were talking to a blank wall. The only persons I socialzed were close family members. I realized the gravity of my people skills when I joined a parent's group of my daughter's colllege and I couldn't say a word. I knew I needed to wake up from my zombie state.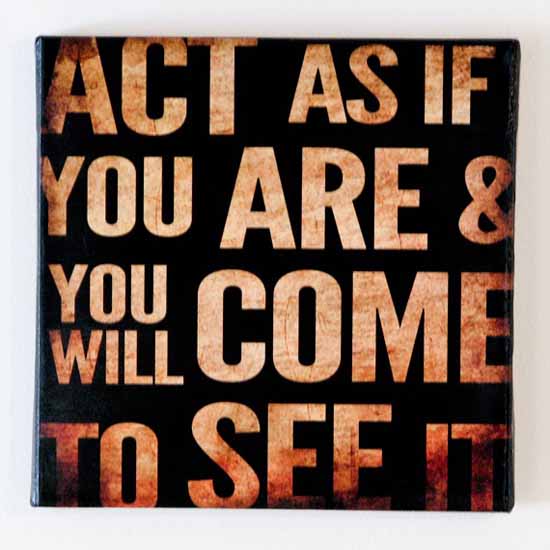 I forced myself into positive recovery behaviors, disregarding my doubts and fears, until my feelings caught up with reality. Acting as if is a positive way to overcome fears, doubts, and low self-esteem. I did not have to lie or be dishonest with myself. It has been seven years since I used the "Acting as if" principle. I believed it worked because it was the only way to get out of the pit.
1. Becoming a media resource person
I acted as if I could speak up in public until I actually gained self- confidence and started to open up. When I started the grief support group, The Compassionate Friends, I was suddenly thrown into the media. The first interview and TV guest appearance terrified me. But how else will my mission get promoted? Acting as if I was confident enabled me to get through with these media exposure.
When I was invited to co-host Ratsada Inquirer shortly after my 55th birthday, I felt unsure if I could make it. I wanted to expand my horizons in order to share my advocacy or my opinions to a larger scale. So I "acted as if" I was confident even if I fumbled in my Tagalog. Acting as if I could be a great co-host, I started with being my usual self and adding a few Tagalog words here and there. I was relieved to get good feedback after the show which inspires me to continue. I constantly practice my speaking voice and Tagalog words.
2. Second wind in marriage
Acting as if also worked for my marriage. At the height of my grief in 2005, my marriage turned rocky to the point I considered separation but an accident forced me to work it out. Long story. Never in my wildest dream did I imagine myself with a broken ankle as I stepped inside my new pad. I had no choice but to live with my husband and work things out. Truly God works in mysterious ways. It was as if God said " you can't run away from your marriage. Try to fix it. Give it a second chance". I acted as if I was back when we were first romantic couples dating in UP Diliman. That involved acting as if I was so romantic and it caught on. My husband probably did his part in acting as if were were steadies again.
"Fake it till you make it" is also called "act as if". You probably heard this common catchphrase that means to imitate confidence so that as the confidence produces success, it will generate real confidence. It works.
Now, when a problem haunts me, acting as if can helps me get unstuck. I act as if the problem will be or already is solved so I can go on with my daily routine. Today, I have opened up to the positive possibilities of the future instead of limiting the future by today's feelings and circumstances.
Here are 10 quick and effective exercises that use the As If principle to transform how you think and behave. Try to make a conscious decision to act as if you feel fine and are going to be fine.