"Doesn't every woman deserve the right to have a safe pregnancy and a baby that's born healthy? I believe this is a very basic human right." Katya Matanovic
They say that it takes just one or two entries to bring hits to your blog. Three years ago, I wrote about Sex Education in the Philippines and to this day, I continue to receive search engine hits not from the keyword "sex education" but from the image keyword "sex". I often wonder if Google had something to do with it, that they wanted people to read my entry first before jumping on to porn sites.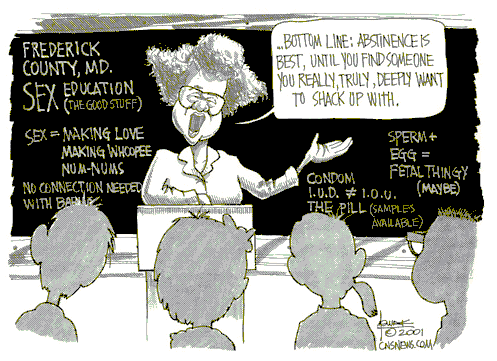 My stand on sex education is
We need to teach them responsible parenthood in consonance with the sex education. We don't need to teach everything but at least give them the basic facts. Along the way, the children can do some more research on their own.
Three years ago, Phillipine Catholic Bishops Oppose Sex-Ed in Schools, Say it Should be Left to Parents. Sure that is true only if parents know how to discuss sex with their children. We can't assume parents know how to discuss sex openly. Some might be uneducated to understand the anatomy of reproduction and thus fail to grasp natural birth control methods.
The schools together with the parents can bridge the gap of sex education but there seems to be a problem when the parents also have a lack of knowledge on reproductive health.
With the yet to be approved Philippine Reproductive Health Bill 5043 , one of the provisions of the proposed law is mandatory imposition of reproductive health education
SEC. 12. Mandatory Age-Appropriate Reproductive Health Education. – Recognizing the importance of reproductive health rights in empowering the youth and developing them into responsible adults, Reproductive Health Education in an age-appropriate manner shall be taught by adequately trained teachers starting from Grade 5 up to Fourth Year High School.
Based from the feedback from my readers the past 3 years, majority want sex education in schools. Let's hear what they have to say.
From JMom, a mother
They are bombarded by sexual messages from all sides of their life, and parents have to take an even bigger role now to provide them with balance. I want my girls to see their sexuality in a healthier light than I did, without all the misconceptions and guilt that came with it.
From Olga, mother
It should not be left to the parents alone. Take me for instance. I am fairly well-educated in the sense that i have two degrees in my belt, but i didn't have a clue about the process of concepcion until my late twenties, when i took an active interest in that subject after i discovered that i had an infertility problem.
From Lemon, mother
Especially in the Philippines, most parents are uncomfortable talking about sex with their children. A lot of them don't know anything about the reproductive system. It should not be removed from the education system. I think it should be boosted to make it include all aspects… scientific, emotional, psychological, etc..
Kirstie, 18 years old
I believe that even if parents wouldn't want them to have sex before marriage, some of them will still do. why can't we just make them educated about it? so they can make more intelligent decisions. Through this, they will be more aware of the real consequences and know the real facts.
Enid, student
Though it's true that sex education should start at home and be left for the parents to handle but this is just not possible for everybody. Some parents do not fully understand the whole concept of what sex is, physically, psychologically, emotionally, everything, some do not have the time, some are too conservative to talk to their children about sex and this will only leave their children clueless. Sex should be explained to teenagers, about its consequences and the responsibility involved. It is better for teenagers to have their sex education at school than from their peers.
Rosalie, college student
on my view, sex education should now be taught in high school, specifically for 1st and 2nd year. and for the policy to be effective, it should be included in curriculum. this shall exclude the issue on morality and religion.
Paul, student
i have considered a few points and personally decided that sex education (in school), in itself, is ineffective AND parental guidance (sex ed through parents), again in itself, in equally ineffective. obviously, what i am trying to say here is that sex education should encompass both the students/children and their parents.
Kline
Let us face it, even if teachers would say that they are teaching these that we may be enlightened, what they don't knw is that they are just giving the students clues on what to do to prevent pregnancy. It further gives students ideas on what to do and how to do it.
Lala
Due to the advancements in technology, parents can't ban their children from sex and porn the only thing you can do is to educate them at an early age and explain to the the importance of sex and when not to have it.
myvi, student
If the parents are not that educated about sex then they should educate theirselves first. How can they teach us and give us proper education regarding sex issues if they themselves dont know a thing. So it is better that they read books first or in any way educate theirselves first so that when they educate us good and true information will be taught. Their are tons of books on the library or bookstore that talks about sex.
Cess, 17 years old
I believe that sex education should be taught to the students (starting 5th grade or high school). Because students spend a lot of time in school rather than in home. Our parents are so busy enough to earn for a living and they only have a little time for their kids,…. Also, if we keep on insisting that sex education should be taught at home, it would not be so effective, from the fact that the term ""sex" is a taboo… our parents will just say its bad and we will know if we will be old enough to face all those things… and there is no further explanation… so apparently we will be so confused about it… our curiosity will lead us to do so.. but if we make it as part of the school's curriculum nothing may seem to be bad..
Anonymous
I think the Government should create a comprehensive sex education that will include all aspects (spiritual, emotional etc.) of human development.
Cecile, married
To have sex education in school is okay, as long as they teach how to protect themselves against STD, HIV or any deseases and preventing pregnancy or whatsoever….But still, let them to have freewill, it means let them choose. Make them aware about the consequences of sex. If you ask me? It's better to get married first before sex. I got married at the age of 23 and my husband is 24 years old.
The clamor is high even among the students, and the parents to implement sex education in schools. With only a month left for the third regular sessions, It's about time that our lawmakers take a vote on the Reproductive Health Bill 5043. Next week the Reproductive Health bill will be up for debate in the House of Representatives. It is not just sex education which is critical here. A lot of women are actually dying. The number of Filipino women who die yearly due to childbirth and pregnancy complications has doubled in the last four years. A reproductive health bill opposed by some lawmakers and stalled in Congress could address this rise in maternal mortality
I hope a favorable vote will finally be called before the end of the session in October.