Remember the Cat Killer that I wrote on April 17, 2009? Wow, that was two years ago. Instead of sentencing him to six months to two-year jail term as mandated by law, Judge Catherine Manodon ordered Candare to pay a P2,000 fine (46 dollars) for violating the country's Animal Welfare Act. He will also do volunteer work for Philippine Animal Welfare Society (PAWS) in the next two to six months. Candare is the first person in the country to be convicted of animal cruelty.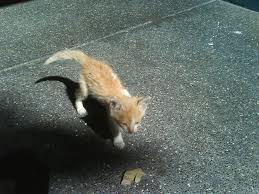 Two years ago , I was beyond horrified that someone could engage in a brutal act. I gasped at his description, I pulled it on its tail and threw it. Then like some pro wrestler I jumped on it and my feet landed on it's torso. Slam! Felt good!. But as I continued reading, I got more appalled by the comments of the readers as the poster/blogger called for action ""Wanted Dead or Alive"". Geesh, what kind of call for action is that? You might be a ""Cat Killer Killer"?
Both sides were just so cruel. I believe he needed help and compassion by the agencies concerned not a lynch mob approach.
A parent by the name of Cyn Buhain Baello is appalled at my "compassion" without even reading the context of my article on the Cat Killer
Have compassion for a man like Joseph Carlo Candare? A person like him who kills a cat for no reason other than for his enjoyment? He is a sadistic psychologically disturbed individual! What are you saying here?!? I am appalled at your misdirected "compassion"! For a parent like me I think his parents should teach him this early that such actions will only deteriorate later to physical injury (or murder) directed towards human beings – that's the first sign that a man is crazy and can kill…even people. To even suggest "compassion" and "understanding" (Nonsense!) on your part means you tolerate these kind of behavior. This guy need jail time and he deserves every minute of it – 6 months to 6 years![/buzz]
My reply to Cyn was this "You are an amazing parent. But I am not you. A parent like me would want the kid to have therapy . Not all parents are like you who can teach their kids the proper way. Yes I suggest compassion and understanding for him to be rehabilitated. What can jail time do huh?"
Was the punishment just? I don't know how Courts determine the degree of the judgement. There must be a formula or something but one can see Candare did violate the law on animal welfare. He is the first person to be convicted of animal cruelty in the Philippines. Something must have triggered him to enjoy killing the cat. Rendering community work with Philippine Animal Welfare Society (PAWS) and seeing the psychologist will help him heal.
Tweeters were disappointed that the conviction was light. I think it is light too. It is not grave enough. Community service should have been longer. Some feel a jail time should have been given. Instead of jail time, I was hoping he underwent therapy to treat the underlying cause of his cruelty. The good news here is the court decision will raise awareness to our animal welfare laws .
Be kind to animals.
See what others thought: