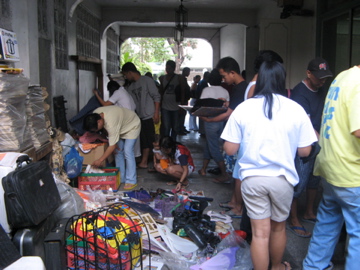 It was only 7:00 AM as I groped for the time in my cellphone. The maids woke me up from my dreaming mode. A "crowd" was milling by the front gate. Wow that early. This meant that I had to back out my car. A few days ago I plastered "Moving out -[tag]Garage Sale[/tag]" at the bulletin boards outside the 3 gates of the village. I look over at my junk that piled up at the garage. How horrible! Did all that exist in this house? Good riddance. Excited shoppers soon ran inside.
Much as I don't like this neighborhood, garage sale finds are often interesting especially from "Expats leaving" . There are avid garage sale shoppers over here. It's probably one reason my own household accumulated so much junk in nine years. Not that I am saying my garbage are of great value.
It's comforting to know that everyone is still asleep as the neighborhood invades my garage. Family members won't balk at their precious junk being disposed. Butch still refused to clean up his closet. I will soon invade it , promise. By the end of February, I will have another garage sale for the bigger items. I will be disposing my furniture, refrigerator, dining table and who knows. The cloud walker has to go.