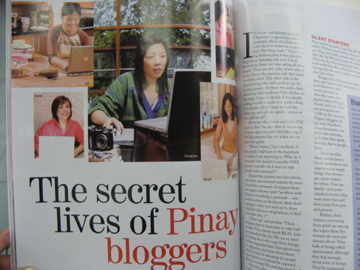 Grab the February 2007 issue of [tag]Marie Claire[/tag] Philippines Edition. You will read the article written by Luz Rimban entitled "The Secret Lives of [tag]Pinay Bloggers[/tag]". I feel so vindicated . Finally , there is an article that I can show to puzzled family members that explains what blogging is or what my online business is all about. An ex sister-in-law once confided to me that certain family members think I do nothing but sit at the computer all day . How can one explain in simple terms that I earn a living online? Maybe the magazine article might help.
Other female bloggers featured are Connie (but of course) , Wysgal, Lori, Chuvaness and myself.
Looking at the photo taken during the second week of December…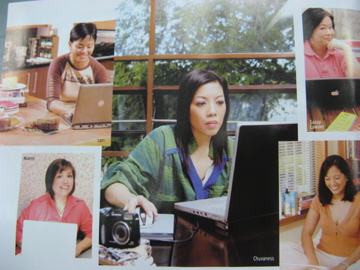 I can't believe it took one hour for the photo-shoot with makeup artist, stylist, writer, photographer, assistant to boot yet a small photo was selected. I guess they want their subjects to look good .
I nearly choked on the byline "….Their names may not ring bells to the person on the streets but they are celebrities in cyberspace"
Some minor corrections :
1. The Compassionate Friends Support group is not only for women. It's for all family members (grandparents, husband, wife, siblings) who have lost a child of any age and cause of death.
2. The title of the award is "Best Website, Blogs Category, 9th Philippine Web Awards" NOT Best Blog. I think there is a difference.
Edit (11:05 PM)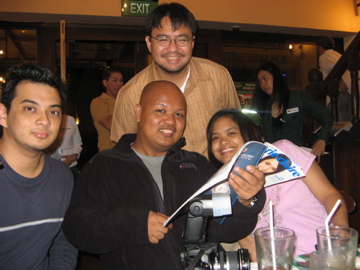 Abe reads the Marie Claire Magazine along with Jayvee, Migs, Gail and other bloggers during a Blog Parteeh Steering Committee dinner.