I should be busy puttering here and there, excitedly preparing for our 25th wedding anniversary celebration that will happen three days before election day. Here I am in bed with a laptop on my belly, shaking my head, stupefied, trying to comprehend the negativity and hope of the campaign season. There are more important matters to attend to, like the music, the photography, the invitations of the party and the citizen media on election day. For the first time, bloggers like me are given Comelec media accreditation and I am going to make the most of it. There are just some things I need to unload before letting go and moving on….
Like, the good, the bad and the ugly of the Elections 2010 that I am about to ramble.
I wrote about Why Manny Villar? and showed his human side. The past months, we have seen politicians, media, rival supporters demonize Manny Villar in the eyes of the public such that we soon forget his capabilities. I shared a link in Twitter that criticizes Noynoy Aquino and soon comments reach me that I am suspected as Villar's paid hack. *rolls eyes*
The Bad
Paid hack
It appears that the payola was indeed a prevalent practice in the past elections. I can't blame these rabid supporters (let me make it clear, not all Noynoy supporters are rabid and I am referring only to this group of rabid supporters) because they don't know me and it is just unthinkable for them that Noynoy would have critics. But what flawed conclusion is this? Just because one criticizes Noynoy Aquino, one is already suspected of being a paid hack. So let's just see how stupid these allegations are.
First, life before Blog Watch was pretty laid back. I work at the comfort of my cozy home. I blog at leisure. I take my time at the gym. My kids are all working and I finally have my own time. I too am my own boss. sarap ng buhay ko!.
Working on Blog Watch meant time away from my husband who has been used to me being home at night for the past 25 years. Now I sleep late, writing an article that takes 4 to 6 hours to finish. Why would I sell my soul to a candidate? ( Incidentally, I am quite disappointed that PCIJ chose to sensationalize the Dark Side' of elections stalks bloggers, techies which I think refers to a small minority of the blogosphere. In fact, I don't even know of any Death Star. PCIJ is forgetting the fact that there are lots of bloggers who are doing their share in making these elections credible)
I digress.
Second, do these people even know what lies deep in my heart? Do they know that there are people who might actually be sincere and render service out of love of country?
It is so easy to just lie down on my soft canopy bed, wrapped around the comfort of my husband's arms, file my nails, then watch TV. How easy it is to just rant and bitch about the evils of GMA, bitch about corruption, and do nothing. So easy to live within my comfort zone. But I am blessed with the opportunity to write about the underplayed stories of the election and the candidates.
I grabbed the chance to be an active citizen and contribute in my own little way. It is not easy. I am not into politics. I research, study, write, rewrite which takes hours to do. I often get headaches from "nosebleed" political issues which I badger my husband to explain to me in layman terms.
Is it hard to fathom that Blog Watch contributors are principled citizens who love their country and just want to do their share to make these elections credible?
So excuse me! I cannot bring money to my grave.
Elections, I am told are often played dirty. I will never get used to it. This will probably be the last time I will write for a presidential election. I will be 58 years old in six years and I don't think I have the energy to stomach the lies, the black propaganda…
The Ugly
Black Propaganda
Let me borrow the words of a wise twitter friend,ang_mungo, on the intensified mud-slinging that we are bound to see from today till election day.
People forget that the Senate was at its most productive during the Senate Presidency of Villar since it was re-established in 1987

People forget that Villar was the one who did a fastbreak at Congress – which led to Estrada's impeachment – that we all applauded for.

People forget that Villar was the one who appointed Alan Cayetano to the Blue Ribbon Committee which became GMA's major headache.

People forget that when there were OFWs that needed to be brought home, Villar was the only politician who did something about it.
As ang_mungo expands further: "Yes, let's demonize the man who built his own business. Let's make sure everyone forgets what he's done RIGHT and focus on all that's WRONG. Let's not give them a chance to play up his strengths. Time is of the essence. Hit Villar hard and hit him continuously. Don't give people a chance to think. Fill their minds with fantasies — about the goodness of our candidate and the evil of Villar."
Open your eyes, and see how consistent the anti-villar mob's strategy is –
1. Question Villar's character,
2. Don't let people get the chance to see his good side
3. Don't talk about Noynoy.
Does it sound consistent?
Oh and add this variation to the strategy:
1. Keep talking about Noynoy's honesty and goodness
2. Veer away from talk of Noynoy's record
3. Continue to attack Villar
I got almost duped. Many of my friends hate Manny Villar and what do they know? Those who support Manny Villar are afraid to come out in the open fearing the wrath of the cult of rabid Noynoy supporters. This has been a campaign of hate. What has become of us? Traditional media focused more on campaign conduct over platforms, policy issues and action plans.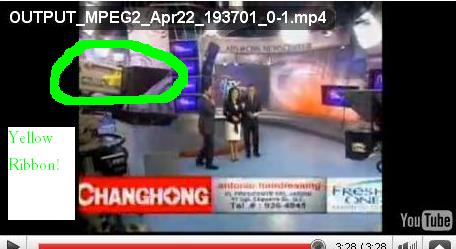 Let's pretend you did not see that yellow ribbon tied on that TV camera
And if that were not enough, another strategy is to attack people who write favorably about Villar or criticize Noynoy.
A blogger showed me an email on how bodily harm might befall that blogger if blog entries continue to criticize Noynoy. Not only were threats made on this blogger but to the mother as well. And why drop hints that they had photos of that blogger's children? Can I just say plain harassment and bullying?
Not to mention demolition plans to destroy a blogger's credibility as if that will stop the truth from coming out. They know it in their hearts that I speak the truth.
To think they talk of integrity of their candidate? Excuse me.
I can easily let their vicious plans go since it's comes with the territory but apparently dirty tricks department works 24/7. One day, I received an email that detailed the propagation of a black propaganda against Villar. I felt nauseated looking at their names. Obviously these people have vested interests. My highly reliable source requested me to keep the sender's name in confidence. The plans made sense, the timing , and the people involved. Yet, I felt good that there was someone in that group who still had a conscience.
There is hope. There are good people around us.
Negative campaign
Adolf Hitler explained the principle of the Big Lie: people will believe a big lie sooner than a little one; and if you repeat it frequently enough people take it as gospel truth.
Bulatlat reported that "It is most unfortunate that the Aquino camp, the Liberal Party, which is leading in the surveys has been employing the dirtiest politics".
They say the candidate cannot control the actions of their supporters. Still if your candidate is about honesty and goodness, you could at least follow the lead of your candidate.
Ricky Carandang in his twitter stated " the best indicator of how a candidate will be as president is how he runs his campaign".
I supported Noynoy Aquino for a few months despite the objections of my daughter who thought I had gone stark raving mad. As the campaign rolled along, I felt Noynoy is not suited to be a president, based on what I look for in a president. It is not just the criteria.
The manner of his campaign turned me off like he had no control of the people involved and let me stress again, the dirty tricks that were thrown our way. It gives me an insight on his type leadership and governance. Dirty. No substance.
The Good
Lessons Learned
Despite the bad and the ugly, there is a silver lining. There is hope that people can discern the truth from the lies. I want to share insights gained from the past months since I took an active role in this election. I need to make a stand, share my knowledge and impart unsolicited advice because we are talking about our future, the future of our children.
Some of you will not agree with me and that's okay. We can always agree to disagree.
1. Noynoy Aquino is not my presidential candidate. I agree with Dine that Noynoy needs substance. Here is a candidate with no qualifications or experience to be president of the Philippines.
He has to read his notes before a debate. I took this photo during the Inquirer Presidential debate at the UP theater. He was the only one who brought notes.

Cramming to be presidential? Is that something to be proud of?
Ninez Cacho-Olivarez raised another point on the people supporting him.
These elite civil socialites, especially these big businessmen, want Noynoy Aquino to become president, because they know they can manipulate him as he knows nothing by way of running government and he will be a president who will be giving them what they want —- both influence in the corridors of power and bigger business deals for themselves.
What is even scarier is the speculation from Chavit Singson "If Noynoy wins, it's as if we elected several presidents, because he isn't capable of making his own decisions. There is no doubt that people around Noynoy are ensuring his victory so it would be easy to eventually unseat him, making Mar Roxas president instead)" Better Philippines writes more on Oppose the lies and misleading suggestions raised by Noynoy.
Poor Noynoy.
I finally saw the light.
2. It is not a choice between good and evil. It is choosing for the greater good.
3. None of the candidates are perfect but the choice is one who comes closest to fulfilling the desired qualities of a president.
4. So you chose Noynoy? You chose Villar? you chose Gordon? or Gibo? or Nick Perlas? Can't we respect each other's choices? I am sure you had reasons for supporting your candidate. In the end, it's about assessing the risks and choosing which risk is most acceptable to you. Please respect my short list. Please respect why I don't support Noynoy.
5. Take time to talk and listen to your children even if they are not of voting age. Discuss the issues and criteria needed for the future president of our country. One day your children will eventually ask you: "who did you vote?" and "why her/him?"
6. Realize that you are the focus of negative campaigning: the undecided, the critical, the careful and deliberate voter. You are the one intended to be manipulated. You don't have to vote against the mudslinging candidate for him or her to win. They just want you not to show up at all on election day. If you stay away, their dirty tricks would have worked. Don't give them the satisfaction.
7. Let's make an effort to distinguish the truth from the lies. Easier said than done, given all the disinformation around us. But it would be worthwhile to try anyway. Educate ourselves and find out the real score regarding the people we want to vote into office. Be responsible when passing on text messages or forwarded emails.
8. You know your true friends in times of dirty politics. A true friend will not allow themselves to be swallowed by the mud. Yes, there are rabid and there are good Noynoy supporters.
9. Don't be swayed by surveys. The real survey is on May 10. Surveys can be, and often are, manipulated. You will be receiving a text message urging you to pass around a candidate's survey ratings. Don't pass it around. Share your knowledge about candidates . Conduct conversations with other voters especially non-internet users, your family, relatives, friends or the stranger standing beside you on what you know.
10. I can only do so much. Blog Watch tried to elevate the level of discourse to platforms and issues during our interviews. They say that the electorate is NOT ready for serious stuff like these. The hits of the Manny Villar's platform ranks second which means people are interested in knowing their candidate. The drama of the black propaganda diverted us from the critical issues and eventually confused voters in the end.
I do not have control of petty politics. I am sick of it. I think Manny's Nanay Curing and I feel the same when she leaves everything to God "I leave everything to You. You know everything and Your will be done. "
I let go and let God. God help us all.
Comments are disabled. I will be too busy the next two weeks to attend to my blogs. I need to prepare for our silver wedding anniversary party. Meantime, if you are an undecided voter for Manny Villar, read Undecided for Manny Villar?, or Why Manny Villar?