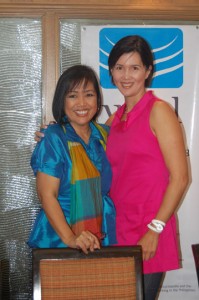 "I can't believe Tita Pia is now Senator Pia", my two daughters exclaimed in awe after we told them that she had won the senatorial race in 2004. My girls knew their Tita Pia and played with her toddlers way back the time my husband and her then husband started a law office in the mid 90's. Pia was there to hold my hand during the wake of my son who took time to talk to me, who took the trouble to order me a grief recovery book from the states. There are not many who know how to console a bereaved but like her brother Alan (who was there with me by the hospital bed with Luijoe), she truly showed compassion and sincerity.
When Pia won in 2004, I knew she was going to accomplish a lot. Even if she trailed in the surveys at the start of the campaign, I was confident she'd top it and she did. Health is her advocacy . I asked her "what motivated you to focus on Health?"
I am a lawyer as a profession . I believed no matter the training, emotions and background dictate the path. I talked about the loss of my son and my father due to severe illnesses. I was thankful we had the means to keep them happy and healthy. I was mindful of the fact of the work that my dad had done. There was much to be done. When I ran in 2004, I ran in the campaign of health. I lost my father and my son in my speech. Advisers told me to change my speech. I have nothing else to talk about. I talk about my background. I am a lawyer. I graduated with honors. That is where my competence and qualification come in. What is my passion? What do I have to offer? I want to do something with health care. I still talk that way.

Health Advocacy and Laws Passed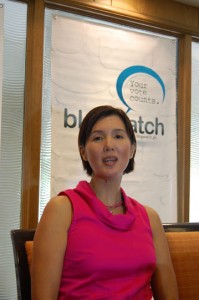 She has been in the senate for 6 years. She tells me that the HAPPY part of this campaign period is that she is given the opportunity to give her accomplishment report. It is how she feels about this campaign period . "It is about me telling the people about what I have done for the people deciding if I should be back in the senate , and to use the standard I said as a benchmark for the other 11 other senators that are vying for the senate."
I am proud to tell you that a friend is not all talk. She has accomplished much at the senate especially for women. Pia is proud of her nerdiness. She noted that she maintains a small staff and writes the laws she files herself. Among those she authored and sponsored were landmark bills such as the Expanded Senior Citizens Act (Republic Act 9994) and the Expanded Breastfeeding Act (Republic Act 10028).
Aside from the Republic Acts 9994 and 10028, Pia authored the Anti-Photo and Video Voyeurism Act, Magna Carta of Women, Cheaper Medicines Act, National Environmental Awareness and Education Act, Oil Pollution Compensation Act, and the Illegal Detention of Patients Act, among others.
Most of the bills she filed is written by her and the help of her staff or given to her by an NGO which she goes through before filing. The work comes in defending it and taking flak for it. That is where her training as lawyer came in.
The Reproductive Health Bill
The Reproductive Health (RH) bill is a controversial word. She suggests that "Maybe media can ask specific questions"
1. Are you willing to help prevent women from dying of cervical cancer?
2. Are you willing to let children grow with mothers?
Mothers die while giving birth. Did you know that 11 mothers die daily of child birth?
She is not afraid of the RH bill because she can cut it up into issues.
So if people as her "Are you for the RH Bill or not?, she answers:
I don't like that …for RH or not? There has been so much horrible propaganda that RH bill is for killing babies. I am not for abortion. I am pro-life. I believe in educating my children about sex. Couples should have that opportunity to make an informed decision on artifical contraceptives. RH bill is so politicized. There are common provisions that anyone regardless of belief can agree.

We can agree that 11 women shouldn't die daily.

We can agree that children should not be molested by adolescent boys or drug crazed men,.

I am sure we can agree on something. Let's not call it RH bill . Let's call it something else so we can agree on those provisions that are agreeable and then leave the ones that are contentious. Let's go little by little. We cannot ignore this
Sex Education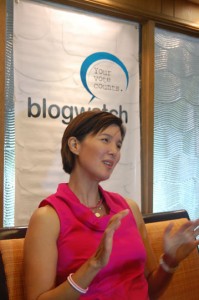 I have written a lot about sex education. I see that parents don't even know how to teach sex education to their children. I took time to understand the reproductive system even if I didn't have sex ed classes. What about other mothers?
Pia adds "I tell people —You don't want to talk to your child about your kids' sex education. Well therefore, your child will learn sex through billboards, through internet, through magazine, through exploitative media outlets. Good luck. I talk to my children about sex because I rather they hear it from me from anyone else. "
She agrees with the conservative church that their children should only be taught by qualified teachers on sex education. In fact, she suggests that we should have parent sexual education. I am sure parents will appreciate that.
On Manny Villar
As you might all know, Manny Villar is in my short list of presidential candidates.. I trust Pia's opinions and I just wanted her to confirm some of my views on Villar. Pia candidly talks about Nacionalista Party presidential Candidate, Manny Villar:
He is an accomplished businessman, respected in Asia. He has leadership ability. The ability to make tough decisions is important. Senate president experience alone, one needs training to make decisions . Noynoy does not have the experience and I love the guy. Manny Villar is the leader. He can absorb the BS and can make tough decisions
I can't help but ask about the campaign around him against corruption and the accusation thrown against Manny Villar on using the death of his brother and not really being poor.
Pia then elaborates that "Corruption was never around in his 12 years of public service. It is Presidential campaign smear against him. He's been very consistent in leadership capabilities and there has been no taint on his moral standards and his anti corruption stand until just before presidential election started . That should tell everyone that it is a smear campaign…"
She even said that Villar is ""filthy rich" for him to ""get any" from the government.
"What is wrong with sharing the Filipinos where you are coming from? ", she asks
"That is your inspiration."
I am here because ""namatay tatay ko. Namatay anak ko" is inspiration. You want to know people's driving force are. If my driving force is because I don't want to see another mother hold her child and die in her arms, then you know I am committed to health care. If Manny Villar wants to provide health care to everyone, so that her brothers or sons don't have to die…
Like Pia, I believe we derive inspiration and our passion from our past experiences. She has come into her own and made her mark in the Philippine senate. She strikes a balance between work in the Senate, her kids and doing the things she loves which you can see in her mydailyrace.com. When I referred to her as a mom blogger in my blogroll, she was very touched because people sometimes forget that she too is a mother. You can also follow her campaign at whereispianow.com
I ask her what her number is in the ballot.
Number 10 for 2010. Wow, that's easy to remember.
Then she adds, my president is number 10 too.
She gets my vote , of course and I hope the electorate appreciate her accomplishments and compare it with the other senators running for reelection.
Video of Pia Cayetano
View Blog Watch interview with Pia Cayetano
(other videos are still being uploaded)