(This is a post I originally wrote in 2008. )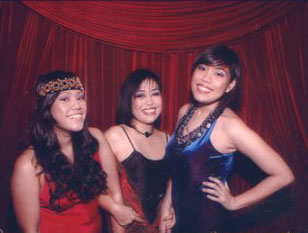 When my two girls were in grade school, I'd often hang out with the mommies at the waiting shed, eagerly waiting for our daughters' class dismissal. We called each other "classmates". Starting from nursery till sixth grade, I had my gang of mothers. In one of our idle talks, we compared child rearing practices. One of these was handling our daughter's suitors and request for parties once they reached high school. The topic was met with dread and fear of our daughters mixing with the wrong crowd or better yet, having a boyfriend at so young an age. I formulated my own set of ideas which proved to be a learning experience.
This is not a definitive guide for Filipina mothers since we each impose our own peculiar guidelines for our daughters but maybe you can pick up a tip or two. For the guys, it is a preview of the twisted mind of a typical mom and her feelings towards their daughters' suitors. With Lauren's permission to illustrate examples, here are my own guidelines.
1. Just because she is your daughter doesn't mean she is like you.
I had this notion that my daughters shouldn't have a boyfriend while in high school, the same way my parents brought me up. I made my rules clear : No dating till 18 years old but you can entertain phone calls, visitors and attend parties.
I thought I was a liberal mother. I mean, look, I still gave freedom for my daughters to mix with guy friends and hang out with them. But then, I learned something much later on. There are two types of teen girls. There is the ligawin, the feminine, charming, smart girl and the suplada, the girl (like me) who likes guys but do not appear charming to them.
One of my girls fell into the ligawin category.
When my twelve year old girl started receiving phone calls from guys, her dad warned me that she might be like his sister who had a boyfriend in high school. I brushed Butch fears away.
No, she won't have a boyfriend because like me, I didn't need to have a boyfriend in high school.
There was a NO BOYFRIEND rule imposed and the girls knew that. I thought it was clear.
Until one afternoon…I received a phone call if I could "supervise" the times my daughter and her son were together in either of our homes. I raised hell there and then and started yelling at my daughter to come to the phone. Oh yes, I screamed, to put it mildly. Being a control-freak mother at that time ""NO OFFENSE ON YOUR SON, BUT MY GIRL CAN'T HAVE A BOYFRIEND." My voice sounded a notch higher than usual.
I started rattling off that my husband would raise hell if he found out she had a boyfriend. I never told Butch that her daughter had a boyfriend. She was only 15. Livid with anger, she was grounded the whole summer.
2. Never set rules in stone. Be flexible.
When I look back at this incident, my anger was not because Lauren had a boyfriend. I was mad that she betrayed my trust. In my anger, I refused to be flexible. Maybe, I should have agreed to the "supervision". Did it destroy my relationship with her? I guess it did. I felt that it strained our mother-daughter relationship for a long time. I should have sat down with her and set the boundaries of a boyfriend-girlfriend relationship.
Looking back, I don't have regrets. The boyfriend was a delinquent who kept flunking his classes in high school. The parents eventually sent him to the states. I believe it would not have worked out in the end because my girl was serious with her studies. I met the ex-boyfriend in my home a few years ago. Well, he looked a bit weird with his mohawk hair but I found out he has yet to take up some college education. Go figure.
3. Don't be too chummy-chum-chum with the suitor or boyfriend.
Mommies tend to empathize with the rejected suitor or the dumped boyfriend. Often, the mommies feel the guy's pain of rejection. The mom feels bad especially if she believes that this particular guy is very suitable for their daughter. But the daughter doesn't think the guy is for her. Yes, I was like that too. kawawa naman siya. Kausapin mo!. (what a pity. You should talk to the guy)
I know of a mother who talked to the suitor all afternoon because she took pity on the guy when her daughter refused to see the suitor. In fact, this mom dragged second daughter to talk to the rejected suitor. Funny thing is the second daughter and rejected suitor became a couple. When my daughter dumped a suitor (who often talked to me via instant messenger) in favor of another guy, I was flabbergasted. I uttered the same line too. I felt sad for the dumped suitor.
And my daughter coldly replied eh, why don't you talk and comfort him?.
4. Trust your instincts. Give your opinion on the guy and let it go.
Okay I was disappointed with her college boyfriend who dropped out of school. I also felt that my daughter was second choice after the guy got dumped by her friend. Still a control-freak mother, I confronted her and minced no words about my honest opinion of the guy. I have my reasons but I'd rather not mention it here. Mothers have instincts , you see. The problem with me was that my approach was old-school, manipulative and controlling. Now I know better. I should have just said my piece then let it go and allow her to make mistakes. But no, I told her she couldn't see this guy. PERIOD.
That did not prevent them from being together despite my objections. Inspite of my stringent rules, I have to give her credit for not eloping with her boyfriend (a friend's daughter did just that and had a baby soon after.)
5. Get to know the potential boyfriend material. Do some research.
When my daughters confide their crush, I often ask for a photo just to see how they look like. Often I'd agree and nod "Oy, he is cute." One day, my girl showed me a friendster url of her crush. Sure the guy was a looker. But what did I see? Oh my…photo after photo, her crush was wrapped around with a different girl. I asked "you want to be another collection?"
If you're tech savvy, you know there is that nifty search engine at the click of the mouse. The suitor might have a blog too, you know! A word of caution though. Don't judge the guy based on the blog content alone. Entries may contain sarcasm, embellishment or prone to misinterpretation. But as I mentioned in number 4, say your piece, then let it go. Nagging is not going to stop your daughter from liking a guy.
6. Give basic sex education.
I don't mean, encourage sex. In fact, I remind them that abstinence is a healthy practice to follow. But things happen. A friend told me that she wished she had given sex education to her 18 year old daughter. Her daughter's first sexual experience led to pregnancy only because she thought she'd never get pregnant.
So I often say, ""Don't even believe your boyfriend when he says he has protection"". Then I add just one tiny drop contains millions of sperm to impregnate you. It takes only 1 sperm cell!. It's not a comfortable discussion, mind you. My daughters cringe with awkwardness every time I babble on sex education. I'd rather see them cringe during my lecture than see them cringe in pain with an unplanned pregnancy.
7. Express the ideal qualities of a guy.
Eventually, I allowed my daughter to continue the relationship with the guy (in number 4) after I discovered they were still together after a year. I believed it would not last long anyway. Secretly, I was hoping she'd see my reasons eventually. I often dropped hints on the qualities of the guy that would suit my daughters. I don't really know if they listen to me. Moms know a lot more about their daughter more than they even know themselves. We just hope it sinks in. In the end, it's their life. It's their choice. Mothers can only guide.
Funny thing was my daughter ended the relationship with this guy two years later, for the reason that I objected to in the first place. I allowed her to make mistakes. I could have said ""I told you so" after my instincts proved right.
My daughter often tells me that I am a cool mom now that I am more laid back. I had to pass through being an uncool mom to be a cool mom.
Any guidelines I might have missed?