If a Tim Cumper alias Ellumbra or otherwise known as Timothy Ellis Cumper or Grabbadabba via Twitter talks about me and other bloggers in a negative light, this is the story. Tim Cumper believes that he was scammed, fooled by Mayen, Tierra Maria Estates and a group of people since October 2007. It is almost 2 years after and he is in pursuit of bloggers who have written about this.
Read the bloggers entry on Tim Cumper Watch.
What do you get when you fall in love?
A guy with a pin to burst your bubble
That's what you get for all your trouble.
I'll Never Fall In Love Again
Mayen Betita paused to sing their love song, "I'll Never Fall In Love Again". She giggled and placed her hand on mine as if placating the pain from narrating the harrowing events leading to the breakup with Timothy Ellis Cumper (also known as Ellumbra or Tim Cumper) her ex-boyfriend, a UK national.
I sought Mayen out so she could tell her version behind the alleged money scam that her ex-boyfriend accused her of. Remember, there are always two sides of the story. Before I show you the videocast I did with Mayen, let me rewind a bit.
A month ago, I was stupid enough to approve a post by Tim Cumper at the FilipinaImages.com. I felt that contributors of the Filipina Images' Portal should have the freedom to express a positive or negative perception of the Filipina. I was also eager to hear his story.
However, I felt that Tim was extremely paranoid.
1. Tim Cumper lists down around 16 persons including Tierra Maria Estates and Medical Center Parañaque as players (View list of players) of an elaborate scam to snatch over 92,213.39 thousand pesos ($2,000.00 plus). Even the actress Chin Chin Gutierrez is involved.
2. He also thought a staff of the local UK embassy was in cahoots with the alleged scammers.
3. He believes that Mayen's boss (Francis Jalbuena) is a mastermind of an alleged scam syndicate where his staff including Mayen is used as a pawn to extract money from foreigners.
3. Tim Cumper believes that Mayen faked the surgery of her ectopic pregnancy (with the assistance of 16 players) so they could stand to gain 92,213.39 thousand pesos.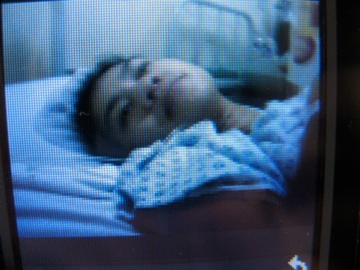 Did Mayen fake her hospitalization? Imagine all the preparation just to "fake" this photo?
Reading his journal entries took me four hours. (read short version by Jepoy in here) I commented that I didn't believe he was scammed. Some readers agreed with me. The comments from his entries didn't please him and he started to accuse the Filipina Images' readers that we were somehow related to Tierra Maria Estates, a real estate company where Mayen worked. I closed the comment section because his statements already smacked of libel.
I didn't think much of his allegations because Tim, like you and me has every right to freedom of speech and inform the whole world of an alleged scam. In fact , he wrote about the scam in over 30 blogs and video sites. Based on the presentation of facts in his blogs, I concluded that he was not scammed.
Why?
My logic told me this.
1. Tim never sent the 92,213.39 thousand pesos ($2,000.00 plus) to Mayen. So is that a scam if the money was never sent? Maybe an attempted scam is a more appropriate word.
2. With 16 persons & entities involved, each scam player stood to gain by $140.00. Come on!
3. Was it really a scam or an attempted scam? No other victim of the organized scam has come forth and accused the Tierra Maria Estates List of Players. The 30 websites depicting the alleged scam ensure maximum exposure in all search engines results. But no one has come forth and agreed with Tim. So how can it be an organized crime? There should be another victim other than Tim Cumper. I believed it was neither a scam nor an attempted scam.
4. Tim Cumper refused to give his mailing address. Mayen wanted to prove that she was really hospitalized and wanted to send copies of her medical records and photos of her scar from the surgery.
What made it more complicated is that Tim Cumper accused me of many things.
1. He thinks Francis (one of his alleged scammer) used my username at FilipinaImages.com just because we have similar IP address. I blogged about it here and here to clarify his accusations.
Jepoy took pity on Mayen's plight and surfed the internet for more information on the alleged scam.
2. FilipinaImages.com is now linked as "scum" in his blogs, and together with a few bloggers especially Jepoy, we are classified as cockroaches just because we disagreed with his allegations.
Mind you, Mr. Tim Cumper is 57 years old.
3. He thinks the group of bloggers are paid by Tierra Maria Estates to cover-up the scam. Hence, we are called "TIERRA MARIA ESTATES SCAM – THE SUPPORTERS" a new classification which is different from the "TIERRA MARIA SCAM- THE PLAYERS". Lately, however, we are now called "scammers"
4. That makes us at least 21 scammers now. Let's do some more math. Let's divide 92,213.39 thousand pesos ($2,000.00 plus) by 21 persons. That makes $107.00 each. Haha, is that how low Tim Cumper thinks of Filipinos?
5. Oh but his defense is that the amount should be multiplied by the number of victims other than him. But wait, where are the other victims of Tierra Maria Estates Scam? Come forth and be counted.
Anyway, that's the short version of the elaborate scam that Tim thinks happened. The accused bloggers soon asked me if we could get Mayen's story. Don't ask me how we got her contact number. Call it divine intervention. I called her up over a week ago and asked if she wanted to tell her side of the story. Mayen was reluctant to tell her story. "it pains me. I don't want to talk about it anymore." Then she changed her mind when I told her that we don't know her side of the story and that all we read is Tim Cumper's version.
The question might pop up "Why did I go out of my way to do this interview? I am just a blogger". I should mind my own business, right? The problem is that he involved FilipinaImages.com and practically smeared us as "scammers" in his more than 30 websites. His personal attacks even came to the point of creating a fake MySpace profile of Jepoy, distorting my photo as one of Jepoy's friend. His barrage of personal and defamatory attacks classifies as libel under Libel Laws in the UK and Philippine Laws on Libel.
Did I mention that he is 57 years old? Oh yes, I already mentioned it.
Tim's personal attacks on the bloggers are nothing compared to the pain that gripped Mayen's heart the past months. While it is true that there are scams pulled by Filipinas and by just about any nationality, one needs to practice due diligence in aborting such attempts.
Instead of checking the scar in person, he based his conclusions from the webcam video that he took of Mayen's scar at an internet cafe.
How sad it is that Mayen is accused of a scam she never committed in the first place. I want to give Mayen a voice, a chance to be heard. She does not have the budget for internet cafe fees and blog her story like most of us do. Not many are as fortunate as Brian Gorrell who has at least internet access to expose the scam inflicted upon him to the rest of the world. But not Mayen. And many others that have been scammed one way or the other.
I am involved because I am now accused of being part of the scam. Yes, a scam supoorter.
As I watch Mayen wipe her tears every now and then, I believe without a doubt that she sincerely loved Tim Cumper. I believe her when she says that she suffered an ectopic pregnancy. She motioned to her abdomen I can show you the scar. I declined because I didn't want to lower her dignity any further. It is not my intention to be an investigator and a messenger for Tim Cumper. If Tim Cumper wants proof, let him do the job himself. Oh yes, he tried asking all the players involved and when they could not provide an answer that satisfied him, Tim classified them as part of the scam. If he doesn't trust Filipinos, why doesn't he come to the Philippines and see the scar for himself? Why doesn't he file a case against the scammers?
Why are Tim's conclusion based on a pixelated and blurry video from a webcam? Jepoy hits the nail on video quality.
How could you base your conclusions on a very blurry video of a webcam streamed from Yahoo! Messenger? The video probably was even recorded via manual screen captures or by a screen capturing program. Which means that every single pixel you record is based on the image displayed by the receiver's video card.

Now, how the hell does a "very sophisticated" computer equipment analyze a video from this procedure? TELL ME. PLEASE. HOW? Spectral analysis on a blurry screen grab. WHAT THE F%$&?! -_-
One day when someone does a google search on Mayen, that person will see both versions of the story.
I will let you be the judge.
Mayen will not only tell of the love that was never meant to be. She imparts valuable lessons from her heart and about moving on. She empowers herself by seeking spiritual advice from her pastor. Mayen is full of hope. She knows she deserves someone even much better than her ex-boyfriend.
Despite the humiliation and pain, Mayen still had the heart to forgive Tim.
As she reflects over her loss, she pauses to giggle and seek comic relief once again as she hums to the tune of their love song.
Don't tell me what is all about,
'Cause I've been there and I'm glad I'm out,
Out of those chains, those chains that bind you
That is why I'm here to remind you
So here it is… the videocast of Mayen Betita, A Filipina Who Learned a Painful Lesson.
I rest my case.
Related Posts or Reactions from Blogs/Forums
Read the bloggers entry on Tim Cumper Watch.
1. Tim Cumper's Reaction and A Good-Bye
2. Tierra Maria Estates Scam Hoax Update: Mayen speaks of heartbreak