My Cebu-based 44 year old, sister-in-law is leaving for Louisiana, USA on Thursday as a special education teacher for a suburban public high school. It came as a pleasant surprise to her. The US hiring agency informed her of an opening on July 4. She got interviewed via Skype by a panel of 10 where questions like "How do you apply technology in the classroom?" and others were asked of her. Distracted by the faces floating in the Skype window, she minimized it and focused on the camera to make eye contact with the school staff. She made the cut and from then on, a flurry of documentation fell into place . Her H-1 visa was released last thursday. A total of $3,000 placement fee was all she paid to the US-based agency.
The timing could not have been more perfect. Her only child is graduating this year and will get the chance to join his mom after graduation. I feel sad that one more good teacher is leaving our country. Her qualifications are nothing to sneeze at. She has a bachelors degree in English, a Masters degree in Education and a doctorate degree in Special Education but her salary is a pittance. I think call center employees earn more. I can't blame her for leaving. After all these years, she has yet to build her own house.
My brother died in 1999 and since then she had to struggle living as a single mom. Sure, she can take a break now and take it easy once her son graduates. The chance for a new life seems like one great adventure not to mention the salary. The offer of a lucrative monthly salary that is almost equivalent to 7 months here was just too good of an offer to pass up. I didn't know US teachers are paid so highly, but she is quick to say that US public school teachers are paid higher than private school teachers.
Really?
I don't think the same applies in our country, anyway. In an attempt to somehow curb the trend of the country's best teachers leaving for overseas jobs, bills have been filed in Congress seeking to upgrade the salary rates of teachers. However, the proposed rates still pales in comparison with the salary offers overseas.
"Our teachers are not accorded due recognition and importance they deserve, their salaries are insultingly low and with the high cost of living today, it is no wonder that the best and brightest among them are now teaching abroad, or worse, have migrated to work as caregivers or domestic helpers," said Caloocan City Rep. Mary Mitzi L. Cajayon, author of House Bill 800 (""Act Upgrading the Minimum Salary Grade Level of Public School Teachers in the Elementary And Secondary Levels from Grade 10 to 15") at the House of Representatives.
The proposed salary adjustment does not seem adequate to entice emigrating teachers to just stay or come back home.
In the United States, for instance, a Filipino teacher in Maryland is offered a starting annual salary of $43,481 (roughly equivalent to P1.8 million), making it a much coveted slot for many teachers from the Philippines.
For hundreds of Filipino teachers who have given up on their disproportionate salaries in the country, a future in the United States seems to be the best option.
Filipino teachers are highly esteemed abroad and are paid up to 10 times their salaries in the Philippines.
What does the sacrifice entail for my sister-in-law?
1. She does not get to see her son every 5 months as they used to but…if her son wants to live in the USA, she can bring him over through an H1-family visa.
2. She will have to cope with a totally different culture and learning environment as well. Louisiana is known to have an almost 90% black population. I don't know if it is a blessing but she will be assigned to special children. Will that make her life easier?
3. She has no family or friends in the same state but she can make new friends, right?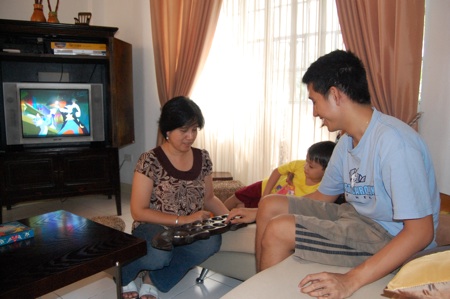 My sister-in-law and her son enjoying their last few moments before her flight
As we talked over the despedida lunch I hosted this afternoon, she shared her apprehensions.
It will be a totally new life for me. I can't be the same person as I was in Cebu.
I reassured her You can do it. You can reinvent yourself. Look at me, I never imagined myself starting a business in my forties…being a blogger and more.
She assessed herself and says she can still do it. It's a mid-life challenge. Everything just fell into place. When my brother was dying in 1999, he asked his siblings to help her when he is gone. I don't think my sister-in-law needed help. She was just waiting for the right time. Timing can be frustrating, right? We can wait and wait for something to happen, and it seems to be forever until comes to pass. Or suddenly, an event or circumstance is thrust upon us by surprise. Believing that things happen too slowly or too quickly is an illusion.
Timing is perfect.
This is her time.
I pray her life as a Filipina teacher abroad will be a fruitful experience. I hope her new job will be worth the challenge and the sacrifice of being away from home, family and friends.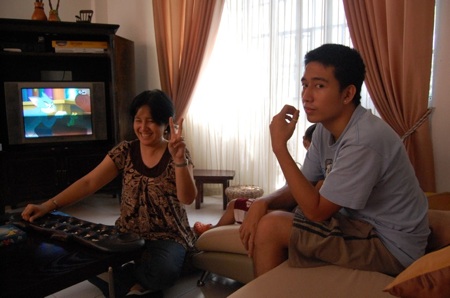 If I were in her shoes, I'd also take the opportunity to move to the USA if it meant bringing my whole family with me. Would you?