Bloggers' meet with BB Gandanghari is on Saturday, March 14 at Mag-net, Bonifacio High Street, at 3-5 PM. You can Sign Up Here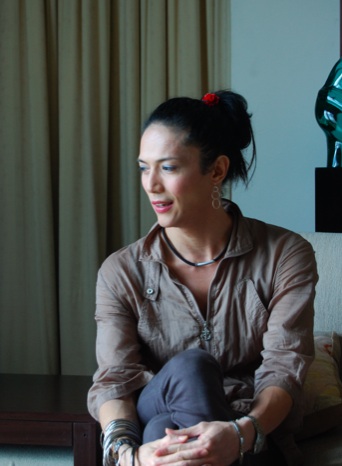 I am absolutely charmed by BB Gandanghari. "Call me BB" as she hugged me. I found out that it is spelled BB not Bebe. BB is actually derived from her own motto
Be all that you can be
or
be all what you want to be
and from her first name, Binibini. The Gandanghari came from a family name of a UST beauty queen which caught her attention and thought it was perfect for her. She is beautiful, much prettier in person than photos shown in newspaper and magazines. With just light powder on her face, lipstick and faint blue eyeshadow on her eyelids, BB looks like a sweet schoolgirl. "I want my skin to breathe", she says. Simple , classy and bubbly. Her happiness shows in the glow of her face and the smile that escapes her lips. It must be her newfound peace that makes her look and feel beautiful.
Before Dine and I started our interview, BB was more interested in us and started to ask questions about our blogs. You can see the concern in her eyes as she asks about the circumstances on how my son died. It was like talking to an old friend. No awkwardness, no airs.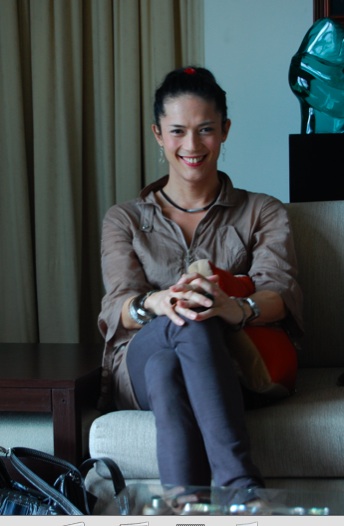 I took photos of BB as we continued to banter about her new life and before the video interview. How absolutely charming! She flashes a smile now and then, an aura of happiness surrounding her that I can feel the positive vibes. I see nothing pretentious about her. I was with her for over 6 hours. She is BB.
I didn't want to tackle on showbiz questions because the magazines and talk shows cover that extensively. Instead, I focused on her new life. Her story is about the courage to be who she truly is, her positive outlook in life and the happiness she now exudes. She does not use drugs nor hormones to make herself look like a woman. "Mind over matter" is her secret to making herself beautiful. Running and pilates was all there is to it to get the form she wanted for her body. I know some of you have not adjusted to her new life. It is a process and she understands that one might be grieving over the "death of Rustom Padilla".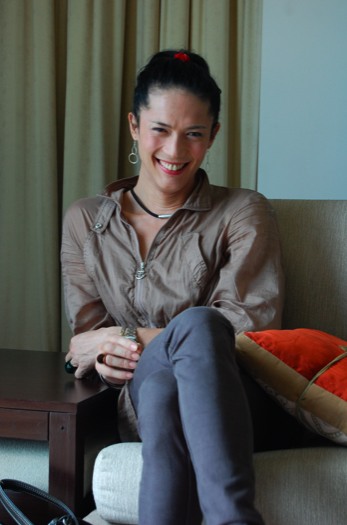 Listen to her in this video interview as she talks of acceptance, God, her new found happiness, and her role in Philippine society. A summary of the interview is after the video.
Part 1

Part 2

(the audio is a but fuzzy because BB is quite far from my macbook)
1. How did you find the courage to be your real self? When did your epiphany take place? When did this "AHA!" moment happen? What were you doing when it happened?
BB says she sought constant questioning about herself. That question ended in seeking God where she learned to accept herself. She presented herself to God, and opened herself to him. That's when she felt accepted.
2. Do you have any spiritual or religious affiliation? if yes, how do you reconcile your religious or spiritual beliefs?
BB considers herself a Bible student and read that "the fear of God is the beginning of wisdom". She believes in God whose name is Jehovah, and in Jesus Christ.
3. People like you are not taken seriously by society and ARE often the butt of jokes. Your CELEBRITY POWER can be used to fulfill your highest potential as a human being. What can you do for your community to uplift the status or perception of transgender individuals as members of Philippines society?
It all begins with self-respect. Hopefully she can impart that self-respect which is important to her. We all have boundaries and if you respect your boundaries, people will respect that boundary too.
4. What do you advice to those who are still inside the closet and who have not come out yet?
It is dark inside the closet but no matter how dark, God see us. Why do something in the dark because whether light or darkness, God sees us the same way.
BB advises parents who suspect if their children are different to talk to them.
5. Have there been harsh criticisms since you came out as BeBe? How do you handle criticisms?
She doesn't really care. Whatever you say, I am doing my thing. I'm very happy.
6. What kind of online presence do you want to portray? Is it limited to showbiz ? and or advocacy?
Whatever life brings her and where she can help in her own little way, she will welcome. She has no agenda for the next 5 years.
7. Learning to live this new life is like learning a new language, a new way of seeing. how has your new life been so far? IS the journey difficult? Do you see it as a challenge?
Nothing in life is easy. That's why she constantly asks God's guidance and mercy. She is comfortable with her faith.
8. "You cannot give what you do not have." How do you love yourself? How do you pamper yourself?
She reads self-help books like "Healing Your Inner Child". She started parenting herself by treating herself to a movie or buying something for herself. She does pilates to keep her body trim.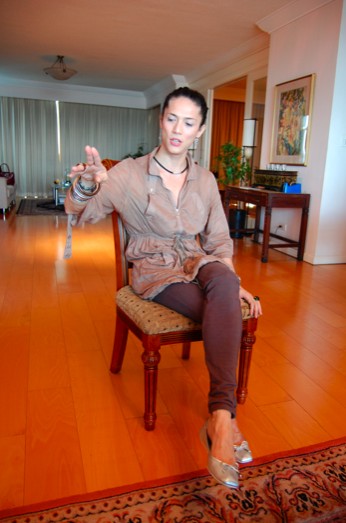 Here is a video interview from the Asian Human Rights Commission.
PHILIPPINES: former action star talks about gay rights online

Bebe's insight into his own process of coming out and acceptance is fundamental to an understanding of gay rights. Even according to Bebe, his identity is not a choice but a gradual acceptance of an orientation which did not happen overnight. Every part of the process of awareness, acceptance and coming out is not to be taken simplistically and dismissively.

… explains how different his experience is among Filipinos, women in particular. "For some reason they seem to like me and even identify with me," explains Bebe. Why do they like her? What do they exactly like about her? Notwithstanding some unfavourable past experiences with some family members, colleagues and others, Bebe finds Philippine society not that bad. However, she really felt free and encouraged to come out when he was in the U.S. Coming to voice is easier in a less judgmental and open society.
Bebe's coming out is not a purely psycho-emotional experience. "It is more, " she explains."It is being able to stand naked before God…being able to be yourself before God," she adds. "Be as you are…be as you are supposed to be…that is what BB means". She is at peace with God, at peace with herself but knows that some of her fans or loved ones might take some time to get used to her.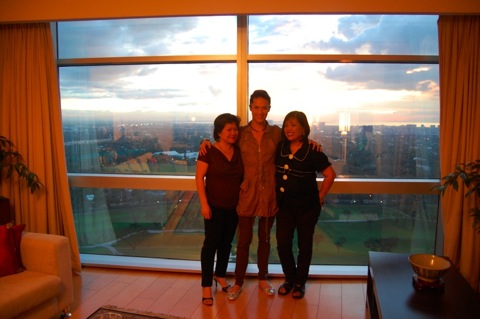 I got to know her for seven hours upclose and personal from 3:00 to 10:00 PM. She was full of energy as we chatted the night away with another guest Nick deOcampo (director of Center for New Cinema) Thanks to Tin Mandigma, BB's manager for this exclusive interview and Gus Vibal (of WikiPilipinas) for hosting the venue. It's my first interview with a showbiz personality and I am so relieved it was enlightening and fun!
If you want to be friends with BB, her facebook account is binibini gandanghari, her twitter account is gandanghari while her plurk account is bbgandanghari.
Do you believe in Be all that you can be?
Read more of BB over at Dine's interview.
Future Media Appearances
BB pictorials/feature articles are set to appear in S magazine on February 28 and YES on February 25. She'll be hosting the Kidlat Awards (hosted by the Creative Guild of the Philippines) in Boracay on March 7
Bloggers' meet with BB Gandanghari is tentatively scheduled on March 14. Venue is still being arranged.
Articles aggregating news + blog posts + reactions about BB can be found here.
Contact 63915-3296024 (Tin Mandigma), manager of BB Gandanghari for more information.