Awarding of the Winners of the WikiPilipinas Filipina Stories
Date: March 28, 2008
Time: 11-12:00 Noon
Venue: SMX Convention Hall # 3, SMX Convention Center, beside SM Mall of Asia, Manila
Map: Click on thumbnail
This is our tentative program for the March 28 event, 11-12nn
1. Opening Remarks
2. About Vibal Foundation
3. Empowering Women Through Internet
4. Walkthroughs: Filipiniana.net and Wikipilipinas.org and Filipinaimages.com
5. Raffle iPod Nano
6. Announcement of Winners
7. Closing
Wikipilipinas will host lunch in a restaurant in Mall of Asia after the program.

Dine, Gus Vibal, founder of WikiPilipinas, his staff and I met up last week to discuss ways to support their first online Encyclopedia of Philippine Women that they started in WikiPilipinas.org. I believe Gus is truly sincere in his WikiPilipinas' vision to be ""the largest Philippine knowledge database". I mean, Gus pratically invested a lot on WikiPilipinas. (A few sponsors helped though).
Dine, Lorna, myself and most of you will agree that we all want to raise the profile of the Filipinas, and be part of a larger movement in uplifting the status of Philippine women. I believe that WikiPilipinas is sincere in their mission as we all are. Here is our collaborative project which I hope you will be a part of: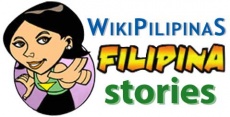 In line with the principle of honoring the diverse, beautiful, and powerful image of a Filipina, WikiPilipinas will launch a special portal Encyclopedia of Philippine Women inside the site which will compile and detail the achievements and triumphs of Filipinas everywhere. Its sister site Filipiniana.net will also have a Philippine Women Microsite containing documents discussing Filipino women, as well as selected texts from the oeuvres of Filipina writers. Through a combined effort for advocacy, WikiPilipinas partnered with Filipina Images to help promote a more empowering image of the Filipina. By having an online platform to showcase Filipina intelligence and talent, surely the goal will be closer.
To promulgate the advocacy, WikiPilipinas and Filipina Images websites will launch ""Filipina Stories," a writing contest with the mission of uplifting the image of the Filipina.
Check the prizes and mechanics of this contest.