The travel and photography bug hit me after my latest adventure with the young and vibrant Pinoy Travel bloggers. The trip awakened a few wants and needs.
1. I want to travel the hidden paradise islands in the Philippines. I am 50 years old and I have yet to travel most parts of the Philippines. After taking the quiz below, my lakbayan score is only a C. There is room for improvement, I know. I want to earn a grade of B by the end of 2008.
My Lakbayan grade is C!
How much of the Philippines have you visited? Find out at Lakbayan!
Created by Eugene Villar.
Traveling with the Eugenius who turned out to be a whiz identifying places from a ""satellite view" was an added bonus. From my SeAir plane window, he pointed Mindoro. I didn't recognize it from above. When I used to travel the boat from Cebu to Manila, I memorized the islands along the way. What was there to do while traveling for 36 hours? I knew the location of shark infested areas in the Philippine seas. I could tell if the ship passed the islands wof Romblon, Masbate or Mindoro. But that's over 40 years ago. I want to travel the Philippine islands once again.
2. I want to revive my photography hobby.
My Canon Powershot A710 IS, a 7.1 megapixel camera with 6 X optical zoom and Image Stabilizer is convenient because it is not bulky. But after traveling with the photo bloggers, I am simply amazed at the beauty of their photographs. Take a look at Ferdz' Boracay photos. It pales in comparison to my photos below:
Seven out of the thirteen travel bloggers were using digital single-lens reflex camera (digital SLR or DSLR), five used the digital cameras while Lauren preferred her LOMO camera. Lauren believes that the photos from her Lomo camera contain more soul than digital camera photos. I suppose that makes sense to her because one can't afford to waste film when taking shots. I believe that a more professional camera than my point-and-sheet camera captures more beauty and depth of my subject. Though I didn't take any formal photography classes, I got exposed to photography in my family of origin. One brother even had a dark room.
Watching these photo bloggers from afar, I couldn't help but notice the appeal (the sexiness) of how they take their photos. Look at how they hold the camera. I can picture myself now.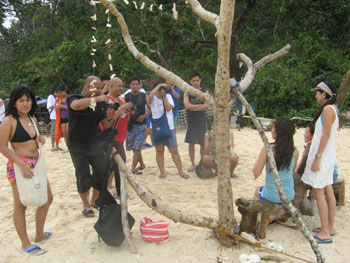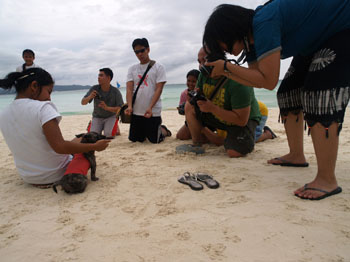 (Photo credit for the bottom photo to Ferdz)
3. I want to own a Digital SLR.
"Violent reactions" from my family spewed out.
Mom, it's expensive
Mom, you won't be able to maximize the features.
Mom, it's too heavy for you.
and so on and so forth. Perhaps, they are right but I fantasize myself with my future digital SLR.
I guess I should be ready with a heavier and bulky camera.
I guess I should be comfortable to have my face up against the back of the camera.
I guess I should be ready with the attention I will get compared to the point-n-shoot digicam.
I guess I should be ready for the steep learning curve what with the lot of features (and buttons) which can be very confusing to a beginner.
I guess I should be ready to travel with my DSLR complete with a hiking backpack that holds my camera with a lens attached, 3 additional lenses, lens hoods, a flash, filters, my tripod, remote shutter release!

You get the point.
4. I want a sturdy and waterproof backpack
If I am serious with the traveling all over the Philippines, I should be able to carry all my luggage, the heavy DSLR and myself. In Boracay, I brought along my handbag, laptop backpack and baggage with roller wheels. Thank goodness for the 9 men bloggers who offered to lift my baggage on the bangka. Wading in waist deep waters after docking from an island tour convinced me that I need a water proof bag to protect my personal belongings.
5. I need to be more physically fit.
The walking, the lifting and the running? Being the oldest among the 13 bloggers seemed to be no problem at all. I was able to keep in pace with everyone. I was able to balance myself, walking on that narrow plank inside the banca despite the turbulent waves that rocked the boat . Thank goodness, I didn't have to be lifted bodily. haha.
I am going to lift more weights now, do more aerobic workout and lose that extra 10 pounds to take the place of the DLSR weight on my back.
No doubt about it, I need to achieve number five if I intend to catch the bug and fly from Aparri to Tawi-tawi. The rest will follow.