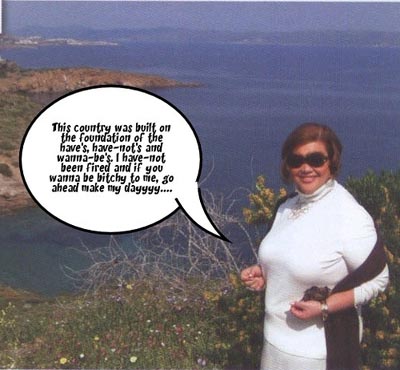 (Via Annalyn.net)
Tonight at 6:00 PM, Benj with other bloggers and journalists and possibly [tag]Malu Fernandez[/tag] will appear in Media In Focus at the ABS-CBN News Channel Studios. (Media in Focus replays: 11 PM tonight, SAT 6 AM and 5 PM ) I talked to Anton de Leon , a fellow blogger based in Dubai and he admits that:
The reactions from people from all over the globe have been going strong. To this day, i have had reactions come from bloggers and readers who speak vehemently of Miss Malu and the acerbic wit she has pushed. It really has become an angry mob, but who is to blame here. Aside from Malu, i think part of it should be shifted to the people who allowed the commentary to be published. This is why, in this circle of work that i revolve in. we have these things called editors. Editors are supposed to make the call and check for content.
Over 2000 angry comments expressed to date! I can understand their feelings. Feelings are just feelings; there is no morality in the feeling, only in our behavior. We can feel angry without hurting or abusing others or ourselves. The thing is not a lot of people can express their anger appropriately. I too have been guilty in the past of name-calling but I have learned. Anger is an emotion we're all prone to experience. Yes, it's okay to feel angry , I agree. It points to a problem. In this case, it signals a problem that needs to be solved. Sometimes , it points to boundaries we need to set. Sometimes , it's the final burst of energy before letting go, or acceptance settles in.
I would like to believe that this anger should now have a positive resolution. A few bloggers point out the lessons learned from the Malu Fernandez article: