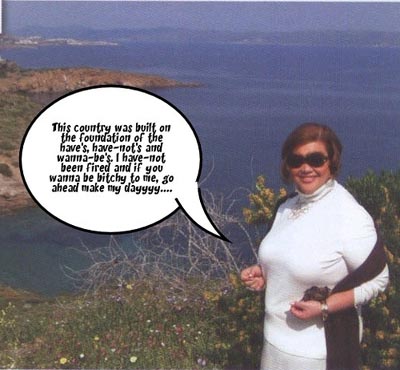 (Via Annalyn.net)
Tonight at 6:00 PM, Benj with other bloggers and journalists and possibly [tag]Malu Fernandez[/tag] will appear in Media In Focus at the ABS-CBN News Channel Studios. (Media in Focus replays: 11 PM tonight, SAT 6 AM and 5 PM ) I talked to Anton de Leon , a fellow blogger based in Dubai and he admits that:
The reactions from people from all over the globe have been going strong. To this day, i have had reactions come from bloggers and readers who speak vehemently of Miss Malu and the acerbic wit she has pushed. It really has become an angry mob, but who is to blame here. Aside from Malu, i think part of it should be shifted to the people who allowed the commentary to be published. This is why, in this circle of work that i revolve in. we have these things called editors. Editors are supposed to make the call and check for content.
Over 2000 angry comments expressed to date! I can understand their feelings. Feelings are just feelings; there is no morality in the feeling, only in our behavior. We can feel angry without hurting or abusing others or ourselves. The thing is not a lot of people can express their anger appropriately. I too have been guilty in the past of name-calling but I have learned. Anger is an emotion we're all prone to experience. Yes, it's okay to feel angry , I agree. It points to a problem. In this case, it signals a problem that needs to be solved. Sometimes , it points to boundaries we need to set. Sometimes , it's the final burst of energy before letting go, or acceptance settles in.
I would like to believe that this anger should now have a positive resolution. A few bloggers point out the lessons learned from the Malu Fernandez article:
1. From the The Jester in Exile
Finally, there's this: the power of the cyberspace and the blogosphere's viral effect, online, and the resulting offline, to influence people and events. There are those who may think that this is a victory of the blogosphere (not that Manolo or Arbet do, as they opine), and such people may be right. I think, however, the blogger with the best take on this is The Nashman, who says:
If people were as angry at the current government who actually does evil things than hunting a paper tiger like Malu then we'd be better off.
2. From Tingog.com
What many fail to understand is that blogging is not isolated, simply because the blogger is not isolated. The blogger is free to email, market, and expand the issue that he is writing about, and thus the act of blogging is no longer the matter of just writing the article, but of spreading the views and opinions written therein.
But let me make another crucial point. A massive amount of energy was used on this issue, not because it was more important, because that in itself can be subjective, the reason was that all other stories were being covered. Mainstream had already been writing about the exchange rate, the war in Basilan, The return of Hello Garci, JPEPA, and so on. What wasn't on mainstream was this specific issue. And indeed, we can argue, there are many more stories that should be given their just due spotlight in front of a national audience, and that my dear readers is the key as to why this issue is so important. It shows us that we can make it happen.
3. From the The Warrior Lawyer
Thus, while I urge care in imposing any sort of regulation that would impede the spontaneity of the medium, it might now be time to encourage dialogue on the need for an ethics code. With ascendancy should come accountability.
Journalistic codes of ethics (there are quite a number, apparently), the very standards by which Ms. Fernandez was measured and found wanting, seek to ensure fairness, accuracy and transparency. Journalists are expected to show compassion and be sensitive to the sensibilities of those who would be the subjects of their writing. They should show good taste and seek to minimize harm. Would adoption of these ethical standards prejudice bloggers and undermine the democratic character of the blogosphere? I don't think so.
4. From atheista.net
It must be emphasized that this is the first time that bloggers are being cited as one of the bigger players in this developing story. Have we really gained enough cred to hold enough authority to somehow police the mainstream media by a)whistle-blowing on the incidents of unfair journalism and b)direct them into more news-worthy stories? (the story of Pyro comes to mind) Have we truly arrived as a new and emerging flank of Philippine media or is this a mere fluke? (Edit– Read Benj's The Post-Mortem: Media In Focus)
5. The Jester in Exile has a reply for number 4.
To marshal the Pinoy blogosphere, we need to establish these things:
The issue used must be sufficiently controversial. D-uh.
The issue should be polarizing — there are clear sides, "right versus wrong" would be best.
The issue must connect on a personal and an emotional level to the digital Filipino (*wink to Janette), as it were.
The issue must be such that righteous indignation is spawned, not a sense of "yeah, yeah, same-old, same-old."
The issue must be not be cluttered — one issue on its own would be best — and the issue must be factual or attributable.
The issue must be easily picked up and spread — the best demonstration of how viral a single point can be is Noemi.
Finally, any action in cyberspace must involve MSM and IRL awareness and action (like what Nick did.)

*MSM- Mainstream Media
*IRL- In Real Life

The furor is far from over though. Only Manila Standard can decide the fate of this issue.

We should now move forward and learn from these lessons. Don't you think so?

edit– September 1. Added Youtube of the Media in Focus

Part 1


View the rest of the videos: