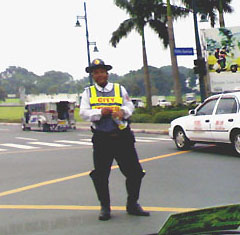 Meet Traffic Enforcer Noel Quilatan. Every morning on my way to the gym at The Fort, Taguig City, Noel is a sight to behold amidst the magnificent skyscrapers in the background. His cheery disposition lifts my spirits for the day and revs me up for my daily workout. You will find the Noel at the intersection of Mckinely Road, Makati and 5th ave of the Global City. What makes this traffic enforcer different ? Well for one, his traffic signals are choreographed to his own rhythm. It's unlike other robotic traffic cops you see waving hand signals here and there. He executes slick dance steps unlike anything I've ever seen before. Second, his sunny smile beams all day after hours and hours of dancing to the tune of traffic stop and go.
My husband surmises that Noel might be crazy. His reasoning "How can anyone smile all day handling Manila traffic with the tropical heat hitting on you? One has to be crazy to beat all that." That got me thinking. Is Noel crazy? Or does Noel just have high endorphin levels? Or is he just enjoying his job? And again, I remember a series in Grey's Anatomy where a woman was found to have high endorphins due to a brain tumor. I brushed my husband's theory aside. Maybe he is just born with a positive spirit.
Noel is quite popular with the Makati and The Fort residents that he even got featured in Ms. Vicky Morales "Wish ko Lang", a wish giving show. Surrounded by stuffed toys given by generous motorists, Noel's wish was to see his mother whom he hadn't seen in years. Noel could have asked for material gifts but he preferred to be with his mom. With tears streaming down his cheeks, Noel's wish was granted.
I wish I had taken a video of Noel's dancing moves . Here are a few photos posted by European websites: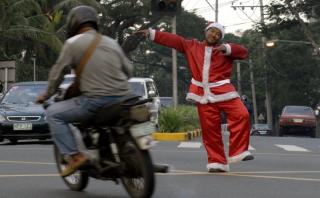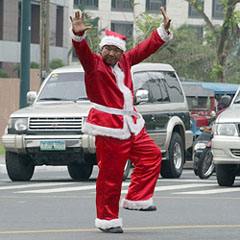 here's a youtube video:
In Sunday's Inquirer, December 31 , 2006 issue entitled "Fort Boni's strictly (Street) dancing 'master', Noel says that "I just listen to my heart and the music in my mind and dance spontaneously while I direct traffic". He doesn't rehearse his dance steps.
If you're not used to Noel, his quirky moves appear really strange. Whenever you turn left from 5th avenue towards Mckinely Road, Noel pulls your car with an imaginary rope as if beckoning you to turn left right now. Hehe. One time, a car beside me tried to beat his STOP sign. Noel walked towards the erring motorist . With a wagging finger, he placed his left boot on the fender and tried to push the car backward. of course, Noel couldn't. He was making a point to the offending motorist. I didn't get to see if Noel issued a ticket or just lectured the motorist on traffic rules.
Today as I passed by Noel, I beeped my horn to get his attention. He turned to me, waved his right hand, twisted his body and lifted his left foot. Hehe, really funny guy. In the same interview, Noel ended it with " it is a good to be a source of joy in the otherwise chaotic world of traffic jams and road rage".
What about us? Can we afford to smile all day at work? I know I get really bummed out if I sit all day on my computer chair. Much as I enjoy my work, sometimes I can't sit still. How does Noel find joy with his work? We can surely learn a lesson or two with work roles. There is joy in giving our gift of skill at work, at giving ourselves to the taks at hand so immensely that we experience an intimate relationship with our work. There is joy when we create or accomplish a task and yell "Well done!".
Noel Quilatan's wisdom is a fine example of finding joy in work. The most unpleasant and mundance task can be breezed through when we stop thinking of ourselves as a robot and allow ourselves to be a person.
I will try to let myself shine through my task at work.