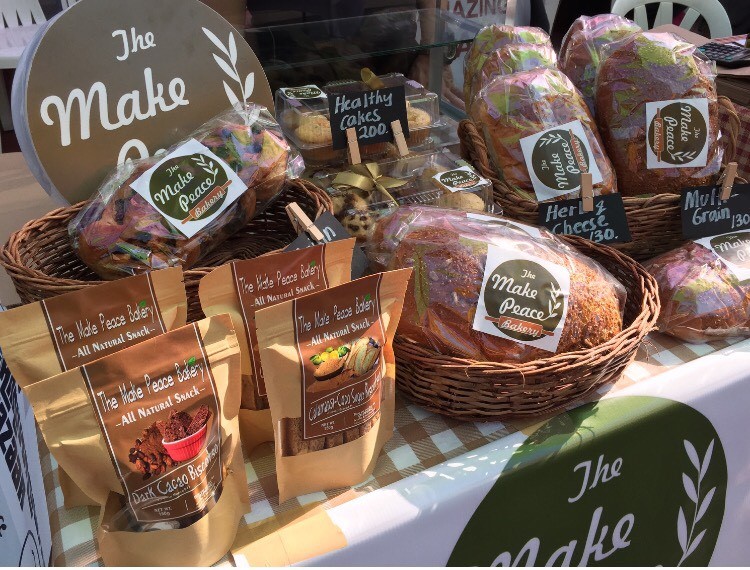 First published at Sunday Business & IT, December 1, 2019
A year ago, I wrote about "12 online shopping sites for your Christmas shopping." I patronize budding Filipino entrepreneurs or social enterprises because I want to shop for gifts that keep on giving. These 12 online sites are still around and you could still purchase from them. But for Christmas presents this year, I am watching out for food-focused social enterprises that integrate community programs into their missions and address issues such as food poverty, sustainable farming or fair trade.
Food merchants from the BPI Sinag ng Pasko, a Christmas bazaar, will feature products from Filipino social enterprises at the Palm Drive Activity Center, Glorietta 2 on Dec. 11, 2019. You could order on their websites, Facebook pages or visit their booths at the Christmas bazaar.
Amazing Food Corp. (amazingfoodscorp.com)
Health is wealth. L'amor coco-ginger soothing herbal tea, made from coco sugar and ginger have many health benefits. Sometimes, I add coco-ginger to my coffee. Coco sugar is the sweetener I use because of its low glycemic index. Those in keto diet would prefer the coco flour as a substitute for wheat flour. You could find more coconut-based and other organic products with brand names L'Amor or Santa Maria at Amazing Foods, a natural and organic producer and distributor of Coconut based products. Part of its mission is to educate and assist its farmers and communities on the latest organic practices.

Auro Chocolate (aurochocolate.com)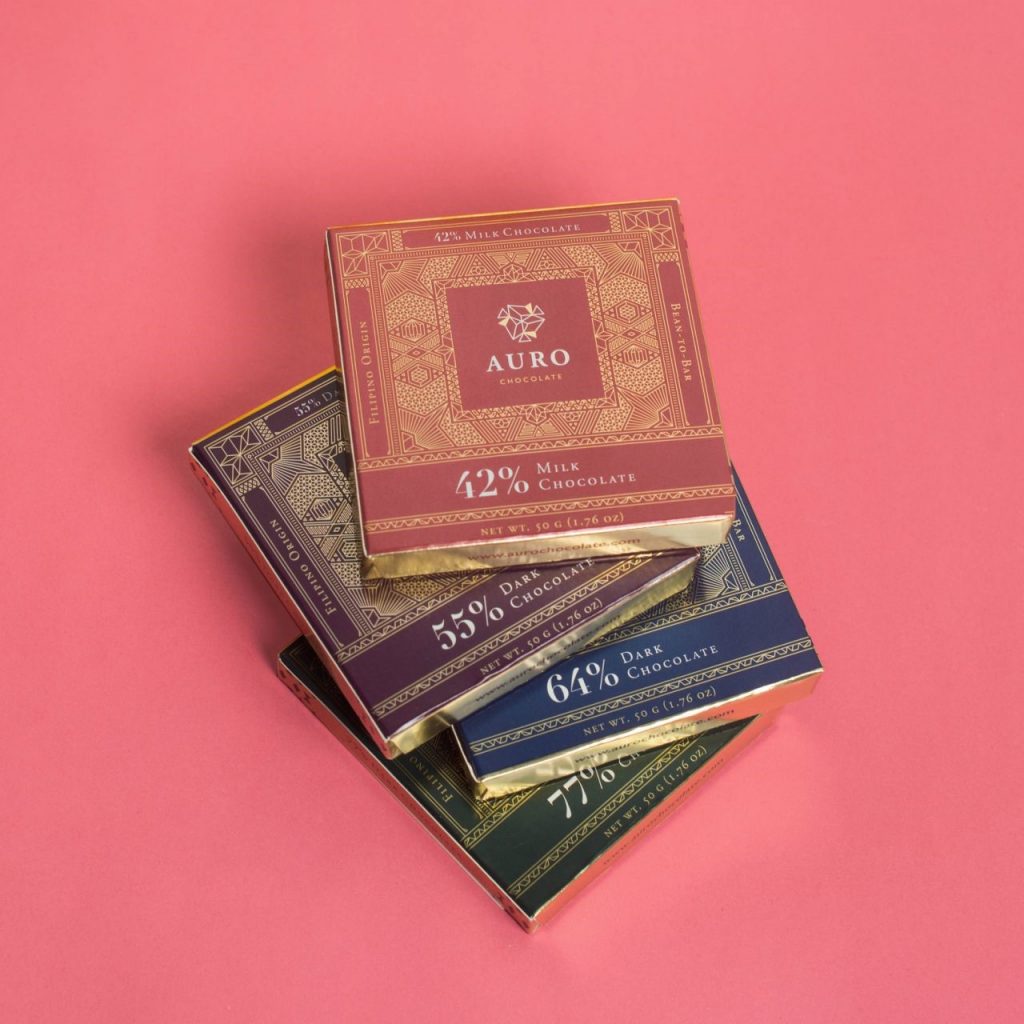 Philippine chocolates are the most requested souvenir items and a well-loved gift item. Auro Chocolate won four awards for the International Chocolate Awards, World Edition. It is time to get a taste of these award-winning chocolates: 70 percent Dark – Tupi Origin; Dalandan Tarragon Bonbon; 32 percent Moringa (Malunggay) White Chocolate with Pinipig and 32 percent Moringa (Malunggay) White Chocolate with Pinipig. One could order Auro chocolates online through karton.ph, but they are also sold in some stores like Kultura. Auro goes beyond "bean-to-bar" by working with over 10 cacao producing cooperatives and 80 individual farmers representing over 1,000 families and 2,000 hectares of farm land.
Balangay's Best (balangaysbest.com)
Balangay's Best is the brand of natural processed and wild-caught sustainable seafood products made by artisan Filipino fishers through Fishers and Changemakers Inc. It is heart-warming to know that the company started at Bantayan Island during the rehabilitation efforts of Typhoon "Yolanda," to journey with the fishers as they recovered from the typhoon's aftermath. They have since partnered with some municipalities in Occidental Mindoro, Negros Oriental, and Surigao del Sur. Darling Danggit, Papa Pusit, Mommy Dilis, Baby Bangsi and Seafood Halo-halo are gift items that would support this social enterprise helping Filipino fisherfolk communities.
Kayumanggi Organic (kayumanggiorganic.com)
As a partner of Gawad Kalinga Enchanted Farm in Angat, Bulacan, Kayumanggi Organic encourages and trains their farmers and partners to use only practices that are sustainable. While it also sells coconut-based products, other food items worth buying are Raw Coconut Nectar, Cacao Reál Pouch, or Golden Mango Gelato. You could also order their Homeland Coffee, a blend of Arabica from Benguet, Robusta from Batangas, and Excelsa from the coffee capital, Amadeo.
Saret Organic Farmville (saretorganics.com)
With the help of the Department of Agriculture, Department of Trade and Industry and Department of Science and Technology, Saret Organic Farmville gives support to over eight farmer groups including a farmers' association it helped establish called Kaanib ng Kalikasan. Try out the Bee Well Raw, Wild Honey made by the bees from the wild forest of Doña Remedios Trinidad, Bulacan.
The Make Peace Bakery (facebook.com/makepeacebakery)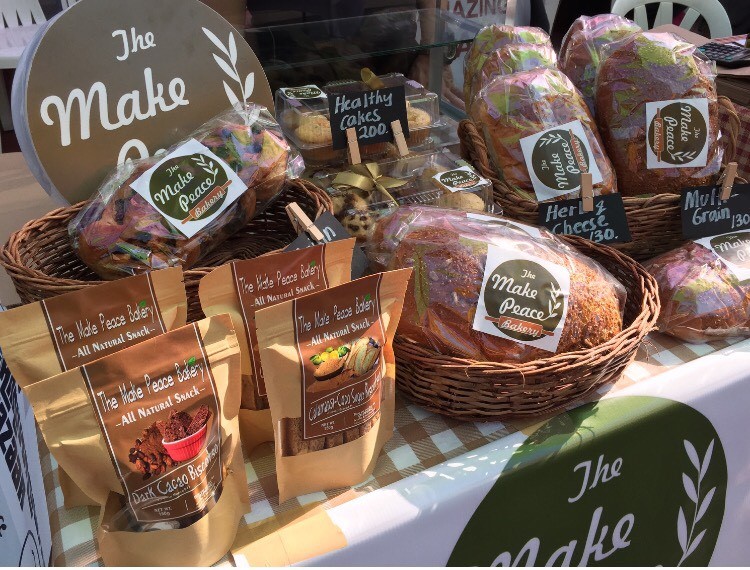 Natural and healthy bread are must-have items for Christmas parties. The Make Peace Bakery, Bakers of Change Inc. teaches baking to out-of-school youth as a source of livelihood and serving natural and healthier breads to community. Check out the Biscotso, Raisin-nuts cookie, Ube oats, Banana Choco chip Loaf, or the Banana Blueberry Loaf which you could order online at thegoodstore.ph
While you could shop for these food items online, they are also available at the Sinag ng Pasko. Other than these food merchants, the Sinag ng Pasko is a perfect venue to shop for other Christmas gifts, whether one is a zero-waste advocate encouraging your loved ones to embrace a more sustainable lifestyle or a proud champion of Filipino craftsmanship.
With merchants presenting gift ideas ranging from arts, fashion, food to home essentials, I am sure you would discover stylish and contemporary creations that offer a glimpse of Filipino culture, reusable everyday items built from sustainable materials, upcycled pieces, and food assortments made from locally sourced ingredients.
Having social enterprises in one place would be a faster way to shop, too.
READ : Sustainable and proudly Filipino products for your Christmas shopping needs