Here is another case of stupid toilet humor that occured in Silliman University Medical Center Foundation, Inc. (SUMCFI).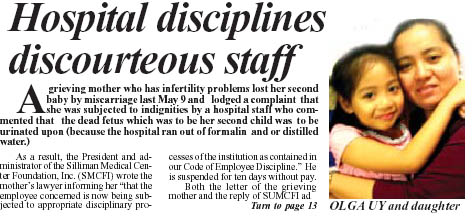 A grieving mother who has infertility problems lost her second baby by [tag]miscarriage[/tag] last May 9 and lodged a complaint that she was subjected to indignities by a hospital staff who commented that the dead fetus which was to be her second child was to be urinated upon (because the hospital ran out of formalin and or distilled water.)
Read complete news story From the Negros Chronicle in here and here.
Olga Lucia Uy emailed her story to me 3 days ago. Maia, her baby was only 5 to 6 weeks old at the time of her death.