I have been tagged by Ajay to describe 10 of life's simplest pleasures. She said that "The trick is to be original with your answers and not repeat those which have already been written by your circle of friends". I have more than 10 of course but here's my original list not found at Ajay's list:
1. Watching little boys play with their dads or moms in a park. ( Yes I miss my son)
2. Butterflies that suddenly cross my path. (Is that a sign?)
3. Meditating in a Sauna room. (OOh the heat just makes you want to reflect)
4. A random kiss from my husband and not totally expecting it. (Inspite of more than 27 years of togetherness, I still get gooesebumps when Butch does that.)
5. An email from a long lost classmate or friend after finding me through my blog. (Wow, small world they found me)
6. A hug from my daughters. (I am loved!)
7. Laughing together as a family as we watch comedy shows. (Guess who has the loudest laugh?)
8. Staring at my pictures where I look so much slimmer. (I even look so much better now than I was 20 years ago. Narcissistic huh?)
9. Chatting with my siblings who are all based outside the Philippines (boohoo, I'm the only one left here)
10. Holding hands with my husband. (and … 🙂 )
Now tell me what are your life's simplest pleasures?
* * *
Speaking of my husband, I got the surprise of my life when I saw his name in my
googletalk
a couple of days ago. I sent my first message. Butch replied with "
we save on text messaging cost this way.
" Apparently, his secretary installed it for him so it is easier to communicate. Yesterday, he sent me a rant: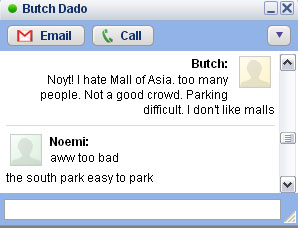 Haha, Butch hates crowds. He probably ended up at the crowded Skating rink.
As you might all know, I use the computer a lot for my business so I am pretty much online. Now it feels strange seeing his name highlighted in my desktop and seeing if he's available or idle. One time he sent me a message and when I didn't reply , he called me instead. "You're not replying". He probably thinks I sit all day in the computer chair or perhaps he can't tell when my computer is idle.
What is even weirder is knowing he left the office already when his name is not on Gtalk. I feel like I'm snooping around or something. I have to get used to this [tag]Googletalk[/tag] business.