It's inspiring to see before and after photos of people who have lost weight. Take for instance Five stars who went to fat and back like Janet Jackson, Oprah Winfrey, Anna Nicole Smith, Nicole Richie and Jared Leto. Janet lost a whopping 70 pounds:
Janet's secret is not lipo, not starvation, not gastric bypass. A few months back, Janet signed up for a healthy gourmet delivery service called Fresh Dining, a company that is becoming Hollywood's new thing.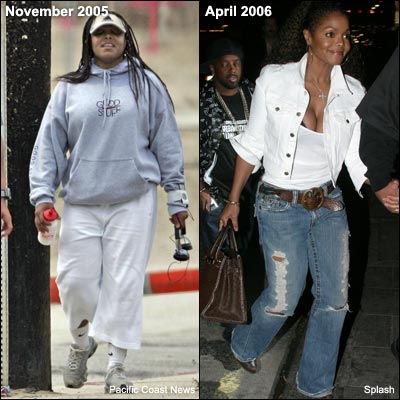 There's a similar service in Makati that prepares the [tag]Southbeach diet[/tag] and delivers it to your house. I know of a couple who ordered this diet plan. It cost them 20,000 pesos (roughly $400) every 15 days. God, it's way too expensive. The result. They didn't lose weight and I think even gained some poundage. So much for Southbeach diet.

My weight management plan was based on South Beach diet which I prepared by myself. Nothing fancy or expensive. It worked combined with daily exercise at the gym. At the age of 48 years old and afflicted with diabetes, I 've achieved a [tag]weight loss[/tag] of of 30 pounds over a period of 4 to 5 months. I have 10 more pounds to lose.
So here's my before and after pic:
December 2004 at 163 pounds

December 2005 at 129 pounds