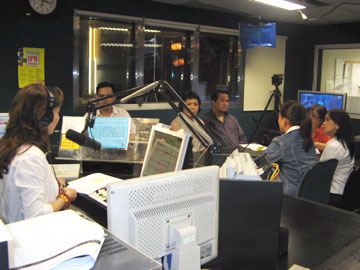 For the newly bereaved, November 1 hits them with the reality that it's their first All Saint's Day with their precious loved one. It's their first time to honor the dead with the rest of the country. No wonder, grief is once again featured in the magazines , TV and radio. Last Sunday, Cory Quirino invited The Compassionate Friends to her DZMM radio program with the topic of "Handling Grief and Loss" . The thought of discussing the basics of the grief process in Tagalog caused me to panic. Can you imagine me struggling with words like "pagdalumbhati"? (if I even spelled that right) . How does one say "positive resolution of grief?" The best testimonials would definitely come from the newly bereaved parents who actively worked on their grief with help of The Compassionate Friends. I asked if I could invite more parents to the interview. I dragged 3 newly bereaved parents and Alma Miclat, a co-founder of The Compassionate Friends. A psychiatrist, Dr. Josefina Sayo served as the resource person on the grief process and explained that there is so much stigma attached to grief.
Typhoon Paeng's update interrrupted the show that the one hour and half show seemed like thirty minutes.
What totally amazed me were these 3 newly bereaved parents who were able to express their loss and testified how sharing their grief truly unburdened some of their pain. We know that pain can never be totally taken away but somehow sharing it to others ease the burden in our hearts. And so The Compassionate Friends continue to come monthly…to meet, to hug, to cry, to laugh to listen and to try to understand another's story. We come to love each other's children that we never got to meet. Their faces become almost as familiar as our own children's countenance and so incredibly dear because they were so special to our friends. In sharing our children's lives and their deaths, they continue to live on through our stories and our pictures and we are comforted as we grieve together.
Sharing grief is a crucial step in grief work. No wonder my dear friend, Cathy Babao-Guballa started Grief Share, a new grief ministry for all types of losses.