Two days ago, my daughter asked….
do you remember Miss Syquia?
Of course I remember her. How could I not forget the sweet and soft-spoken first grade teacher/homeroom adviser of my eldest daughter? Many years ago, I vowed that I'd take an active role in Parent-Teacher activities just so I can monitor the progress of my kids at school. So I asked L how her first grade teacher was.
OMG, How tragic! Miss Syquia died last Monday after giving birth to twin girls.
My heart filled with sadness. Aww how terribly shocking. After giving life , her life is taken away?
I hugged my daughter and felt her grief. I knew her teacher was like a second mother to her.
Apparently, L is still in contact with some of her classmates at Miriam College. An email got circulated to her former students since she had been a teacher for the past 15 years. Many knew her. L went on and on how her First grade teacher was so nice to her. Her succeeding teachers were not as memorable as Miss Syquia. L and I paid a visit yesterday but L refused to take a look at her coffin. L chose to remember her teacher as someone alive and well. I noticed a few of her younger students looking so sad.
I gathered from a brief talk with her husband that her married name was Ma. Theresa Erlinda Syquia Caringal and that her nickname was Ernie for short. And the cause of her death?
She died a week after her cesarian operation.
Such a sudden death. If that was not tragic enough, a day before Ernie died, her mom passed away. In fact her burial was just 2 days ago.
I couldn't ask her husband on the cause of "pulmonary embolism" because I know how tiring it must be for him to keep repeating the same story all over again. Just this afternoon at our monthly Compassionate Friends meeting, a friend-doctor shared how life is just so precious. She knew of a mom who just gave birth and turned blue on the way home from the hospital. Cause of death was pulmonary embolism.
Two moms died of pulmonary embolism this week?
I gathered that pregnancy increases the risk of developing blood clots. Wow, I never knew that. I had 3 cesarian births. Though I always thought I'd die with each operation I never thought blood clots could be one of the causes of childbirth complications.
Today, Ernie was cremated. Her sudden death is very devastating to her loved ones. Trying to make sense of or understand sudden losses can be difficult. Survivors are left asking "Why?" "Why did this happen?" Like all deaths, the "why" will never be answered in this lifetime. "In our hearts, we all know that death is a part of life. In fact, death gives meaning to our existence because it reminds all of us that life is precious." It's just that coping with the loss is not an easy task.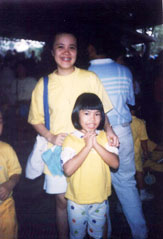 L and her First Grade Teacher