On the way home from Baguio, I caught the colorful array of Christmas lanterns on the roadside of Gerona, Tarlac.
"I want to take photos" I begged my husband to stop.
The long stretch of bright [tag]Christmas Lanterns[/tag] was captivating. I had no plans of buying [tag]Christmas decors[/tag] but my husband (the Grinch) thought it was rude to take photos and not buy anything from the poor vendors. Strictly speaking, my husband isn't really a Christmas Grinch. Ever since my son died in 2000, the holidays are the most depressing season for him. Next to Halloween day, the most difficult holiday of the year is Christmas. Christmas decors just remind him that Christmas is lonely without our little boy. Of course, we grieve differently . Christmas is a happy occasion for me. I digress. Anyway…
"Okay, let's shop". M and I started our search for the traditional Christmas lantern, the parol . There were probably more than 20 vendors all selling the same design ranging from flowers, butterflies, snowmen, stars, trees even a papaya tree, capiz lanterns and more.

My husband ventured to the other side of the roadside stand. Much later, he surprised me with 10 colorful star lanterns strung together. I never expected him to actually shop for himself. Joy filled my heart. It shows that Christmas shopping wasn't a difficult task anymore. Look at what we got…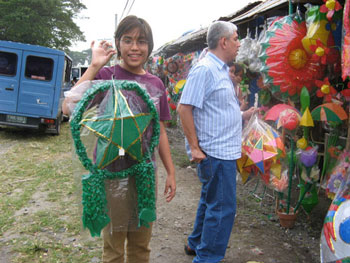 M found a traditional green parol for 150 pesos ($3.00). Only one stall sold it! Why don't they make traditional lanterns anymore? I find the parol so indigenours, elegant and meaningful since it portrays the Star of Bethlehem in the Filipino setting. The 10 piece star lantern cost 400 pesos ($8.00) and if that was not enough, he added a bigger lantern costing 1000 pesos ($20.00). If we had bought this in Manila , I bet the prices will be twice as much. I am still figuring out how to decorate these lanterns. Usually, Christmas decorations start after "All Saints' Day". I think it is way too early but that's how tradition is in this country. In the past, I used to decorate the house in the midde of December. I changed it to November when my children complained of our bare house and compared it to our neighbor's twinkling stars. Time to book an electrician for the first week of November. What about you? When does Christmas decorating start?