It's ten days before Christmas eve and four days until Cathy completes the first leg of our Thousand Bears for Bicol (TBB) project . Read Cathy's update at 442 bears to make a thousand bears for Bicol.
Today, we are 442 bears away from our target! We have five days to complete the targeted 1000 bears. Please help us complete this mission so to speak and help bring joy to 1000 children on Christmas day. We will be taking in bears (and other friendly looking stuffed toys) until Monday, December 18. Please refer to my entry here to find out how you can donate. We have also received reports from the field that the children are in dire need of clothes, so we are now including this as well, if you have any to spare. Below in an excerpt from my friend Andrea who arrived from Legazpi yesterday. Andrea is a long-time news journalist and a colleague of mine from the Inquirer. —

"I have not seen this kind of devastation ever in my life. There are thousands of children in the evacuation centers and they continue to be in a daze. The mothers tell me that whenever it starts to rain, the children begin to panic and ask "Tatakbo na naman ba tayo?" (Are we going to run again?)
These are the 10 teddy bears I sent for the Thousand Bears for Bicol Project. I placed these cutesy bears at M's room since she loves plushies. She hugged the bears to send her love to the children who will receive them.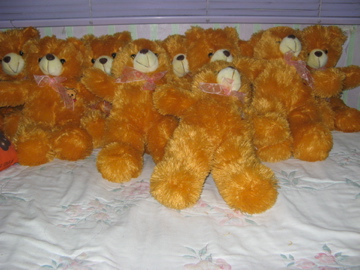 How to [tag]donate teddy bears[/tag]– Deadline is December 18 (Philippine time)
1. Cash
Cash is also welcome since Cathy can buy the bears.
If you're in the Philippines, just email Cathy directly at cathybabao @ gmail.com