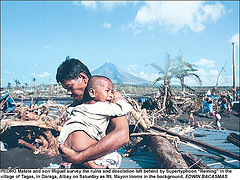 Like my dear friend Cathy, the photo from today's Sunday Inquirer moved me to tears. The article on the Bicol tragedy due to super-typhoon Reming (Durian) describes devastation that has wracked Bicol like no other. Not even World War two was like this. I texted most of my friends in Bicol and they have never seen such damage in the years they have lived there. Even Naga which is farthest away from Mayon suffered as well. My husband's relatives (The Dado clan) are from Tabaco, Albay and there is still no word from them on their situation. No landline or cellphone connection.
Pedro Malate and his son Miguel, in that photo above hold on to each other for dear life, "wearing perhaps, the only clothes they have left. Little Miguel looks terribly dazed, Pedro, in all probability is in shell-shocked state."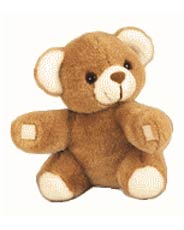 I am helping Cathy with her "A Thousand Bears for Bicol" because this is a way to channel our sadness over the Bicol tragedy. Please read her site for more details. I trust Cathy will do an excellent job in delivering the bears to these children in time for Christmas day. Cathy comforted sick children by establishing Migi's Corner , a play area for these kids in more than 10 public hospitals in the Philippines. If anyone can execute a project for children, Cathy Babao-Guballa , a TOWNS awardee is the most qualified and trustworthy person in the Philippines.
To children, stuffed animals are more than toys, they're imaginary friends who are always ready to give comfort or play. They provide a certain amount of security in a sometimes scary world. Though it may be a small act, my heart's desire is to bring as many stuffed toys – ideally friendly looking teddy bears to the children in the Bicol region. I am hoping to raise at least a thousand bears that I can send to the Albay province in time for Christmas, hoping that these bears will bring even a little joy and comfort to children like Miguel who have a long way to go on their healing journey. I am making arrangements with am NGO in the Albay province to ditsribute the bears on Christmas day.
Photographs do speak a thousand words. Great works of photography move you into action.
Help us bring a "A Thousand Bears for Bicol". To send teddy bears, click here.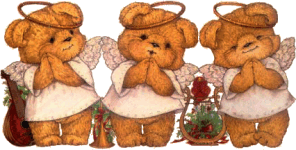 EDIT: I bought 10 teddy bears already.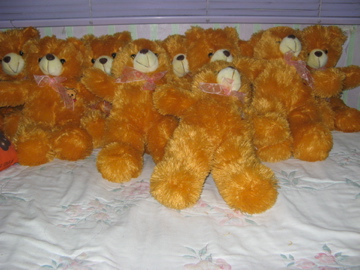 These are the teddy bears I bought . I placed them at my daughter's bedroom for her to give a hug to each teddy before they are brought to Bicol.